More News
Toontown "Roots" for Team Trees!
Posted by Professor Ivy on November 23, 2019 at 3:00 PM
Ah, I love breathing in the silly air from my beautiful Gag Trees. Apples, Coconuts, Birthday Cakes, Anvils... What can't be found on the branches of a tree? Trees don't just give us goodies, but they also provide a little something we use every day -- the air we breathe! I'm sure that all the Balloon Fish in the pond appreciate it as well.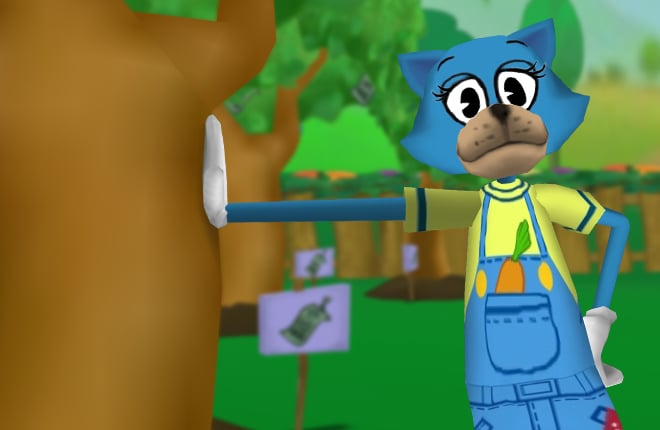 Goodness, look at me talking about gardening without introducing myself! For those who don't know me, I'm Professor Ivy. I've got a fine school in Daisy Gardens, but my true calling is tending to my own garden. There's nothing quite like the feeling of planting a tree, you know. Trees can be found everywhere -- however, as with most things in Toontown, the Cogs have found a way to fight back against all that is good and fun.
Just look at the skies around Sellbot Headquarters, and the problem is apparent -- pollution. Sometimes, I can smell that awful stench of the Sellbot Factory all the way from my very own School of Vine Arts! I tried everything I could think of to fight the pollution -- picketing, picket fences, picking flowers -- yet none of it worked. Finally, I found the solution: Planting trees can fight back the pollution from the Cogs!
I quickly booted up my compute and opened up the Wild Wacky Web to see how I could encourage other Toons to go plant trees. As it turns out, a bunch of the most Toontastic Toons of the world have already done just that! I discovered Team Trees, a tree-mendous charity to help fight back against the Cogs by planting Trees. They don't just want to plant a couple of trees, though. They want to plant 20,000,000 Trees!
With Team Trees, every dollar donated means one tree planted. I talked to the Toon Council, and they pledged to donate money to plant 200 Trees on behalf of Toontown! Team Trees is in the final stretch of their 20 million trees goal, and with YOUR help they can get there!
If you have any spare change in your Piggy Bank, you might want to consider giving a couple dollars to the ex-tree-mely Toontastic folks over at Team Trees. (Be sure to ask a parent if it's "oak"-kay first.)
Well, I better get back to planting. Those Cogs aren't going to de-pollute themselves!
---
NOTE: Team Trees is an established charity not associated with Toontown Rewritten. Every dollar donated to their campaign will allow them to plant one tree in the real world! We're here just spreading the good environmental news, and are not paid or compensated in any way for this post.
---
Comments
Sorry! Comments are closed.
---
---
---
---
---
---
---
---
---
---
---
---
---
---
---
---
---
---
---
---
---
---
---
---
---
---
---
---
---
---
---
---
---
---
---
---
---
---
Back To Top