More News
Have a Terrifyingly Toontastic Trick-or-Treat!
Posted by Flippy on October 31, 2019 at 3:30 PM
Once again, the 31st of October is upon us, Toontown! This Halloween is like no other, however, as Jack O' Kazam's curse has grown stronger than ever...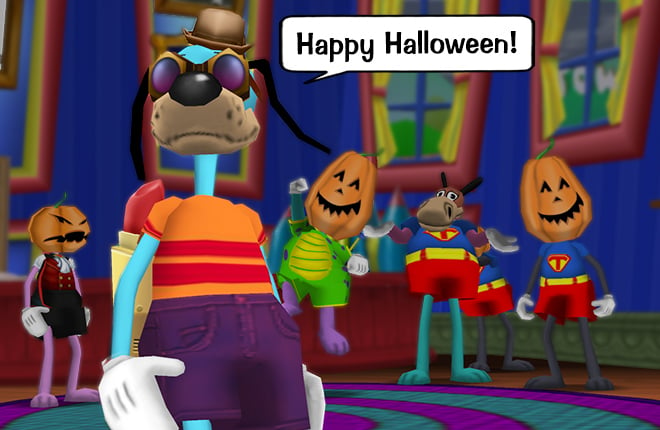 Grab your favorite outfit, a bucket of Spooky Purple paint, and perhaps even a Spooky seasonal name tag -- Clarabelle's Cattlelog does offer a "Spooky" name tag after all! As you can no doubt tell, Toontown has been hit by the Halloween Holiday spirit! As with every year, I'm fully immersed in the spookiness of it all.
I dare not leave my office though. Whilst I've grown quite accustomed to Jack O' Kazam's yearly Halloween appearance, this year his curse has grown stronger than ever! According to him, Toons can expect to sport the pumpkin-head right up until the 3rd of November. Do you know how hard it is to recognize each Toon that walks into my office when they're all cursed with the same pumpkin head? If it weren't for Toon T.A.G.S., I wouldn't be able to recognize anyone at all!
Speaking of curses... Jack's not the only one with a curse to give! For on this day each and every year, Toontown witnesses a major migration of black cats through Toon HQ's doors. If any new Cat Citizens of Toontown happen to see me during my daily walk through Tutorial Terrace, be sure to give me a "Toontastic!" Hello! You might just remain in the Halloween spirit... forever! Or at least until you purchase a "Toon Rewrite" from Clarabelle's Cattlelog.
Happy Halloween, Toontown!
---
Comments
Sorry! Comments are closed.
---
---
---
---
---
---
---
---
---
---
---
---
---
---
---
---
---
---
---
---
---
---
---
Back To Top