More News
Bloodsuckers Beware!
Posted by Lord Lowden Clear on October 27, 2019 at 2:00 PM
Happy Halloween, Toontown! Tell me... can you smell that? The sweet aroma of candy is too splendid to ignore! Check out my Trick-or-treat bag! Pretty filled, huh? I keep it tied to my Cog Disguise just in case I stumble upon some stray candy in the playgrounds. You never know when those Spooky Bean Bags will appear, after all. Wait a moment... I'm smelling something else. No, it can't be… tax evasion. Just as I suspected -- Bloodsuckers! A lot of them, too. Looks like the Bloodsuckers are teaming up for another Halloween Mega-Invasion!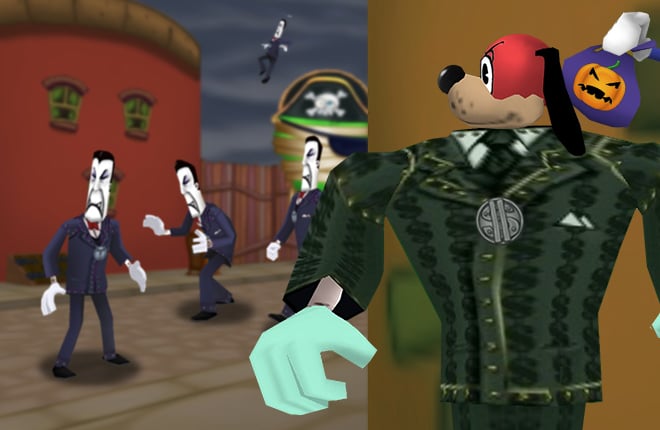 But what in the world is causing the Bloodsuckers to act up? Could it be all the Trick-or-Treat bags around Toontown? What about the Halloween costumes that everytoon's wearing? Quite possibly. Perhaps it's the decorations! We do a good job of decorating every year, and those Bloodsuckers seem to appear without fail. Perhaps they're more ghoulish than we thought. They must've gotten a little grouchy when they saw such demeaning decor!
There is only one way to stop this un-Halloween-like bat attack. I'll be ordering Resistance Rangers to deal with the Bloodsuckers all around Toontown, and they could use some help! If they've got a signature green Resistance Badge atop their heads, they're part of the Resistance. Help them enough, and you just might find a Toon Resistance uniform in your Trick-or-Treat bag!
You Toons seem strong enough to handle a bunch of blood-thirsty robo-goons. For now, I've got to get going and… oh no. Why don't I smell my Trick-or-Treat bag anymore? No… my candy is gone! Rocky, this is no time to be playing a prank! Sigh… I'll get my candy back after we deal with these Bloodsuckers. Until next time, keep them busting -- with laughter!
Lord Lowden Clear
Leader of the Toon Resistance
---
Comments
Sorry! Comments are closed.
---
---
---
---
---
---
---
---
---
---
---
---
---
---
---
---
---
---
---
---
---
---
---
---
---
---
---
---
---
---
---
---
---
---
---
Back To Top