More News
Scares, Screams, and a Spooktacular Halloween!
Posted by Jack O' Kazam on October 25, 2019 at 2:30 PM
The moon shines brighter and the shadows are moving.
My wizard's intuition tells me that mischief's a-brewing.
Let all the ghouls play. Let the bats fly in.
Now that Toon-est is over, let the hauntings begin!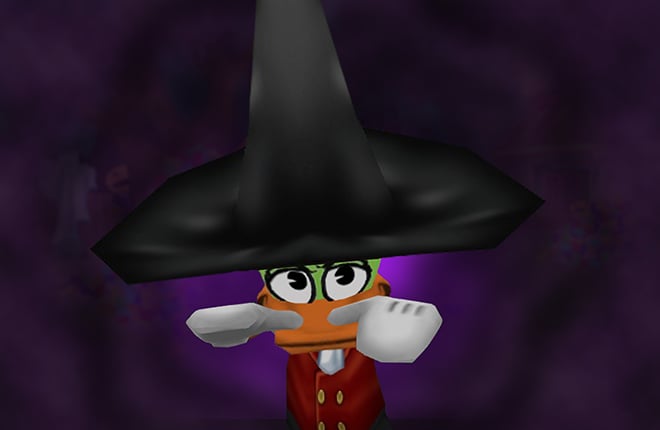 Take a closer look. Toontown is long gone.
The skies have turned gray and the living have passed on.
They now haunt the lamp posts and trees in the ground.
I am the wizard, Jack O' Kazam, and this is my Spooktown!
I welcome you all to this Spooktacular Halloween.
There will be sweets, treats, and everything in between.
But if it's tricks you're after, I can guarantee several.
Itching for a ToonTask? Come meet me in Toontown Central.
Any good at riddles? It'll come in handy.
Solve mine to find six Toons that are handing out candy.
Say 'Trick-or-Treat!' They love to converse.
Come back alive and I'll give you the Pumpkin Head Curse!
Bippity-boppity-BLAM! Here's a cosmetic surprise!
Peep at your Cattlelog. There's a new color inside.
A spooky purple shade can be owned for a price.
It looks frighteningly fabulous, if you believe my advice.

Now here's the real kicker. A trick you will never forget!
My own Spellbound Bags! A real game of roulette.
These randomized bags carry little bits of my magic.
Is lady luck on your side or will your result be tragic?

Kazam the Ol' Wizard is the bringer of fear!
Join in the fun before these clouds disappear.
Enjoy the spooks and spirits, while my extended supplies last.
I can't stay for long. November 3rd approaches fast.

October 26, 2019 [ttr-live-v2.6.6]
The Spooktown Curse
• The Spooktown Curse has been extended to November 3rd! Jack O' Kazam's power grows ever year...
• Fixed an issue that caused every Toon Muzzle to activate at the same time when a Pumpkin Head is hidden. (e.g. in Cog Facilities)
• Addressed issues with ToonTask progress failing to save in certain circumstances.

General
• All Toontown Online MIDI files have been re-converted to .OGG at CD Quality and with restored instruments.
• Green, Mint Green, Emerald, Teal, Steel Blue have been added as default shirt colors.
• Addressed an issue that caused rotation speed in the Closet, Accessory Trunk, and Kart Shtickerbook Page to be tied to the framerate.
• Updated Cog Golf's Bombs to flash at a set speed, rather than being tied to the framerate.

Accessories
• Adjusted placement of the Feather Tether to avoid clipping issues.
• Fixed an issue that caused the Super Toon cape to fail to deliver when purchased from Clarabelle's Cattlelog.

Estate
• Fixed various bugs with Estate Cannons -- so don't fly away!

Multipliers
• Fixed Merry Multipliers not affecting Bounty Cog XP, which is extra Cog XP given on completion of any Cog facility.
• Doubled Bounty XP awarded in the DA's Office to bring the XP given out in line with other Cog facilities.

Options Menu
• Manual edits to screen resolution in settings.json will no longer be ignored on macOS.
• The Options Remote will now move during the Ring Game and during Racing to avoid obscuring other GUI elements.
• For the sake of performance on low-end machines, the default option for MSAA is now "Off".

Silly Meter
• Addressed a bug that caused multiple Gag XP Multiplier teams to be unable show up in the Silly Meter's team list at the same time.
• While the Speedy Gardening Growth Silly Team is active, plants will no longer consume water.

---
Comments
Sorry! Comments are closed.
---
---
---
---
---
---
---
---
---
---
---
---
---
---
---
---
---
---
---
---
---
---
---
---
---
---
---
---
---
---
Back To Top