More News
Riggy's Toon-est Goodbye
Posted by Riggy Marole on October 20, 2019 at 2:30 PM
Oh! My best-est friend, my second in command, my bee-yootiful Letter F! I's finally found you! I'm tellin' ya, I's been searchin' for weeks. But now, I ain't gonna let'cha outta my sight. Now that I's found ya, I can finally clear my head to focus on preppin' next year's Toon-est.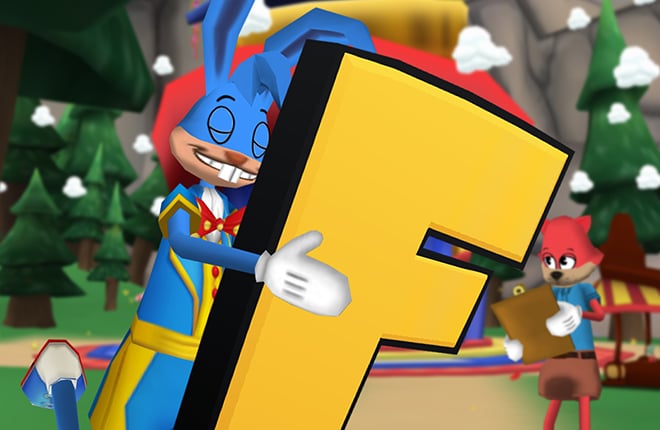 Next year... dat's right! We ain't gonna be called Toon-est next year! Let'see... I's already contacted Alec Tinn about countin' those votes weeks ago. I wonder where he's been? Say, did he ever check in while I was lost in thought?
What the-- Alec! How long have you'se been standin' there? Two weeks? I can hardly believe it. I's heard rumors that you cower in fear at the sight of Cogs, but I ain't ever seen you dis angry! Ack, mentionin' that probably wasn't the best o' ideas.
Look, the results may be comin' in a bit late, but I'll need you to close off this final Toon-est not by partyin' with the rest o' us, but by sitting alone and countin' votes. You'd do that fa' me, right? Thanks for bein' a pal, Alec. I owe ya, big time.
And THAT is how you do it, Ladies and Gentletoons. If ya don't let Alec get a word in, he'll happily count ya votes without any bargaining. Now that I's found my precious Letter F, I'll be closin' off this one last Toon-est with some rest and relaxationin'. I'll be needin' a lot of energy to put up the new sign next year! See ya next year, folks.
---
Comments
Sorry! Comments are closed.
---
---
---
---
---
---
---
---
---
---
---
---
---
---
---
---
---
---
---
---
---
---
---
---
---
---
---
---
---
---
---
---
---
---
---
---
---
---
---
---
---
---
---
---
---
---
---
---
---
---
---
---
Back To Top