More News
The Secret of the "F"
Posted by Samantha Spade on October 8, 2019 at 3:30 PM
It's me again, Samantha Spade. Toontown's finest detective, if I do say so myself. If we haven't met, I do apologize -- I've been up to here with investigations and mysteries as of late. Regardless, I've got news. BIG news. Roughly the size of the Toon-est Tower, to be precise. Something missing, you say? Precisely. The Toon-est Tower lost the iconic letter "F" this week, and the town is quite abuzz. Things just aren't quite the same around these woodlands.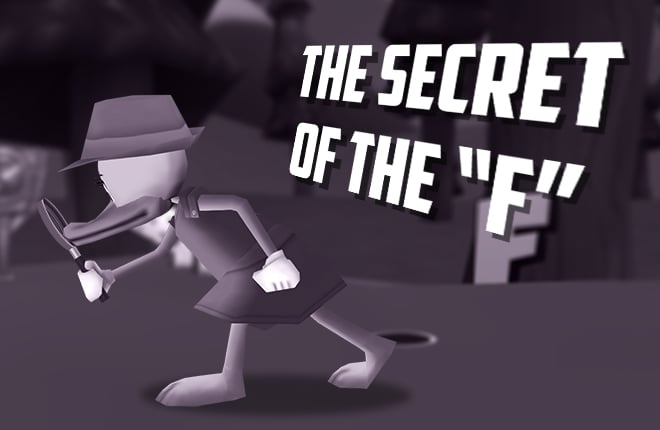 This case was once on the back burner for me, but I quickly realized what little time I have left for investigations. After all, Toon-est is half-way to closing until next year. If I was to get investigations done... it needed to be now.
Sticky Lou's Blue Glue is blamed for letting this sign fall to pieces, but I don't buy it one bit. You might say "Yes, but Riggy said..." -- allow me to stop you right there. Riggy is quite batty, and that is well known. Although he is very passionate about the celebration, I often find he's quite oblivious to his surroundings. Have you ever seen him not walking in circles around Toon-est? He struggled to even find the missing letter! Rest assured -- I'm on the case. I will leave no stone unturned. Not even Toon-est's signature mountains.
Overnight, the glue mysteriously came loose after exactly six years. Why only the F? If this glue truly were decaying, would other letters not have fallen? I don't buy it. Look at the facts: It was only just a few days ago Riggy announced the F was missing. Indeed, it may not have been on the tower but Toons found it laying by a tree as quick as a Rabbit I met on my last case, "The Case of the Curious Carrots". Now that's a case file I won't forget.
To clear my mind, I decided to take a long walk and ponder. Suddenly, I found myself in Toon Hall, standing directly in front of a peculiar duck -- Doctor Dimm. He had quite the strange idea, one involving Cog interference in the air. Professor Flake had mentioned it to him last week, and he couldn't help but tell me all about it. I couldn't help but notice his peculiar hat, but this was complete nonsense.
So what does it all mean? Quite frankly, this case may just remain unsolved. Doctor Dimm's idea of Cog interference causing the glue to loosen may have merit -- but I have my doubts. Perhaps Riggy was right after all, and I was foolish to doubt him. Regardless, I do have one more case to solve -- "The Case of Toon-est's New Name"! I would have preferred a more... mysterious choice of names. But, the three options provided will be plenty. If you've yet to solve this mystery yourself, there's still time to vote!
That's all for now, everyone. Be sure to swing by my Detective Agency to say hello -- I'm always up for a new case. Until next time.
---
Comments
Sorry! Comments are closed.
---
---
---
---
---
---
---
---
---
---
---
---
---
---
---
---
---
---
---
---
---
---
---
---
---
---
---
---
---
---
---
---
---
---
---
---
---
Back To Top