More News
Toon Resistance Report: Cassie Peppercakes
Posted by Cassie Peppercakes on May 12, 2019 at 2:00 PM
G'day mates! Not used to the new lineup of Rangers? Don't worry, I don't bite. Unless ya mess with my team, that is. Yah can call me Cassie Peppercakes, the new Toon Resistance gag expert. One skilled croc can't take down the C.F.O. all alone. Do the Resistance a favor and hop on over to Cashbot HQ! I'd like to see how much silliness ya can pack in yer gags.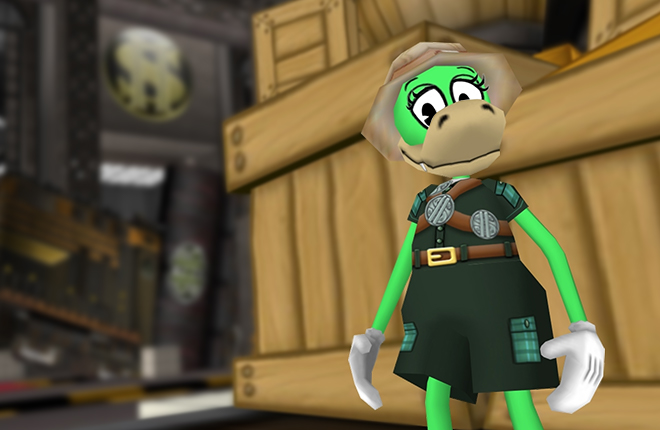 I used to be a delivery gal for Gopher's Gags on Elm Street. When I was growing up, Gopher taught me the magical art of gag engineerin'. Crikey! I remember my first gag project bein' a Bubblegum puddle, a sweeter version of the Quicksand gag. Ahh...good times. As I got older, Gopher taught me his signature gag recipe, the Spicy Lava Cake. A bundt cake hotter than the outback 'erself! Now, I use that very same recipe for my Chili Pepper Pies! The Cogs won't know what's comin'.
Pfft. Gettin' into the Resistance was a piece of cake! Excuse the pun. Gopher and I were havin' a spice-off to see who could withstand our blazin' hot Cupcakes O' Doom. Every Toon ran out of the shop, sweatin' out their shirts! All but one - Lord Lowden Clear. The lad wanted me to join the Resistance 'cause of my extensive knowledge of gag modification. Hehe. All that mischief finally paid off in the end, aye?
Ya think ya got what it takes to throw one of my signature spicy pies? Come help out the Resistance Rangers and I'll give ya something to take home with ya!
Oh, and one last thing. My team and I are cooking up some new ToonTasks for you to chew into. They'll be hot and fresh, so be sure to come and visit us later this week!
---
Comments
Sorry! Comments are closed.
---
---
---
---
---
---
---
---
---
---
---
---
---
---
---
---
---
---
---
---
---
Back To Top