More News
Toon Resistance Report: Bulletin Belle
Posted by Bulletin Belle on May 8, 2019 at 2:15 PM
Heyo, Recruits! Did my ads get your attention? I'm Bulletin Belle, the newest Resistance Ranger recruiter. Maybe you've seen my stands and banners around Toontown. Works of art, don't you think? Well, now that I've got your eyes peeled: We need your help in Operation: Cashbot Headquarters! The other lead Rangers and I can't wait to meet you! The only problem is... Neither can the Cashbots.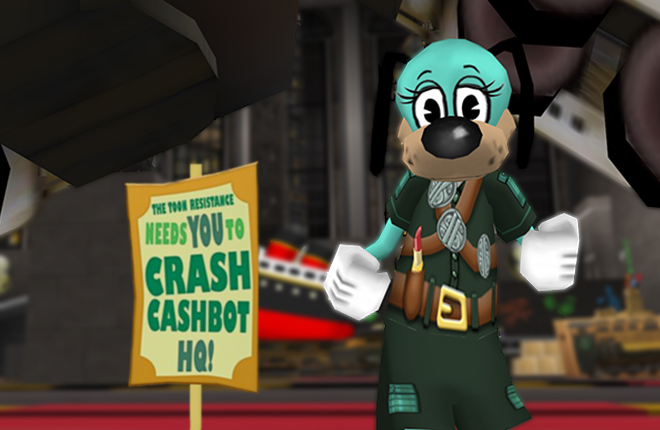 Before becoming a Resistance Ranger, I was helping Sandy over at the Subzero Sandwich Shop on Walrus Way. That hysterical horse just loved the advertisements and banners I'd publish. I worked day in and day out, creating hundreds of out-of-this-world posters for the shop! Now that I think about it, I'm not sure if I ever got paid. Sandy only really ever fed me the leftover Frozen Fish sandwiches at the end of the day. Hmm... I need to make a call.
One day, when I was closing up shop, Lord Lowden Clear himself walked in carrying a stack of my banners, posters, and newspaper ads. With a big mighty bark, he boldly said, "We need a Toon like you... And sixty Frozen Fish sandwiches, please." Now, I lock arms with the Toon Resistance! I scurry through the streets of Toontown finding new Toons to recruit and Cog Buildings to paint. It's not a one Toon job, though. I'll be needing your help with my ToonTasks for Operation: Crash Cashbot Headquarters!
Come to Cashbot HQ and pay me a visit, and I might just give you a souvenir for your good deeds. Which would you like? Perhaps a Cashbot Stopper Shirt? Afterward, I can give you as many Cogbuck Unites as you need as long as you help me with my to-do list, which is a type of unite only available during this operation!
I have some other designs that I've been working on in my downtime, but... Doh! I shouldn't have said anything. You didn't hear anything, didja? Anywho, I'll see you around the Resistance Outpost!


May 3, 2019 [ttr-live-v2.6.1]
General
• When using a Toon Rewrite on a Toon that was originally multi-colored, the colors will no longer be overwritten in the Make-A-Toon.

Crash Cashbot Headquarters
• Fixed a crash caused by receiving 5-Star Fire SOS Cards.
• Renamed "Promotion Unites" to "Promotion Assist Unites" to avoid confusion.
• Resistance Rangers will no longer give out duplicate tasks.
• Fixed a semi-rare crash when loading into Cashbot HQ.

Silly Meter
•When a task requires you to visit a Scientoon, your SpeedChat phrases should correctly update to say you need to go to Toon Hall.

---
Comments
Sorry! Comments are closed.
---
---
---
---
---
---
---
---
---
---
---
---
---
---
---
---
---
---
---
---
---
---
---
---
---
---
---
---
---
---
---
Back To Top