More News
Celebrating Pie Day in the New Toon Hall!
Posted by Flippy on March 14, 2019 at 3:14 PM
Toons of Toontown, happy Pie Day! Undoubtedly, this is one of my favorite days of the year. Who doesn't like pies? Strictly speaking, it isn't Pie day, but Pi day. But'cha know what? With all the Silliness going on around here, it could be any day!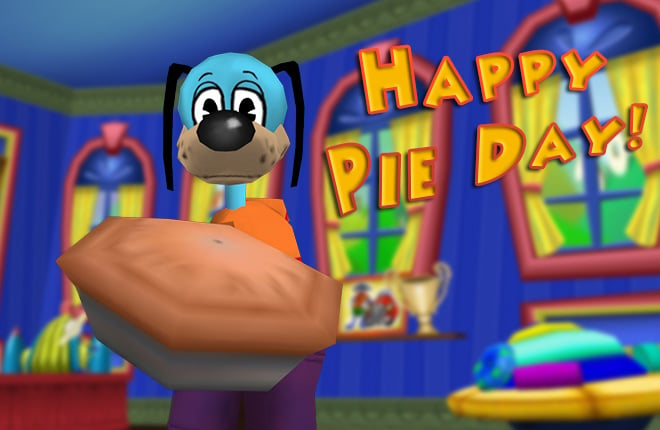 Whatever you decide to call it, one thing remains the same. I've got some freshly baked pies for you all in Toontown Central! Just walk up to my stand and I'll give you some! In fact, this year I have extra pies to make sure we can all enjoy the fun. Just make sure not to throw them at me. Do you know how hard it is to bake more pies with pie on your gloves? It makes the bowl very slippery!
Speaking of making more pies, my newly-built office is bigger than ever! It's fantastic that I can look out the window and see the rolling Toontown hills smiling back at me. I truly do appreciate the major remodel of Toon Hall, and the extra space has given me more room to do what I love best! What's that? Well, making pies of course! I do enjoy talking to all of the new Toons entering Toontown, but I'd be lying if I said that baking pies isn't amazing.
Anyhow, enjoy the pies while they last! I'll be closing up my pie stand at Midnight Toontown Time (PDT), so get'cha free pies while you can! Let me tell you, making pies with all the Silly Meter Maxing anti-gravity has been a challenge. In fact, there's still two more simulations of the Silly Meter Maxing event at 6:00 PM and 9:00 PM Toontown Time (PDT)! I'll sleep well tonight with how tired I am!
Once again, let's let the pies fly this Pi day!
---
Comments
Sorry! Comments are closed.
---
---
---
---
---
---
---
---
---
---
---
---
---
---
---
---
---
---
---
---
---
---
---
---
Back To Top