More News
The Silly Meter Has Reached the Top!
Posted by Professor Prepostera on March 13, 2019 at 8:30 PM
Despite this evening's earlier malfunction... THE SILLY METER HAS FILLED UP! It's like nothing I've ever seen before! My Silly Reader went off the charts! These results just can't be correct... From my understanding, Silly Particles haven't just caused gravitational anomalies, but major atmospheric interference too!
Dimm, pick yourself up off the floor! We must check for other funny fluctuations.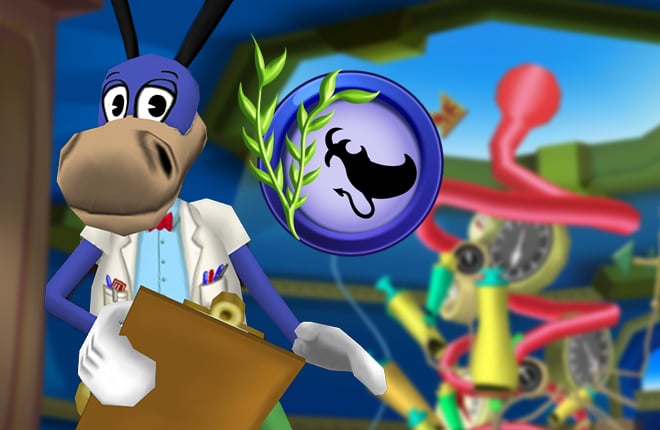 From what I can see here, upon reaching maximum Silliness, the Silly Particles overwhelmed the Cog's ability to function -- causing them all to explode simultaneously! This is unprecedented. The possibilities we can unlock with the Silly Meter are far beyond our original predictions. Surlee, are you seeing this?
...Surlee? He didn't come back to see this moment? Come to think of it, where are Doctor Fissionton and Doctor Fissionton? I wouldn't expect them to have missed this. Bah! There's no time to look for them right now. Let's see the position of our three Silly teams.
With a tremendous total of 13,551,901 Silly Points (not accounting for the negatives), it's time to congratulate our first ever winning Silly Team: Decreased Fish Rarity! That means for the next two days, all rare fish in Toontown will be easier to find. Several new docks have been added to each pond, too! If I didn't have so much work to do, I'd go out and start fishing myself.
Once again Toontown, you've outdone yourselves. On behalf of Loony Labs, thank you to each and every one of you who helped us with this experiment. Don't forget, you can claim your own Silly Meter Start-Up Shirt for a limited time. Go out and enjoy your reward, and get ready for the next Silly Cycle!


---

WAIT! There's one more thing. Doctor Fumbdound tells me that we've captured data from the moment that the Silly Meter maxed, so that we can run simulations of the event and allow other Toons to analyze it. The event will run in all areas of Toontown, not just Toon Hall!
We'll be running the Silly Meter max event at the following times tomorrow for those who missed it. These are all in Toontown Time (PDT).
9:00 AM
12:00 PM
3:00 PM
6:00 PM
9:00 PM


---
March 13, 2019 [ttr-live-v2.4.2]
General
• Fixed several back-end issues relating to the Silly Meter.
• Added smooth frames support for more animated objects such as hydrants, trashcans, mailboxes, and the fishing bucket in Toon Estates.
• Fixed name of the Silly Meter Start-Up Shirt.

Buildings
• Added a maximum capacity for buildings to prevent performance issues. You can still teleport to friends who are inside of a full building.

Shticker Book
• Removed ability to scroll to change pages in the Shticker Book due to buggy functionality and the addition of pages with scroll bars.
• Fixed a soft lock when opening the Shticker Book after jumping.

Silly Meter
• Prepared for the first time the Silly Meter reaches the top.
• Implemented dialogue for Toons who try to get a Silly Reader without a free ToonTask slot.

---
Comments
Sorry! Comments are closed.
---
---
---
---
---
---
---
---
---
---
---
---
---
---
---
---
---
---
---
---
---
---
---
---
---
---
Back To Top