More News
Making Up for Lost Time
Posted by The Fissiontons on March 13, 2019 at 6:30 AM
There isn't much time left.
Till the Silly Meter reaches its peak, that is.
We are rapidly approaching a new era in Toontown's history!
Once they find our Final Pieces, the Final Plan will be complete.
If you have been living underneath Toontown Central's fountain, seven feet and six inches beneath the earth, searching for evidence of a butterfly infestation (we know you're out there) -- then you probably don't know that the Silly Meter is on the brink of reaching the top! As we near this event, Doctor Fissionton and I figured that we should make up for lost time and tell you what we've learned throughout our adventures.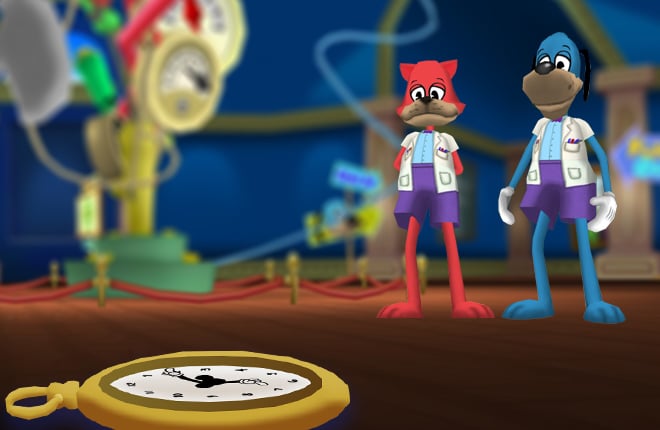 What do you think they need to know most?
What only we can tell them.
I suppose we ought to start with what's most important, then.
The greatest wisdom of our journeys?
Hmm, if only there was enough time to tell them that recipe for a perfect pie.

First thing's first: Things are not always what they appear to be. Just look at us! If you look at us one way, we are a blue dog. If you look at us another way, we are a red cat. What you see depends on your perspective.
If you assume you are seeing things clearly, you won't look for additional perspectives, and will find it more difficult to solve problems. Sometimes, the solution to a problem is removing the very thing that you thought was integral, the supporting infrastructure under-girding everything you thought you knew about the situation.
Here's the most important thing that all of Toontown needs to know, however: Work together. Never underestimate the power of collaboration. Moreso than a good joke, the cure for sadness is each other.
Which will fill up your Laff Meter faster: Waiting in the Playground to cheer yourself up, or having a friend make you laugh with a great Toon-Up gag? It took us being split in two and hurled throughout time and space to understand the importance of depending on others... Don't make the same mistakes that Doctor Surlee has by taking on life alone.
I imagine they're confused with us at this point.
Granted, we've always had a flair for confusion.
Soon, they'll know what this has all been for.
You know, Fissionton, I just realized something.
What's that?
I believe we've finally realized who we are.
Perhaps, instead, who we are meant to be.
I hope that they'll forgive us.
I'm positive they will. Now, we better go get ready.
Good luck, Toontown! Go on and send the Silly Meter through the roof and beyond. Unfortunately, we have something else to attend to now. We'll be cheering you on through each and every Silly Particle throughout all of time.
---
Comments
Sorry! Comments are closed.
---
---
---
---
---
---
---
---
---
---
---
---
---
---
---
---
---
---
---
---
---
---
---
---
---
---
---
---
---
Back To Top