More News
Doubling Down on Silliness
Posted by Double Talker on March 10, 2019 at 11:30 AM
Toons, let's step back for a moment. You might want to double think the whole Silly Meter fad. Ever since this so-called "Loony Labs" started talking about silliness, us Lawbots have been working double overtime just to analyze the codes that this device has been violating. It's time we step in to double down on silliness.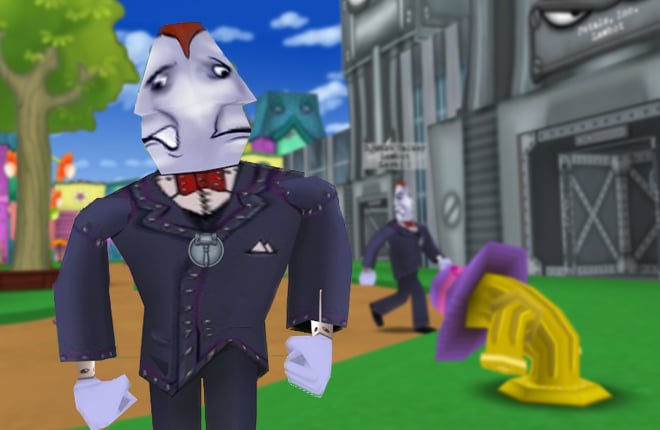 I've done the research myself: Silly Particles are harmful to Toontown. I've seen the gravitational anomalies with my own four eyes. And this "Doctor Fissionton" duo? They might talk in double, but they're no match for the knowledge of this Double Talker.
Besides that, the rise of silliness has become an immediate threat to Toons and Cogs alike. Fire hydrants, mailboxes, and trash cans have began fighting in the streets -- and without any sort of machinery to power them. It's dangerous, nonsensical, and downright disruptive to the order that this town desperately needs.
I know some of you may be fond of this silliness, but when you look at the facts, I'm sure you'll agree with me. Trust me, I've studied this silliness myself -- and I'm not one to double cross.
We'll be coming into Toontown to help you lower the Silly Levels back down to how they should be. Everything will go back to normal as long as you don't try to fight us back.
Don't think of it as an "invasion," we think a better term is "friendly takeover."
March 10, 2019 [ttr-live-v2.4.1]
General
• Keep sending us your Silly Meter feedback! This update addresses a number of issues brought up to us by the community, and we have even more adjustments and bugfixes coming soon in future updates.
• Added a new setting for Vertical Synchronization (V-Sync) in the "Video" tab of the Options Panel. When enabled, the game's maximum frame rate will be set to to whatever is supported by your display in order to prevent a visual bug called screen tearing. This setting is enabled by default.

Silly Meter
• Fixed a typo in the "Overjoyed Laff Meters" SpeedChat phrase, which referred to it as the scrapped name "Overlaff."
• Improved formatting of large numbers on the Silly Stats page.
• Added a scroll bar to the Silly Stats page to prevent stats from overflowing off the page.
• Fixed a bug causing the game to freeze when starting the Silly Reader tutorial.
• Fixed a bug causing Silly Points from battle bonuses to be blown extraordinarily out of proportion.
• Adjusted balance of the Cogs' impact on Silly Points.

Trolley
• Fixed a bug causing FPS drop when collecting treasures in the Maze Game.

Streets
• Temporarily disable dynamic street signs to prevent crashing on some Windows machines.
• Slightly boosted the volume and listening radius of animated objects.

Battle
• Fixed a bug causing animated objects to help in battle before the amount of Global Silly Points needed to wake them had been reached.

Cogs
• Fixed an occasional visual bug with Cog explosion animation.

Estate
• Fixed a commonly abused bug with the mailbox allowing Toons to bypass collisions.

---
Comments
Sorry! Comments are closed.
---
---
---
---
---
---
---
---
---
---
---
---
---
---
---
---
---
---
---
---
---
---
---
---
---
---
---
---
---
---
---
---
---
---
---
---
---
---
---
---
---
Back To Top