More News
Daily Alpha Giveaway: The Final Countdown
Posted by Sir Max on December 13, 2013 at 2:00 PM
Ooooooooooo
OOOoo
OOOo
oooo
ohhhh boy. This is it, fellas. The final day. We are literally in the final countdown. I can hear 80's music all around me. Such intensity!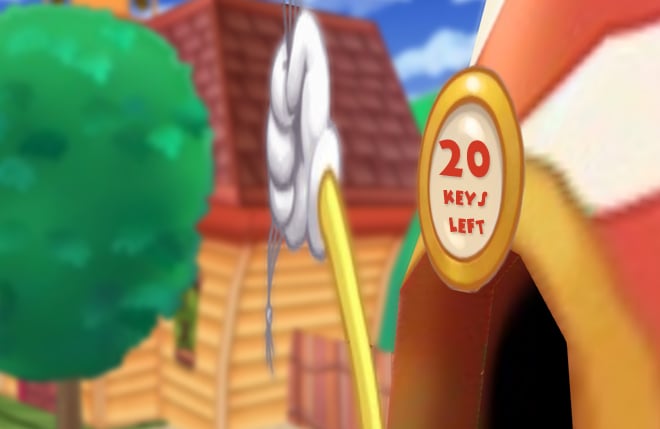 You can feel the tension in the air. What will today's feedback question be? What website is hosting the secondary contest?
What lucky toons are going to get their paws on the last 20 Alpha Keys in the Giveaway?
Well, my curious friend, I have an answer for all of those in order of randomness. Random counter says that I'm going to answer #2 first: We're hosting the secondary contest. In fact, we are merging the giveaway into one full thing and randomly picking 20 lucky toons to receive keys!
Now, I've been reading some of your complaints. You're "never entering another key contest again", you say. Well, sadly, you toons who said that just lied. "You can't force me to enter!" you may say, but
we just did.
That's right. Everyone who has entered since the beginning of these giveaways was just entered into this final one. That means if you entered all 10 days of the giveaway, your name is in there 10 times. If you entered 3 days of the giveaway, your name is in there 3 times. Basic Math. (Whichever one of you thinks that Toontown has no educational value, consider yourselves wrong. Hooray for math!)
Now, for the question. This is the final one, so make it count! "What can Toontown Rewritten do to make the game better for you, personally? Not the game as a whole, but you." It can be big or small, a tweak or a huge feature.
This has been an awesome experience, and I love reading your feedback every day. No matter who wins tomorrow, I hope that all of you had fun doing this. Toons of the world,
checkoutthesewinners
!
Daily Alpha Giveaway Winners:
The people listed below were randomly selected from the entries to win. Head on over
here
to enter for tomorrow's giveaway!
Today's Question:
"What kind of tools can Toontown Rewritten make to help other sites?
(Examples: Toon stats, Top Toons display, Invasion tracker API, etc.)"
1. Tomasina
With Top toons you can add Top Doodles, like most laff given, most tricks done, etc.
2. Kenoch
An Invasion Tracker would be vey helpful. I've used it countless times in the original Toontown.
3. Dippy Skippy Nuttymuffin
Put up some advertising on TTR website for other websites.
4. Baron Zooblecrump
API for toon update for websites. Top Toons for buildings destroyed, most bots destroyed, etc.
5. Weird Zany Rufflespeed
...I think it'd also be cool if the game server could output some in-game information directly to the Toontown Rewritten site itself. Features like invasion trackers on the Toontown fansites were useful and it would be nice to have that built directly into the Toontown Rewritten site.
6. Knuckles
Invasion Tracker!!!!
7. Odieboy
A tool that can help Toontown Rewritten release to another website is a tool that can track invasions, like the good ol' invasion tracker website, but make it official! Nobody will be banned for using it!
8. Avada Kedavra
I really have no idea...
Once again, we borked up and forgot to push the question. These toons still entered in the time period, but he answered the question "Of all of the suggested features you have seen, which one do you want the most?" instead. Sorry!
9. Elijah
More animals to choose from, and animals to have tales.
10. Cookie
My most wanted feature would probably be the idea of bikes or another form of transportation for the tasks that require a lot of walking around.
"Eddit or Reddit?" Contest:
Reddit
:
I asked redditors of /r/Toontown to put their art skills to a test and make a version of "Snoo" based off of Toontown. These below are my favorites. Keep an eye on /r/Toontown, as the moderator (
/u/Mysteryman64
) and myself will be choosing one of them to use as the subreddit's logo soon!
1. Mellowbit

2. Greenitthe

3. Vyradia

4. Derpygoose

5. Annelle

Toonblr
:
June and Josh hosted a Tumblr ("Toonter") contest yesterday to see some of the fanart that you guys can draw. They asked for five different categories, and picked a winner from each. NOTE: These are just for fun, not in-game designs.
1. Mischief and Science
- Toon Trooper Symbols

2. Gale Slash
- New Cog Emblem

3. Shiba-ty
- Shticker Book Redesign

4. Slendytoon
- Friends GUI Redesign

5. "Cogs Make Me Uncomfortable"
- New Shirt Design

TTRForums Backstory Contest:
TTRForums was interested in what kind of fanfiction the community could come up with, asking everyone to write a story about how an NPC earned their job. These don't relate to TTR, just a fun story to tell. And a key to win!
1. Footballtoon
The Discovery of Lord Lowden Clear
...Postmaster Pete was in awe. ?Oh my lord, Lowden?what is this?? Pete gradually asked, his head still turning, stunned by the visual in front of him. Lowden answered, ?Well, I?m working on designing a Cashbot suit. I?ve been studying how the Sellbot suit parts worked, and have managed to come up with a working Cashbot form of the cog suit. I just need the gloves to complete it...
2. Fire Lord
The Tanley Parable
...This is what Toon 427 did every day of every month and every year, and although others might have considered it cog-like, Tanley enjoyed every moment that the orders came in. And Tanley was very happy. Then one day, something very strange happened. Something that would forever change Tanley. Something he would never forget...
3. Mayday Parade
Loony Louis' Story
...Binky sprayed me with his seltzer bottle and decided to move on to the next exercise. Which was the best thing I've ever seen. It was a mini Cruiser Clown Car! It was equipped with horns, and even wheels shaped like pies...
4. Thing
Johnny Cashmere's Accidental Success
...He always dressed a little different than the other toons. He wore a shirt and a pair of shorts like every other boy toon, but his entire outfit was strangely colored...
5. Awkward Pineapple
Inflatable Wrecking Balls
...Bruce was different, though, he would not let the cogs change him. As he left his house, he said bye to a few of his neighbors, but they were too busy acting loony to notice...
6. Obsidian
Detective Lima, On The Case
...They stormed each neighborhood and claimed it as their own. Lloyd Lima did all he could to protect his citizens from these robots, AKA "cogs", but in the end, they were all run out of Lureville...
7. Princess Hulagadget
Whispering Willow's Voice Training Secret
...I can still remember how things were, back when Donald was still awake. He had called me, telling me about his new Dreamland, and asking me if I'd like to open up a shop there...
8. Slendy Toon
Vidalia Vavoom: The Love that can Never Be
...Years pass as Vidalia's task to toons is to recover and deliver the special love note to Snooty. She knew it was time to confess. It's been almost 10 years since she's known him...
9. Remedy
Flippy's Audition
..."I'll make them wacky! Fun! Excited! Toonier than toonier can go!" Flippy exclaimed, jumping onto a table. "I have the enthusiasm of all the toons combined." ...
10. Chariot
Leo's Fenders - The Pie, The Yesman, The Mouse
...The robot walked up to the Toons, with a very creepy grin on its face. It had a metallic suit on, and had excellent posture for a robot, if Leo did say so himself...
---
Comments
Sorry! Comments are closed.
---
---
---
---
---
---
---
---
---
---
---
---
---
---
---
---
---
---
---
---
---
---
---
---
---
---
---
---
---
---
---
---
---
---
---
---
---
---
---
---
---
Back To Top