More News
Get a Slice of the Pie Day Celebration!
Posted by Flippy on March 14, 2018 at 9:00 AM
SPLAT! Say there, come get a slice of the action! Just standing around on a day like today is going to get your crust cooked to a scrumptious golden brown! Keep your eye on the pies, because there's no way those pierates are backing down. Haven't gotten your fill of information yet? Toons, it's the most delicious day of the year: It's Pie Day, Toontown!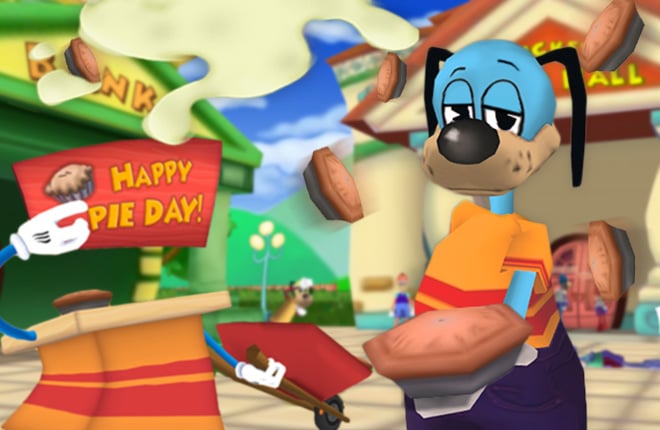 Toontown's Pi(e) Day Celebration is hot and ready to serve! Whether you're a pie-passing pro or if your skills are a little crusty, today is the perfect day to serve a splat to your friends without any hard fillings. No one can get angry about a great big pie surpies on Pie Day!
To serve your plate as fresh as the Pillsbury dough boy, I've cooked up a batches upon batches of my world-famous pies right here in Toontown Central. Eat your vegetables and then stop by for some "Just Desserts" to serve to your friends, or any Cogs who aren't quite seeing the beauty in the pie of the beholder!
If this pie party heats up any further, I have a filling that Toontown's silliness is going to rise faster than a homemade crust! With April Toons Week just around the corner, and the can of silliness brought by Doctor Fissionton's Bug Bash, there may just be more silliness in Toontown than ever before! If only Doctor Surlee would come out of his lab...
Now, let's cut the chatter and get back to the splatter.
Happy Pie Day from the Toon Council!
---
Comments
Sorry! Comments are closed.
---
---
---
---
---
---
---
---
---
---
---
---
---
---
---
---
---
---
---
---
---
---
---
---
---
---
---
---
---
---
---
---
---
---
---
---
---
---
---
---
---
---
---
---
Back To Top