More News
Daily Alpha Giveaway: A Clean Slate
Posted by Sir Max on December 5, 2013 at 2:00 PM
Heyo! Welcome to Day 2 of the Daily Alpha Giveaways. I know you are eager to hear these winners, so I'm not going to waste any time.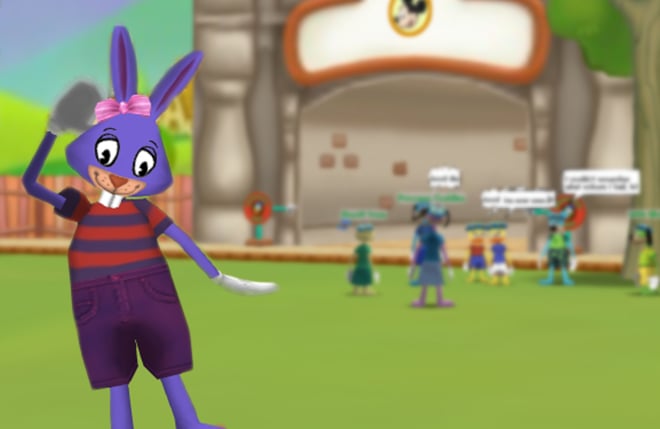 But actually, I'm going to waste a little bit of time to talk about this. First of all, we had 4,500 entries. No, seriously.
4,500 entries.
We were expecting 200, maybe 500. Not 4,500. And guess who had to count all 4,500 of those out by hand? This guy! No, not me. This guy behind me, Fat McStink.
Well, at least, he was counting them out. He got to 70 when one of the Lab guys stopped him to say that we could put this into a machine to do the counting for us. Did you know that they sell contest counting machines? Who knew.
Now, before announcing the winners, let's talk about today's contests for the 4,480 of you who are about to be disappointed. Winners, you can get your glory in just a few paragraphs. First of all, we have today's giveaway. We've got another question set up for you over on the
Giveaway Page
: What's something in Toontown that you
never
want to see changed?
Next, we have the secondary contest. We're starting with a clean Slate- literally. We asked Slate to make herself look nice, because we want her to do the first community giveaway. Slate is an awesome YouTuber who has been livestreaming videos of our Daily Updates, and she is also one of our team's texture designers. You can
head on over to her channel
to get the details about her contest, and we'll be announcing the winners right here tomorrow!
Now, without further ado, here are the first 20 winners!
Daily Alpha Giveaway Winners:
The people listed below were randomly selected from the entries to win. Head on over
here
to enter for tomorrow's giveaway!
Today's Question:
"What was the worst part about Toontown, and why?
How can it be better?"
1. Ace of Spades
...The worst part of Toontown districts are therefore the most played in the 'Nutty River' and with that, many players were limited to playing in empty districts without the chance to go on a VP, or CFO, it was really sad in Toontown...
2. Connor
The worst part of Toontown is the greeners! How can it be made better you ask? Well, you can fix that glitch that greeners used for hundreds and hund- well, just a couple of years, that made toons stuck on the VP lobby! That'd be toontastic, because no toon deserves to be greened.
3. Grabovski
...The worst part of Toontown is the trolley because you need to play minigames that don't grant you many jellybeans...
4. Fireball
I dont really like the matching game, I wish it could give hints...
5. Donut Cannon
The fact that you can have 6 gag tracks...If the game was limited to 5 gag tracks per player, there would be a lot more teamwork-based strategy in the game.
6. Swat
The hackers was my main problem. I got hacked many times and I'm sick of it.
7. Super Spike
Limited to 50 friends. Too many trolley games that I didn't like. You could ask the toontown community what games they would like instead of you putting all of them back into the game, put the ones we want.
8. Princess Melody Kookyton
...After thinking of what you guys have done, I'll say fishing is the worst. I would like it if fishing could be based on statistics a bit more than luck...
9. Fireball
(Popular name, eh?)
In my opinion the worst part of toontown is when the CFO get a safe and put at his head and we need to throw a safe to get the safe off...
10. Blueberry Duck
I think gardening is the worst part of Toontown, and I think you can make it better by making it so plants will grow faster...
Developer Picks:
For our first secondary contest, us team members picked 10 people from the community who we really want to see playing in Toontown Rewritten.
1. Coach Zucchini
- YouTuber
Coach Zucchini, or "Coach Z." as most call him, is the most subscribed Toontown YouTuber of all time. He does many rants about the good and the bad in Toontown, which is exactly the kind of feedback we want with Toontown Rewritten.
2. Flypikachu
- MMO Central Forums Member
Flypikachu said something in a thread yesterday that really caught our eyes. "I hope that everyone is happy, no matter what happens, if you win a key, and if you don't win a key. A true toon stays happy even though they don't win anything. Good luck everyone, and for those of you who win a key tommorow, have a toontastic day."
We hope that you have a Toontastic day too, Flypikachu!
3. Amanda
- #ToontownPS Veteran
Amanda is one of the toons who has been following Toontown Rewritten very actively since the very beginning. She has been very helpful the IRC and never complaining. In fact, I once accidentally gave her alpha access and had to revoke it. She didn't mind at all, even though that was a bad move on my part.
4. Shorty
- Toonbook Member
Shorty is a pretty active guy in the community, and a talented artist as well. He is one of the winners of a logo contest that Toonbook held a few months ago when gathering ideas for the Toontown Rewritten logo, and he also made this awesome video after TTR was announced.
5. Ugly Corny
- Community Gossiper
Ugly Corny may not be the most cheerful of toons at times, however he has made a name for himself in the community by devoting time to find information about the rumored "Toontown 2.0" or "Downtown Toontown" that Disney had been working on. Maybe one day he will be leaking things that we're working on!
6. Roxy and Taffy
- MMO Central Forums Member
Similar to others, although she has never won an alpha key, Roxy has been keeping watch on Toontown Rewritten since the very start. She is being a very active and helpful part of the community, and I hear that she is even arranging some sort of Christmas present for the community. You can head on over here if you want to help her. No worries, we haven't peeked!
7. Fastfestival
- Toonbook Member
Fastfestival is a long-time supporter and active member of Toonbook. She is very nice to the members of the site, and has been patient as well while waiting for Toontown Rewritten. Thanks for your support!
8. Captain Flippenhopper
- #ToontownPS Veteran
Just like Amanda, Captain Flip has been around for quite a while. He has kept a positive attitude in the IRC, and we like having him around. See you in alpha!
9. Colorless Rainbow
- Toonbook Member
Colorless Rainbow has added a lot of color to our community since Toontown Rewritten started. She is one of the many artists on Toonbook that generously donates their time and talent to brighten a fellow toons day.
10. Owooo
- #ToontownPS Veteran
Once again, we have someone who has been following TTR since before we even had a name. Besides, how could we pass up on someone named after our favorite SpeedChat phrase? Owooooo!
Thanks for checking out the winners, and be sure to enter for tomorrow's giveaway over at
Slate's Livestream
or the
Giveaway Page
!
---
Comments
Sorry! Comments are closed.
---
---
---
---
---
---
---
---
---
---
---
---
---
---
---
---
---
---
---
---
---
---
---
---
---
---
---
---
---
---
---
---
---
---
---
---
---
---
---
---
---
---
---
---
---
---
---
---
---
---
---
---
---
---
---
---
---
---
---
---
---
---
---
---
---
---
---
---
---
---
---
---
---
---
---
Back To Top