More News
ToonFest: Nominate a New Toon Species TODAY!
Posted by Alec Tinn on September 19, 2016 at 2:00 PM
Is this thing on? Ah, HELLO there! It's been quite a while since I was able to write a blog post, you know! My name is
Alec Tinn
, and I'm the one they have around here for every vote that goes on in Toontown. You may have heard of my previous work over two years ago at the
Toon Council Presidential Elections
!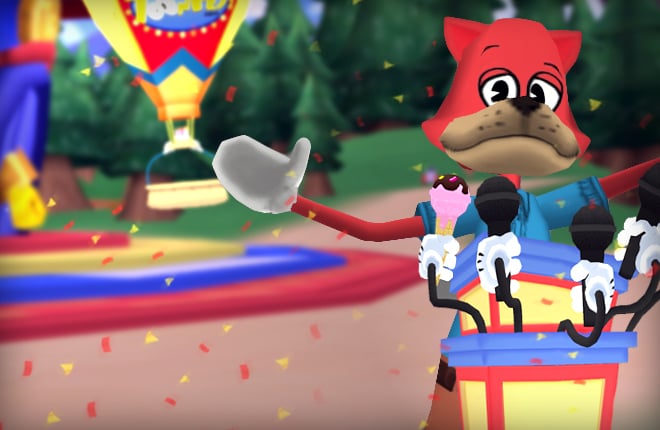 Believe it or not, electing isn't all of my skill. Back before Riggy Marole came around and we were short on hands, President Flippy Doggenbottom himself asked me to valiantly run the ToonFest Hot Air Balloon! And by valiantly, I mean I was tricked into it by signing my name on a ballot. I can't stand heights, you know.
The only way they got me to come back this year was by promising an election of MAGNIFICENT proportions, even bigger than the Toon Council Presidential Election itself!
And oh, do we have one.

The Grand Species Scheme
Over the course of Toon history, the Toon Council has held several species elections to determine which Toons can be created next. Monkeys, bears, and pigs were all new Toons in town at one point -- and now, for the first time in years, YOU get to pick who Toontown's newest species will be!
You may have heard this before, but this is what to expect in the grand scheme of Toontown's Species Election:
Today
Starting RIGHT NOW, nominations are open! Up until
12:00AM on October 1st
, you can submit your nomination and keep track of the most popular species that Toons around Toontown are looking for. See more information about this later in the post.
At the End of ToonFest
Our candidates will be hand-picked and announced by an immaculately skilled and specialized candidate campaigner
(Also known as, well, myself!)
based off of the most popular and creative nominations.
October
Several candidates will be eliminated as the next round of voting continues. We're getting closer and closer to the big one!
November
The top species will battle head-to-head for your vote in the Toontown Species Election. Only one will make the cut, but the other certainly won't go down without a good pie fight!
Early Next Year
After our species is chosen, you'll see it join us Toons of Toontown early next year. It takes some time to travel, you know. The day that they arrive will be a celebration to remember!
---
Nominating a New Toon
Now now, you can't just jump straight into a nomination. A nomination does
not
mean your final vote for the candidate -- they have to do some campaigning first, of course -- but it does require much thought! First, we must ask: What
makes
a Toon, well... a Toon?
The Toon Council has provided these basic guidelines for new Toons of Toontown. They're subject to change, you know, but they'll give you a good idea on what kind of Toon you could nominate into the candidacy!
Nomination Guidelines
New Toons must be a classic cartoon animal. That's what Toontown is all about!
Think about what Toon could make Toontown the most fun.
Avoid Toons that are similar to already existing species. (Example: Cheetahs, wolves, and donkeys are a little too similar to cats, dogs, and horses!)
Toons must fit Toontown's art style. Animals with significantly different body features may not be eligible for creation. (Example: Giraffes have very long necks compared to other animals in Toontown, and Toons are normally a solid color!)
Nominations should be the most basic form of a species. (Example: Nominate a "Deer" as opposed to a "White-tailed Deer")
Be creative! You're welcome to support an existing nomination, or make up your own.
Now, that's quite the list! If you're unsure about your species, you can still nominate it. It may or may not be approved, but it's better than not trying at all. You only get one nomination, but remember:
A nomination is not a vote.
You'll get to vote for your favorite later once the top species have been chosen!
Now, dear friends, I believe that you are OFFICIALLY and FORMALLY educated on the process of
ELECTING A NEW TOON SPECIES!
I'd give you a degree, but I'm afraid you'll have to spend another 4 years attending the Electoral College before reaching my level. Nonetheless, I say that you are GOOD ENOUGH!
Nominating a species is completely optional, of course, but highly recommended. You may even find yourself - dare I say it -
rewarded
in the future! It's time to get this election rolling, and boy, is it going to be a good one. You'll be hearing and seeing a lot more of me, I can assure you.
Now, CLICK THE BUTTON to begin!
Nominate a Toon Species
Don't forget to
Check Out the Other Events
occurring throughout the duration of ToonFest. I'm honored to have spoken to you first! Take care, fellow Toons, and have a great week at the polls.
---
Comments
Sorry! Comments are closed.
---
---
---
---
---
---
---
---
---
---
---
---
---
---
---
---
---
---
---
---
---
---
---
---
---
---
---
---
---
---
---
---
---
---
---
---
---
---
---
---
---
---
---
---
---
---
---
---
---
---
---
---
---
---
---
---
---
---
---
---
---
---
---
---
---
---
---
---
---
---
---
---
---
---
---
---
---
---
---
---
---
---
---
---
---
---
---
---
---
---
---
---
---
---
---
---
---
---
---
---
---
---
---
---
---
---
---
---
---
---
---
---
---
---
---
---
---
---
---
---
---
---
---
---
---
---
---
---
---
---
---
---
---
---
---
---
---
---
---
---
---
---
---
---
---
---
---
---
---
---
---
---
---
---
---
---
---
---
---
---
---
---
---
---
---
---
---
---
---
---
---
---
---
---
---
---
---
---
---
---
---
---
---
---
---
---
---
---
---
---
---
---
---
---
---
---
---
---
---
---
---
---
---
---
---
---
---
---
---
---
---
---
---
---
---
---
---
---
---
---
---
---
---
---
---
---
---
---
---
---
---
---
---
---
---
---
---
---
---
---
---
---
---
---
---
---
---
---
---
---
---
---
---
---
---
---
---
---
---
---
---
---
---
---
---
---
---
---
---
---
---
---
---
---
---
---
---
---
---
---
---
---
---
---
---
---
---
---
---
---
---
---
---
---
---
---
Back To Top