More News
Next Destination: Summer Vacation
Posted by Sir Max on April 30, 2016 at 2:00 PM
ALOHA!
Boy, what a trip. I hope you all didn't miss me too much. I'm back to the blog, though, and that means its time for Toontown to get in gear for some awesome upcoming updates. After all, it's almost summer!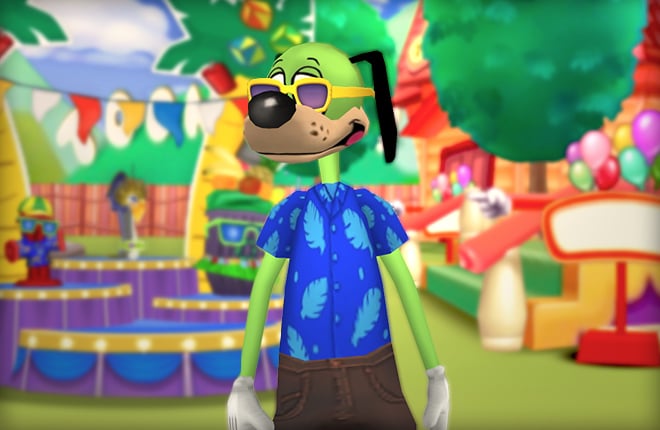 As you may have heard, the Toon Council wasn't too happy with me for the little
April Fools prank
I pulled. Something about not having "permission" to sell a public building to a bunch of half insane scientists, and causing "catastrophic silliness of uncharted proportions" due to it. Now I don't know about you, but I quite enjoyed the view of buildings being ripped from the ground and gravity slipping away!
So the Toon Council put me on probation from the blog for a few days to make sure I didn't have any more tricks up my sleeve. Oh yes, I said a few days. I was able to write blog posts again less than a week after it started. I just decided to make the most of the "punishment" of my vacation!
In those few weeks I was away from the blog, I was able to count all of my jellybeans, take a trip to Disneyland, coauthor an entire fifteen-book series called "The Adventures of Sir Max" (The other author was myself -- we worked quite well together), clean all 156 of my blue button up shirts, discover the meaning of life as we know it, and the most time-consuming of them all: Clean my room.
Now that I've had such a great vacation, though, it's time to start preparing for the next one:
Summer Vacation
! It's the season you've all been waiting for, when Toontown's most exciting updates come out and our population count hits new heights.
In the upcoming months we have a lot in store for you, so grab a Hawaiian shirt and stock up on sunscreen. We've got one short month left until the most exciting time of the year begins, and you'll notice quite a lot more activity from us to lead up to it!
---
Comments
Sorry! Comments are closed.
---
---
---
---
---
---
---
---
---
---
---
---
---
---
---
---
---
---
---
---
---
---
---
---
---
---
---
---
---
---
---
---
---
---
---
---
---
---
---
---
---
---
---
---
---
---
---
---
---
---
---
---
---
---
---
---
---
---
---
---
---
---
---
---
---
---
---
---
---
---
---
---
---
---
---
---
---
---
---
---
---
---
---
---
---
---
---
---
---
---
---
---
---
---
---
---
---
---
---
---
---
---
---
---
---
---
---
---
---
---
---
---
---
---
---
---
---
---
---
---
---
---
---
---
---
---
---
---
---
Back To Top