More News
OMGCon Update: ToonFest Grows Greater!
Posted by The Toontown Team on April 23, 2015 at 12:00 PM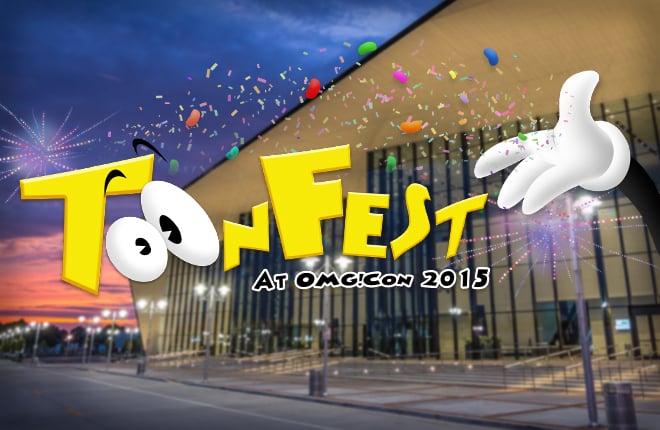 It's been less than a week since we announced our first real-life
ToonFest at OMG!Con 2015
, and the turnout has already been
TOONTASTIC!
We've seen people all around the Tooniverse ordering tickets and booking their flights -- and although we know that some of you may be down that you can't attend, we'll be sure that everyone gets in on the fun somehow, whether it be in-game or watching the event live.
The organizers over at OMG!Con have been just as excited as we are about the large amount of tickets already purchased, and they've been generous enough to offer a promotion for all Toontown players! If you use the code
"OMGTT"
when pre-registerring for a ticket, you'll receive $3 off on a three-day weekend pass.
(NOTE: If you already ordered tickets, go ahead and
contact OMG!Con
with your registration information and mention the special code. They'll be glad to reimburse your ticket price.)
In case a whopping $3 discount didn't excite you
(With the cost of fast food these days, that's enough for a feast!)
-- due to the large attendance, we're going to be opening a
second panel at 1PM on Saturday
called
"Developing the Tooniverse"
about the internal aspects of Toontown Rewritten.

That's a lot to take in, so let's wrap it all up!
Our ToonFest panel about Toontown content with a developer Q&A session will be hosted at 11AM on Saturday.
Two hours later, we'll be hosting a second panel discussing the development of Toontown and MMOs in general to focus more on the top-secret interal aspects of the game.
Although Saturday is our panel day, we will be exhibiting in the main hall every day of the event. We'd love if you stopped by and chatted with us!
Finally, anyone attending the convention can use the promo code "OMGTT" for a discount when pre-registerring on OMG!Con's website. If you have already ordered a ticket, send them an email and they'll be happy to reimburse you.
We want to send a huge thanks to everyone who is supporting the event, attending or not, and we hope to see you there! Stay
TOONed
for more updates down the road as we get closer to ToonFest at OMG!Con 2015.
---
Comments
Sorry! Comments are closed.
---
---
---
---
---
---
---
---
---
---
---
---
---
---
---
---
---
---
---
---
---
---
---
---
---
---
---
---
---
---
---
---
---
---
---
---
---
---
---
---
---
---
---
---
---
---
---
---
---
---
---
---
---
---
---
---
---
---
---
---
---
---
---
---
---
---
---
---
---
---
---
---
---
---
---
---
---
---
---
---
---
---
---
---
---
---
---
---
---
---
---
---
---
---
---
---
Back To Top