More News
Team LHAAFBBHQ: Doctor's Orders
Posted by Team LHAAFBBHQ Mission Update on April 22, 2015 at 11:00 AM
''Something about this isn't quite right...'' muttered Doctor Surlee to himself, as he examined the piece of a
peculiar picture
recovered by our faithful explorers of Team LHAAFBBHQ. ''It's definitely genuine, but this one section looks...
Off...
''
The Doctor was just about to shelf the plans and return to his project, when suddenly a double duo of Toons burst through the door of his lab and abruptly plopped into the back of each other, just barely missing the fragile machinery in front of them.
Team LHAAFBBHQ
had arrived.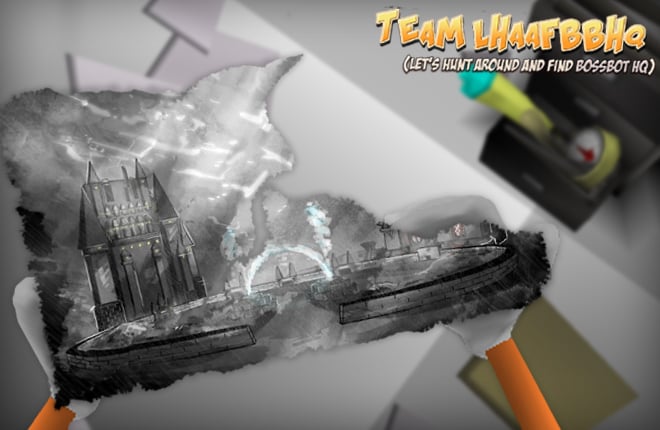 "Doctor Surlee, I presume?", questioned Colonel Violet at the sight of Loony Lab's founder and most extrordinary inventor.
He nodded briefly and took another glance at the photo between his thumbs, noting the subtle differences from his memory of before. "This picture that you found... It's interesting, to say the least. I take it your journey hasn't led you into any similar looking areas yet?"
"Errr, not yet," spoke Captain Rollie, "But we did find something that should invest your interest even more."
A folded memo was handed over to Surlee from Captain Rollie, who recovered it from an Ambulance Chaser that mistook their golf cart for a real ambulance on their way to Lawbot HQ. The memo was slightly smeared, but the font could be clearly identified as good ol' Portable Remington - a signature style of the Cogs.
The memo started out surprisingly nicer than the other, reading
"To the Chief Justice, my honorably blind colleague:"
-- but quickly took a turn for the worst.
"If you are able to fondle your way outside of your overly reflective court room, I'm sure you would be delighted to join me for a round of golf over at the
new Country Club
. The Toons have yet to find my expertly hidden Headquarters, and I plan to keep it that way unlike the ruckus caused in your DA Offices. Try not to stumble into a Playground on your way. -- The C.E.O."
Attached to the back of the memo was another ripped portion with a note stating "ENTRANCE IS HERE, BLINDY" -- which seemed rather illogical considering the Chief Justice would be unable to see said note or picture in the first place.
"I believe I can patch this up," Doctor Surlee said soundly, reaching for his box of supplies.
"What kind of machinery could fix it, Doc? A ray gun? An object morpher? Are you able to single out the particles and extract their positioning to reverse the tear?" asked Professor Von Fumblesplat with excitement as Doctor Surlee filtered through his supplies to pull out the greatest invention of all:
Tape.
Doctor Surlee's face turned grim as he taped the two pictures together, and then glanced over at his calendar. "Team, you're going to need to find this last portion of the picture as soon as you can. Don't ask questions - but we need it with haste."
The team gathered up their supplies and headed out to track down the final piece of the plans, supposedly belonging to a Sellbot, but Silly Lily poked her head through the door before leaving to ask:
"Doctor Surlee, what's going on?"
The Doctor shifted his weight and glanced at the calendar once more. He spoke sternly, with a tone of dread in his voice.
"Something different."

---
Comments
Sorry! Comments are closed.
---
---
---
---
---
---
---
---
---
---
---
---
---
---
---
---
---
---
---
---
---
---
---
---
---
---
---
---
---
---
---
---
---
---
---
---
---
---
---
---
---
---
---
---
---
---
---
---
---
---
---
---
---
---
---
---
---
---
---
---
---
---
---
---
---
---
---
---
---
---
---
---
---
---
---
---
---
---
---
---
---
---
---
---
---
---
---
---
---
---
---
---
---
---
---
---
---
---
---
---
---
---
Back To Top