More News
Tooning-up the Toon Hall
Posted by Flippy on May 14, 2014 at 2:00 PM
Why, Hello there! It's been a while since I was able to post on here, and my oh my how things have changed. I really wish I could have stopped by sooner, but because of the err...the election events...I've just had my hands full.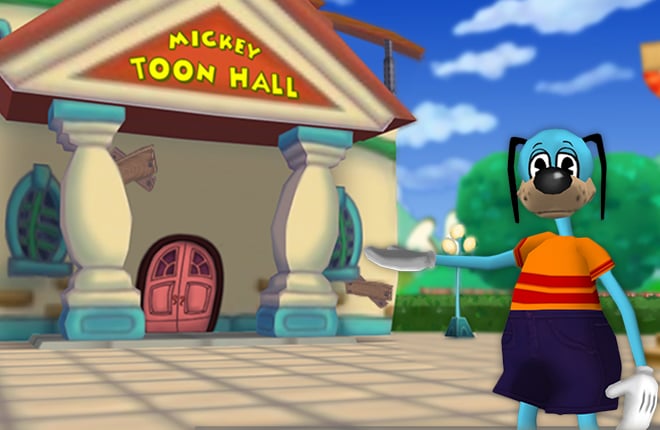 But hey, now isn't the time to focus on the past. The Cogs are still around, but with the help of all of you toons we're starting to scare them off! Now, though, it's time to get down to business! Err- not business. That was a bad choice of words. It's time to get up to non-business!
Just a week ago I assembled the Toon Council for our very first official meeting to talk about the future. Boy, was that a mess. (Remind me not to use party invitations next time I invite the Toon Troopers...) We covered a whole lot though, and I'm excited to be able to finally let you guys know!
The first thing is something you'll be hearing even more about really soon:
The formation of the Toon Resistance.
I've appointed Lord Lowden Clear as the leader, who is without any doubt one of the bravest and wackiest toons I've ever known. I don't want to say much, though, because I don't want to take the spotlight away from him when he starts the very first Resistance Mission!
The next thing I want to go over is my personal favorite:
The Toon Hall is opening up for all toons!
Not quite yet, though. Toon Hall has been private for a while now, but I want to make sure that changes. It's a landmark for Toontown, and one of our proudest buildings. This isn't just any ordinary town hall, though... I've talked with Doctor Surlee on
redesigning it to be completely new
with many, many uses. We'll have all sorts of hallways, pathways, alleyways, sideways, wideways, and longways that will always be expanding to add new things for the toons to do. Not to mention a very special office for myself, and maybe we can find a planning room for Lowden as well!
My good friend Doctor Surlee is doing the building plans - even he is planning on something for himself and the other lab monkeys to work on. A Silly Meter of sorts! In the meantime, anyone can stop by Toon Hall in my temporary office to have a chat while construction continues. I'm excited to see the outcome, and I hope you are too. We'll keep you posted as more parts are finished up by the construction crew.
As I always say, and there's no better time to say it...
Toons of the world, UNITE!
---
Comments
Sorry! Comments are closed.
---
---
---
---
---
---
---
---
---
---
---
---
---
---
---
---
---
---
---
---
---
---
---
---
---
---
---
---
---
---
---
---
---
---
---
---
---
---
---
---
---
---
---
---
---
---
---
---
---
---
---
---
---
---
---
---
---
---
---
---
---
---
---
---
---
---
---
---
---
---
---
---
---
---
---
---
---
Back To Top