More News
Goofy Gags and Gears Galore
Posted by Clerk Clara on May 11, 2014 at 2:00 PM
Eep! Sorry, I'm a bit nervous. I've never even dreamed of speaking in public like this. I'm Clara -- well, nowadays toons call me Clerk Clara. I'm not much of a public speaker... Or a speaker at all, actually... But somehow I became nominated to do a post on behalf of Toontown's newest go-to gag store:
Goofy's Gag Shop
!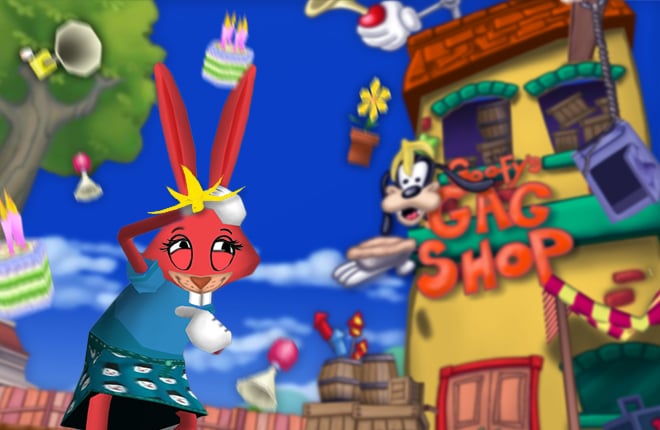 Ever since... well, you know -
that
day - all sorts of toons of Toontown have been hard at work on trying to figure out what made those Cogs tick. Errr- untick? Loony Labs and the Toon HQ have been figuring out what was so catastrophic about those pie pastries.
It turns out, for some reason the cogs explode not only from pies, but from all sorts of the goofy gags we use around town. One toon on the street the other day ended up defending himself with a gush from a nearby fire hydrant, and another accidentally dropped a piano on them.
I've been wondering lately what it is about the gags that make the Cogs so explosive. Does the goop grind up their gears? Honestly, I'm just not sure. I've never met
anyone
who doesn't enjoy a good gag. And good news for you: We have plenty of them!
Make sure to stop by our shop - now open in every Playground! Goofy himself has put his seal of approval on all of our gags - and you know they've gotta be goofy when Goofy gives it. Eeeeep! I've ran over my time by a bit. I need to get back to the shop before the next shipment arrives. Gotta dash!
---
Comments
Sorry! Comments are closed.
---
---
---
---
---
---
---
---
---
---
---
---
---
---
---
---
---
---
---
---
---
---
---
---
---
---
---
---
---
---
---
---
---
---
---
---
---
---
---
---
---
---
---
---
---
---
Back To Top