More News
A Cog Invasion has Begun!
Posted by Toon HQ on May 13, 2014 at 2:00 PM
ATTENTION ALL TOONS: A Cog Invasion has Begun!
Movers and Shakers are taking over Toontown!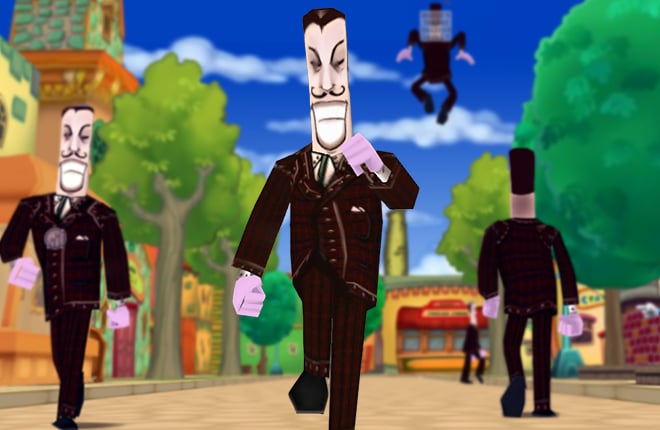 This is bad, toons. I've never seen so many cogs raining down from the sky. Grab your gags, and rally up friends -- these Cogs are grinding their gears harder than ever this week. First it was flooding the streets and stealing from shops, and now it seems that they've coordinated completely random invasions to try and get toons off of the streets.
If you're low on laff,
DO NOT
leave your building! These Shakers are relentless -- even Level 5 Cogs are marching through the streets of Toontown Central! It's the worst attack we've seen since Doomsday itself -- although luckily the cogs still seem to be afraid to enter the playground ever since.
All of the officers in our building agree that this attack definitely isn't the end. The Cogs are up to a big plan - one that we can't be sure of yet. We need to drive this invasion back, but be careful! Once it's gone, there's bound to be more on the way. I'm just lucky that I was next to the global whisper system when it happened to send out that message!
Wait, listen... Do you hear it? I need to get out of here, I can already hear their stomps getting closer. Grr, the trouble with Cogs... Stay safe out there, toons!
H.Q. Harry
Toon Headquarters Officer
---
Comments
Sorry! Comments are closed.
---
---
---
---
---
---
---
---
---
---
---
---
---
---
---
---
---
---
---
---
---
---
---
---
---
---
---
---
---
---
---
---
---
---
---
---
---
---
---
---
---
---
---
---
---
---
---
---
---
---
---
---
---
---
---
---
---
---
---
---
---
---
---
---
---
---
---
---
---
---
---
---
---
---
---
---
---
---
---
Back To Top