More News
Toon HQ needs YOU!
Posted by Toon HQ on May 12, 2014 at 2:00 PM
We've got another situation here, toons. This isn't any funny business, either - but it is most certainly business. Us HQ Officers had just headed back to the drawing board when wouldn't you know, a Cog broke in and stole our blackboard eraser. What does a Cog even
want
with a blackboard eraser? I mean seriously, think about it.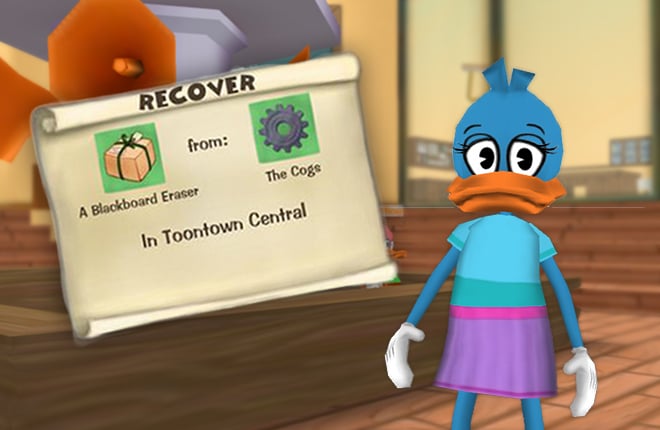 Nonetheless, this is where we need you toons. We're too busy trying to figure out where we placed our chalk, so we're going to need you to head out on a search for the eraser. That Cog is out roaming the streets somewhere, getting his greasy oil all over our brand-new eraser. Absolute nonsense! We can't stand for it.
It doesn't seem to be stopping there, either. Shopkeepers from hither to yon are reportedly getting into all sorts of trouble with the Cogs. They're beginning to move closer and closer to the shops of Toontown, and it's getting worrisome. We don't know what they're planning, but it is undoubtedly something big. Luckily, we have something big up our sleeve as well:
The ToonTask System
.
Starting immediately, every Toon Headquarters all the way from Toontown Central to Donald's Dreamland will begin offering ToonTasks to any toon that asks. You'll want to start off small before taking on the tough tasks, though. Shopkeepers can post their own tasks and offer rewards for them as well, such as teaching you how to use some of the new Gag Tracks that Goofy has been selling, or even be silly enough to attract more Laff boosts! Trust us -- if these reports are true... We're going to need them.
Stay safe out there, toons, and don't forget to stop by for a task!
---
Comments
Sorry! Comments are closed.
---
---
---
---
---
---
---
---
---
---
---
---
---
---
---
---
---
---
---
---
---
---
---
---
---
---
---
---
---
---
---
---
---
---
---
---
---
---
---
---
---
---
---
---
---
---
---
---
---
---
---
---
---
---
---
---
---
---
---
---
---
---
---
---
---
---
---
---
---
---
---
---
---
Back To Top