More News
Tom's Toon-torial Tutoring
Posted by Tutorial Tom on May 16, 2014 at 2:00 PM
Hi there, fellow citizens of Toontown! I'm Tom - but you can call me Tutorial Tom. Why, you ask? Because of the newly opened
Toon-torial
of course!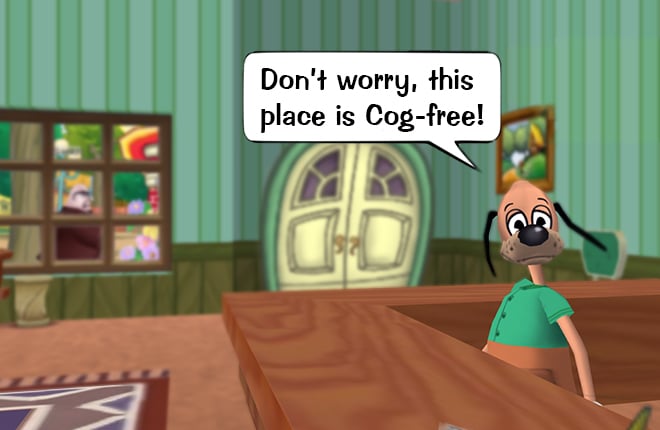 I've been studying the cogs very carefully lately. I can tell you all about these mechanical menaces. There are many different kinds of Cogs, from wide to tall and tall to short. As I'm positive you have heard, they have been turning our happy Toon buildings into ugly Cog Buildings! (Gah, I can't stand consumerism.) However, there is one thing that stands out about the cogs... They can't take a joke! The metal innards just can't handle a good laugh - in fact, a good laugh is what seems to make them explode!
Yikes, looks like I started rattling on again. You'll have to stop me when I do that - we can save that for the Toon-torial. The real news that I'm here to tell you is something exciting for all toons of the Tooniverse... I've been speaking to the Toon Council, you see. Because of the strategies and true teamwork we've been developing to use against the Cogs - along with the help of my Toon-torial to teach new toons about them - starting very soon,
New Toons from far and wide will be able to enter Toontown once again!
Toontown's construction isn't completed just yet, but tomorrow you'll hear all about the
fancy new keys to the town
that the Toon Council will be passing out, and how you can get your gloves on one! Though, before entering, you'll have to stop by my classroom for a quick Toon-torial on how to fight the Cogs. Don't worry, I'll make it quick.
See you there!
---
Comments
Sorry! Comments are closed.
---
---
---
---
---
---
---
---
---
---
---
---
---
---
---
---
---
---
---
---
---
---
---
---
---
---
---
---
---
---
---
---
---
---
---
---
---
---
---
---
---
---
---
---
---
---
---
---
---
---
---
---
---
---
---
---
---
---
---
---
---
---
---
---
---
---
---
---
---
---
---
---
---
---
---
---
---
---
---
---
---
---
---
---
---
---
---
---
---
---
---
---
---
---
---
---
---
---
---
---
---
---
---
---
---
---
---
---
---
---
---
---
---
---
---
---
---
---
---
---
---
---
---
---
---
---
---
---
---
---
---
---
---
---
---
---
---
---
---
---
---
---
---
---
---
---
---
---
---
---
---
---
---
---
---
---
---
---
---
---
---
---
---
---
---
---
---
---
---
---
---
---
---
---
---
---
---
---
---
---
---
---
---
---
---
---
---
---
---
---
---
---
---
---
---
---
---
---
---
---
---
---
---
---
---
---
---
---
---
---
---
---
---
---
---
---
---
---
---
---
---
---
---
---
---
---
---
---
---
---
---
---
---
---
---
---
---
---
---
---
---
---
---
---
---
---
---
---
---
Back To Top