More News
You Betta' be Ready for This!
Posted by The Toontown Team on May 17, 2014 at 2:00 PM
I'm telling you, we just can't contain our excitement over here. You have no idea how big today is. Not only is it the very special birthday of a certain developer... (Don't ask me to name names, because I will absolutely not tell you. I have full respect for the privacy and well-being of our loyal team members.)
(But for the record, it's Shockley.)
...But, today is also a date we have all been waiting for over a month for, and some even longer than that: The
Beta Release Date Announcement
!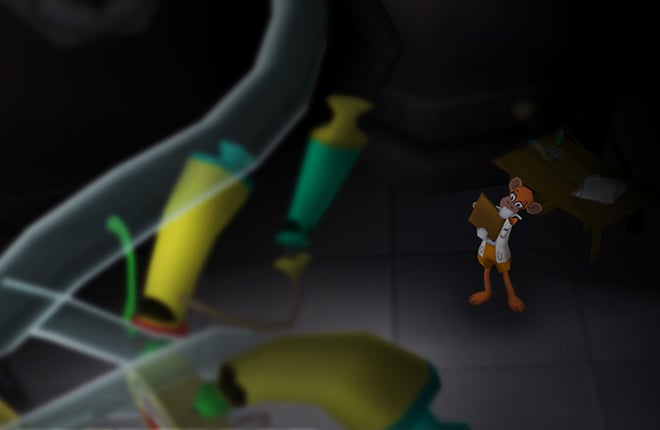 You're going to want to buckle up for this post, because it is a doozy. We're talking college thesis material here. You know what that means, though - we're going to have to use a lot of
BOLD
and
ITALICS
to keep your attention. Don't you even deny it -- We know you only skimmed over that one post. To fix that, by law(bots), you're required to read every single paragraph of this one. The happiness of your Saturday could depend on it.
Do you remember how we told you that the release notes would be the size of a blog post? It turns out that was an exaggeration - in the opposite way! These release notes are the size of
MOUNTAINS
, I tell you, with
SKYSCRAPERS
on top! Yeah, yeah. You just want to see them. Fine. I didn't want to type more anyway. Hrmph. Looks like I have to though, because right below this paragraph, we're glad to finally present the
First Release Notes of Beta
!
May 17, 2014 [ttr-beta-v1.0.0]
Maintenance
• Major Update: The loading system has been completely rewritten!

Back in November, we put together a newly reworked and optimized loading system. Unhappy with our previous work, we went back and redid it one more time to be faster and more reliable, as well as an improved format.

* Sent out street sweepers to clear out the weird patterns on streets.
• In-game kick messages now show a reason.
• Major Update: Backend changes!

* Migrate to new servers in preparation for the public launch. We will be tweaking and updating these servers throughout Beta, so please bear with us when we have to bring them down for maintenance!
• The update system is now completely automated so that districts can be spun up in a flash.
• Implement the "Queue" system!

To keep the servers from being constantly pounded on, occasionally you may have to wait in a queue for a few seconds before logging in. This will make sure that everyone can have a good time playing and give us proper time to launch a new district when there is high load. Give us some feedback on what you think!

* The Launcher has been updated to be a bit more user-friendly, as well as implement better patching.


• Fix a couple of issues relating to the sound effect library.
• Major code cleanup all-around.

Tweaks:
• You can no longer teleport to a friend in a full district once a certain limit of toons has been reached.

This is to encourage people to spread out among other districts and put an end to "parkers", rather than crowding into one massive district.

* Added in an unused animation for the Cog's reaction to a Fire Hose.
• Cogs now sway back and forth when lured to show that they are stunned.
• Added sound effects for Schmooze and Half Windsor attacks.

Features:
• The Cogs have invaded Toontown!
• Every Toon HQ all over Toontown is now offering ToonTasks!

Because of the lack of HQs in this build, you can currently only progress up to Daisy Gardens.

* Goofy's Gag Shop is stocked up and open for business!
• The Toon Council now sends you a complementary whisper to let you know when your name is approved.
• The Cogs have stepped up their efforts, and their master plan has begun. The streets are being bombarded with random Invasions and Cog Buildings!
• Tutorial Tom has opened up his Toontorial to new toons from far and wide to learn about Cogs and how to handle them. Be sure to stop by!
• You can now earn Beta Keys to give to friends through random in-game ToonTasks! They are a bit rare to get right now, so keep your eyes peeled!
• And many, many other things that we can't even count!

Wait, wait wait. Hang on. What was that last one?
Let me flip through my notes, that can't be right... Yes, random in-game ToonTask... Beta Keys... Huh. Yep, that's what it says. You and I both heard it right, folks --
You can now earn Beta Keys to give to friends through ToonTasks!
Oh, but that's not all. It looks like that tomorrow marks the start of our very own
Beta Key Giveaways
right here on the website! We'll kick off tomorrow by handing out those 100 promised stream keys to a few of the lucky watchers of the election, as well as announce what is in store for the rest of the contests! This is going to be an exciting week, let me tell you.
Perhaps the most exciting part of this week, however, is the part you've all been waiting for. In fact, as you are reading this paragraph I guarantee you haven't read the rest because you just skipped down to the bottom of the page. That's why I'm not even going to bold it. That'll show 'em!
The release date for Toontown Rewritten Beta, packed with all of the content listed above, is in just about...
NOW!
Was that a typo to? No, it couldn't be. You heard it just as well as I.
Toontown Rewritten Beta starts TODAY!
(Err, okay. So maybe I did bold it.)
All Beta Testers can head over to the big red "
PLAY
" button and download the new-and-improved launcher to let their journey begin. If you were an Alpha Tester, you've already signed up for Beta! All you have to do is log in. Note that toons have been wiped due to all of the new changes that we've made, though. At the end of Beta, only toon stats will be wiped - not the toons themselves. The toons you make now should be "Rewritten" forever.
Whew! That post really was a doozy. I'm having a hard time processing everything that just happened. Release notes, key tasks, key giveaways, and the release of beta? I told you we were excited to write the post - and that was certainly no exaggeration!
---
Comments
Sorry! Comments are closed.
---
---
---
---
---
---
---
---
---
---
---
---
---
---
---
---
---
---
---
---
---
---
---
---
---
---
---
---
---
---
---
---
---
---
---
---
---
---
---
---
---
---
---
---
---
---
---
---
---
---
---
---
---
---
---
---
---
---
---
---
---
---
---
---
---
---
---
---
---
---
---
---
---
---
---
---
---
---
---
---
---
---
---
---
---
---
---
---
---
---
---
---
---
---
---
---
---
---
---
---
---
---
---
---
---
---
---
---
---
---
---
---
---
---
---
---
---
---
---
---
---
---
---
---
---
---
---
---
---
---
---
---
---
---
---
---
---
---
---
---
---
---
---
---
---
---
---
---
---
---
---
---
---
---
---
---
---
---
---
---
---
---
---
---
---
---
---
---
---
---
---
---
---
---
---
---
---
---
---
---
---
---
---
---
---
---
---
---
---
---
---
---
---
---
---
---
---
---
---
---
---
---
---
---
---
---
---
---
---
---
---
---
Back To Top