More News
Daily Alpha Update: Cannon Fodder
Posted by Sir Max on February 5, 2014 at 2:25 PM
Heyo again, everyone. Sorry about that post delay -- I had one more genius plot to get into Parties! No, it didn't really work. It was still pretty genius, though.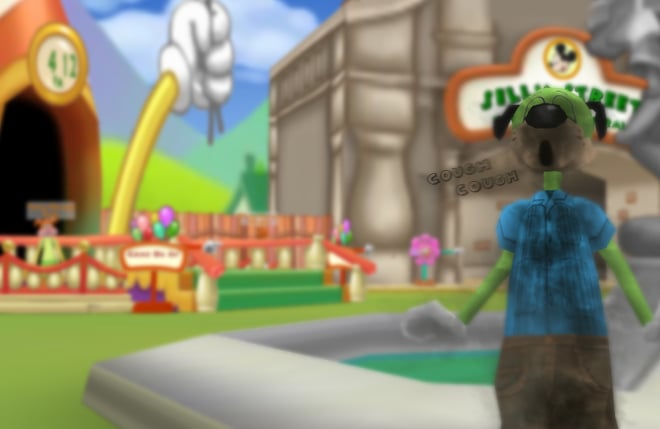 It's not like parties or fun or anything. It's just, well- errr... You see, I hear Slappy has hosted a few parties, and I've been meaning to talk to him about something. I think. It's not because I actually
want
to get into the party which I wasn't invited to, no! I'm glad I wasn't invited. Haha. Ha...
Anyway, it seems like it's back to the drawing board on the plans. I thought for sure that this one would work! You see, I was walking down the street (Avoiding the range of those Knock-knock doors, as usual.) and happened to notice an open truck parked by the side of the road. You'll never guess what was in it: More cannons!
You see, I broke those cannons that I found in the Party Supply Store before. Apparently firing dynamite out of cannons has a tenancy to break them as soon as it launches. Who knew? I went ahead and took some of those free cannons from the truck and constructed an even better plan: Cannons inside of cannons! A normal cannon doesn't have enough range to launch myself into a party, but if I launch a cannon from a cannon, then launch myself from that cannon, it's absolutely
sure
to work!
Except it didn't really work. The cannon just exploded upon firing and left a bunch of soot all over me. Ah well, I still have a few cannons left from that truck. Here's to another break-in tomorrow!
February 5, 2014 [ttr-alpha-gf715a71]
Game:



Maintenance:
• Code cleanup

Bugfixes:
• Fix a crash related to the Party Hat Icon
• Correct a few issues with the Trampoline Reward
• Fix an issue where you could start your party more than once
• Fix the Jukebox's animation
• Party Planners no longer remind you to start your party after it has already started




Launcher (OSX Only):



Bugfixes:
• Fix a crash on OSX 10.7.5

Features:
• Added a snapshot manager under the "View" menu
• Renamed launcher and game window
• Added an option to use the Toontown cursor on the launcher window




---
Comments
Sorry! Comments are closed.
---
---
---
---
---
---
---
---
---
---
---
---
---
---
---
---
---
---
---
---
---
---
---
Back To Top