More News
Daily Alpha Update: Party Crashers
Posted by Sir Max on February 2, 2014 at 2:00 PM
Oh, hey there fellas! Give me one moment, just got to take care of something.
thunk
Ka-BOOM!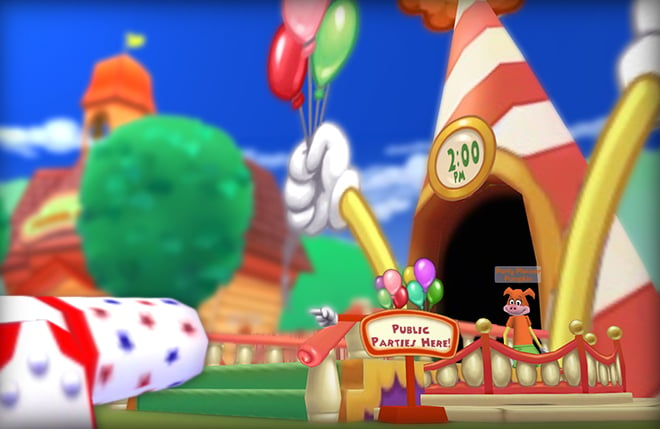 There we go, that should take care of it. Sorry toons, just needed to crash that Party Gate again. It's nothing personal or anything, I just need to get into that party, and blowing things up usually seems to do the trick. I don't know what Fat McStink was going on about this "Greatest Party in the Tooniverse", because a party obviously can't be great without myself being there. I
am
the party!
The main problem here is that crashing the Party Gates seem to kind of block off entrance to the party as well. They installed some sort of "Anti-Sir-Max" detector in there. Don't worry, though, one of these explosions will hit the right area and let us all get in. Probably.
thunk
...
Ka-BOOSH!
Ooooh! I think that one did -- No, it didn't. Hrm. Anyhoo, I'll get in eventually. I know some of you may be a bit upset that the Party Gate is crashed, but really, it's not like you would have fun without me there. If you really don't believe me, just teleport to the host and see the boringness of those super bouncy trampolines, and the awesome fireworks display, and the catchy music... Nope, not fun at all.
February 2, 2014 [ttr-alpha-g7a0f0d5]
Maintenance:
• Party Code Cleanup
• Rewrite Party ID Allocation

Bugfixes:
• Prevent a potential crash relating to trampolines
• Fix a district reset due to player counts in parties
• Control + H now actually hides the window on OSX
• Repair the Party Gate from Sir Max's crashes

Features:
• Implement Party Decorations. Don't forget to vote for the next activity!


We would have implemented cannons as voted, but Sir Max used up all of the gunpowder with his crashes. Sorry!



NOTE: Sorry for the troubles, but Toontown Rewritten is currently offline due to another host problem. The update will be pushed as soon as we're back online.
---
Comments
Sorry! Comments are closed.
---
---
---
---
---
---
---
---
---
---
---
---
---
---
---
---
---
---
---
---
---
---
---
---
---
---
---
---
Back To Top