More News
Get Your Tickets for ToonFest: Birthday Bash!
Posted by The Toontown Team on February 7, 2023 at 3:30 PM
Just a few months ago, we talked about how we've been laying down the Trolley Tracks to celebrate the upcoming once-in-a-decade Toontown anniversary. With just a few months until Toontown's 20th anniversary on June 2, it's time to get this Trolley moving!
In celebration of Toontown Online's 20th anniversary – not to mention Toontown Rewritten's 10th anniversary in September – we're throwing a party, in-person, and YOU are invited! We are delighted to announce ToonFest: Birthday Bash! For this momentous return to ToonFest, we'll be setting up shop at MomoCon 2023 in Atlanta, Georgia – taking over Memorial Day weekend from May 25 - May 28, 2023 to celebrate all things Toontown!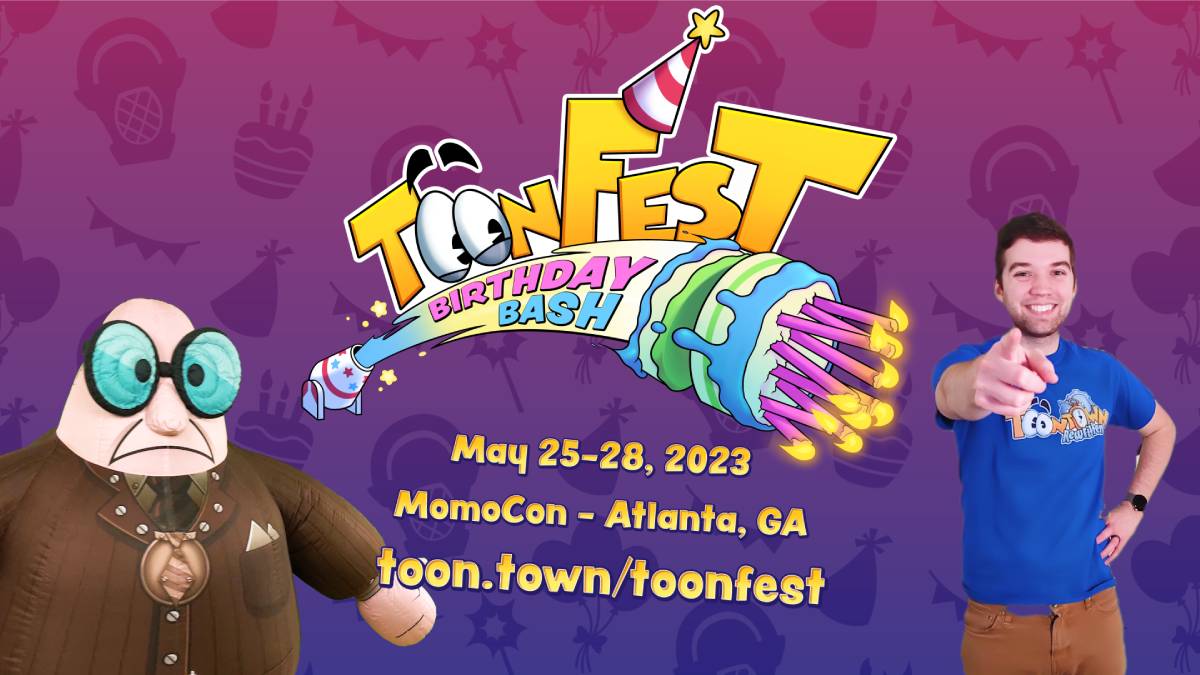 Did you hear the confetti cannons and theme music that started blasting at the start of this paragraph in your head? TWO DECADES!!! Twenty whole years of Toontown! Can you believe it!? And ten years, a decade of this amazing opportunity to continue to share Toontown with all of you. It's astonishing, and we're truly looking forward to, after years of not being able to gather for ToonFest, being in the same room while the confetti falls.
That whole rollercoaster of emotions and we've barely even touched on the exciting things we have in store! Want the rundown on what ToonFest is? Been to ToonFest before and want to see what's new? Just looking to see a pretty website? Have we got the page for you! Click the image below – or the new option on the website's navigation bar – to take a Portable Hole straight to the all-new ToonFest website.
Still here? We've got a quick rundown prepped for you. Check it out below!
ToonFest is a real-world celebration of all things Toontown – with this year's main focus being the game's 20th Anniversary!

MomoCon is a four day event spanning Memorial Day weekend – May 25th - 28th. ToonFest will take place all four days, with an event space designed to bring Toontown to life.

We'll be announcing more details about the event, including how to get involved from home, in the coming months leading up to ToonFest!
Full details on ticket prices are listed on MomoCon's website. Kids under nine years old can join the fun for FREE!
As we get closer to the event, we'll have more to share about what we have in store for Toontown's Birthday Bash. Until then, thank you for being the best part of Toontown for twenty years running.
We can't wait to see you all again at ToonFest this year! Now, only one question remains…
Are YOU Toon Enough?
---
Comments
Sorry! Comments are closed.
---
---
---
---
---
---
---
---
---
---
---
---
---
---
---
---
---
---
---
---
---
---
---
---
---
---
---
---
Back To Top