More News
Super Saturday Update: What Does the Toon Say?
Posted by Sir Max on November 2, 2013 at 2:00 PM
woof arf rruff ruff, arf woof woof. arf woof rruff arf- woof arf arf rruff! arf woof, rruff rruff woof, arf, woof, arf woof.

...rruff?


Oh, I'm sorry! Here, let me turn SpeedChat+ on for you. Better?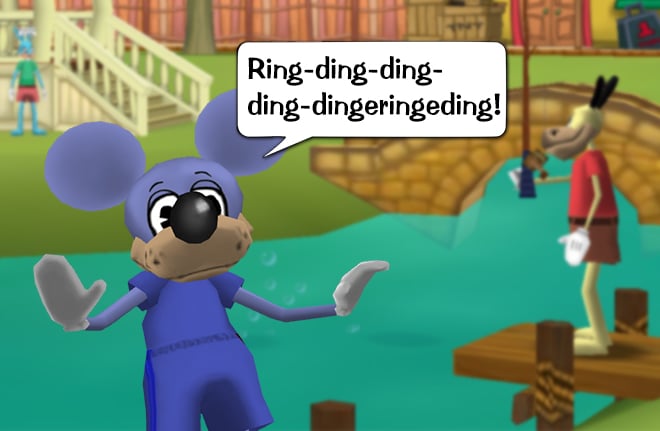 Welcome to Super Saturday, the first somewhat-major update for Toontown Rewritten. We've packed in a couple new features, along with a boatload of bug fixes that we piled up over the week.
Let's start with the obvious one:
SpeedChat+
!
It was annoying at first to be Chatless, but as the week went on I started getting used to it and enjoying it. As a thanks for your feedback and patience, SpeedChat+ is now available. It currently uses the original Disney whitelist (with a few modifications), however this is only temporary. In the future we will be adding a new way to make typed communication not only easier, but safer.
Next up on the list is a whole new feature for you to spend time with when you are sick of playing
Toon Escape
over and over again:
Fishing
! One of the locals, Freddy, has set up a pond in Toontown Central to fish in. Grab a rod and head on over to the docks!
November 2, 2013 [ttr-alpha-g873fb10]
Maintenance:
? Fix that pesky "Error 117" disconnection bug
? Perform a vectored I/O to increase network efficiency
? Enable TCP_NODELAY to decrease server ping
? Better detect dead connections to prevent them from running indefinitely
? Fix a major server hang that would caused all other player movement to freeze
? Even more server stability

Bugs:
? Fix Match Minnie music to loop correctly

Features:
? Add SpeedChat+ as a thanks for feedback during the Chatless Update. The whitelist is slightly modified based off of common complaints.
? Minor SpeedChat rewording
? Implement Fishing! Currently, only the twig rod is available.
? Implement Toon Escape, a game based off of escaping from a robot factory. Not like we'll ever need to learn that, though!

---
Comments
Sorry! Comments are closed.
---
---
---
---
---
---
---
---
---
---
---
---
---
---
---
---
---
---
---
---
---
---
---
---
---
---
---
---
---
---
---
---
---
---
---
---
---
---
---
---
---
---
---
---
---
---
---
---
---
---
---
---
---
---
---
---
---
---
---
---
---
---
---
---
---
---
---
---
---
---
---
---
---
---
---
---
---
---
---
---
---
---
---
---
---
---
---
---
---
---
---
---
---
---
---
---
---
---
---
---
---
Back To Top