More News
Partner Spotlight: ToonHQ
Posted by The Toontown Team on February 11, 2021 at 2:00 PM
Have you ever been a bit stuck while playing Toontown? Sometimes you need the help of fellow Toons to take down the Sellbot V.P. but there's no one in sight! Other times, maybe those pesky Cog invasions have gone on forever and you want to see how much time is left...or you're just curious about your chances of catching that dang Devil Ray! Regardless of what it is, ToonHQ has got you covered.
ToonHQ is a website and mobile app run by a dedicated couple named Luke and Nicole, also respectively known by their Toon names, Felix Pumpkinhopper and Rosie Pumpkinhopper. Nicole works hard on the artistic aspect of the site while Luke handles the programming. Their efforts have come together to create a site that helps Toons all across the Tooniverse with everything above and more, so I like to think of them as real-life HQ Officers! Today, we're here to see what Luke and Nicole have to say about ToonHQ.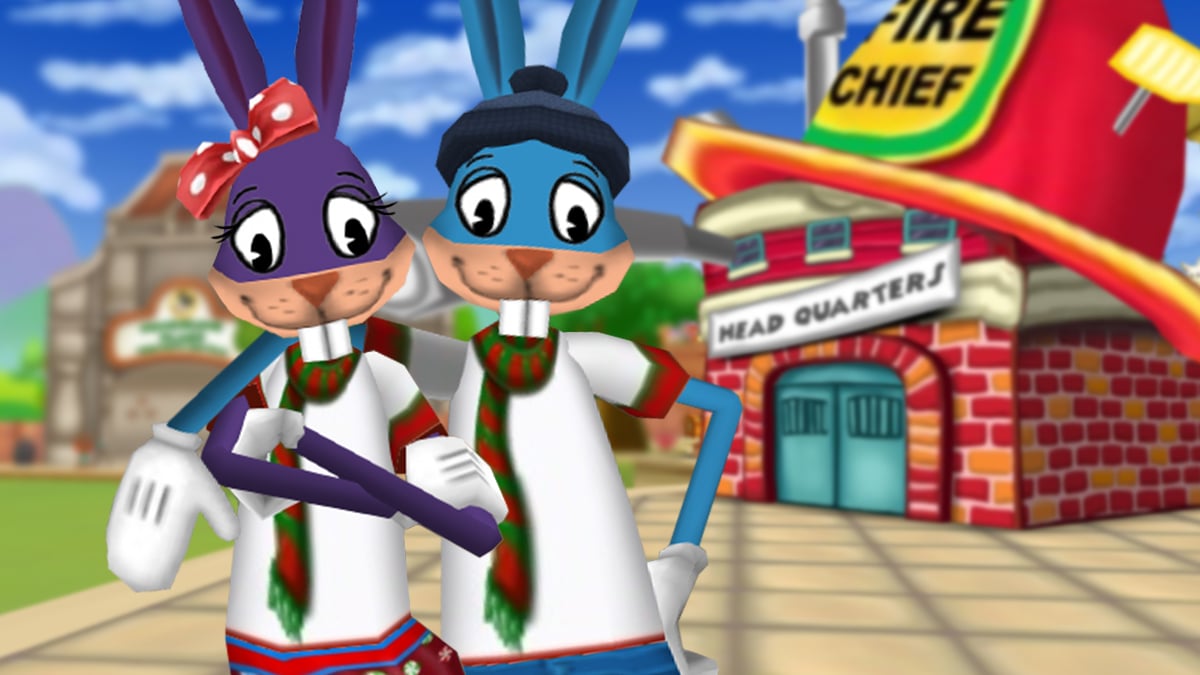 So, you two are quite the dynamic duo! Can you describe your inspiration for starting ToonHQ?
So the funny story behind ToonHQ is it actually started as a Playline queue. I'm sure everyone that played TTR in the early days has incredibly fond memories of (im)patiently waiting for their chance to hop in the game. Not everyone could keep their computer up on the queue page all day, and sometimes the ETA would drop unexpectedly catching people off guard, so we released an app that allowed folks to maintain their place in line from their phone.

When the Playline wasn't an issue anymore, we realized that we missed the invasion tracker that was available for TTO. We put some feelers out to the team seeing if they'd ever be open to an invasion API, and thankfully, within a few weeks the web team released one for sites to use! Once the API was out, we threw a little site together for us to use with our friends. I never imagined it would spread as much as it did back then, let alone how much it has today!

Fun fact about that API, by the way: Joey initially said it would only work during early beta days, and that we'd have to rely on manual reports from players once the API goes away. As such, the first version of ToonHQ actually had hidden functionality that would let folks report invasions, say they've expired, etc. Very glad we never had to use that!
Wow, that sure is interesting! ToonHQ has definitely come a long way since you two initially released it. In fact, you recently released a major update and a brand new ToonHQ mobile app! Would you care to talk a bit about some of ToonHQ's newest features and the process for implementing these new changes?
We're still so excited (and relieved) that the update is finally out. The UI was starting to feel really dated on the old site, so we tried to bring more of the fun Toontown energy to the new site. We also overhauled the ways that the site handles data, so it's real-time now! Then of course, there's the addition of accounts, being able to track multiple Toons, showing off what gags you have, and other group improvements.

In terms of implementing the changes, we understandably got a lot of questions over the years as to why the update was taking so long. The thing is, we wanted to modernize the stack with this update because the site had grown so much more than what it was originally designed for. If you'd told me in 2014 that ToonHQ was going to be used by the majority of the Toontown community, I probably would have just laughed. As such, there were a lot of things that could've been done better and were holding the site back. We rewrote everything, I'm not sure there's a single line of code left over from the old version of the site. This took a long time because we have day jobs, but we're now in a position where adding new features is much easier! We're thrilled that we've already been able to release several updates since the new version went live.
I'm sure the rest of the Toontown community is equally thrilled -- I know I am! ToonHQ has been a mainstay in Toontown for as long as I can remember. What's been your favorite aspect of running such a well-loved website and app?
It sounds cliche, but it's a great feeling knowing that we're helping out the amazing players in our community. Toontown is such an underappreciated game, so being able to give folks tools to have even more fun playing is fantastic. The last thing any of us want is to have a new player give up because they can't find someone to help them take over a Cog building!
I couldn't agree more! Your efforts have definitely helped lots of Toons, especially those residing in countries outside the US, where grouping up with others can sometimes be hard due to time-zone differences. So, how did you two first get involved with Toontown? Do you have any particularly fond memories from when you first started playing the game?
I (Luke) have been playing Toontown since the early days of TTO, when I was in middle school. I played with a good friend of mine, and we made several friends from around the country that we're still in touch with today! Funny enough, I even walked in on my video production teacher playing TTO when I was in high school. Can't blame him, it's definitely more fun than grading papers!

Fast forward a few years, I randomly remembered TTO after Nicole and I got together and decided to introduce her to it. She instantly fell in love with it, and we were making great progress on our Toons when Disney suddenly announced they'd be shutting down the game. We were crushed, but thankfully there's a happy ending to that story because of your team!
I'm really happy to hear that! Really, it's thanks to Toons with a passion for Toontown like you two who help keep our community thriving. Now, time for the final question! If you could pick any Toon within the game, which do you think you relate most to and why?
Nicole can definitely relate to Jack O' Kazam, as Halloween is her favorite holiday. If there's a pumpkin patch, there's a good chance you'll find her there!

I'm not sure there's an NPC I necessarily relate to, but I have an insane amount of respect for Lil Oldman. Everyone complains about him and dreads going to see him, yet he holds strong and continues to push Toons to be the best they can be! Thank you Lil Oldman, you're appreciated!
Jack O' Kazam and Lil Oldman certainly cause a lot of trouble, but they're still fan favorites of some of us here on the team, too!
Today's blog post is a bit longer than usual, but I hope everyone enjoyed hearing this insight behind ToonHQ's latest update along with some fun stories from back then! It's probably safe to speak on behalf of the Toontown community as a whole when I say thank you both very much for your dedication with ToonHQ. For the Toons reading, make sure to check out their site or app the next time you need help in Toontown. Whether it's grouping up with others, tracking those Cog invasions, or hunting down that last fish, ToonHQ is there to help!
---
Comments
Sorry! Comments are closed.
---
---
---
---
---
---
---
---
---
---
---
---
---
---
---
---
---
---
---
---
---
---
Back To Top