More News
No More Fog on the Toontown Blog
Posted by Dr. Peepers on December 12, 2019 at 4:00 PM
There we go -- just like new! Ah, hello everyone. My name is Dr. Peepers, goggle defogging professional. Here in Toontown, we're always looking to keep everything perfectly spotless -- well, besides my Doodle, Spot. We're in the modern age of animation: bright colors, smooth animation, crisp lines! However, the Toon Council noticed recently that Toontown's linework is a little lacking. Have you ever tried to read a sign, but the words are far too blurry? That is where I come in!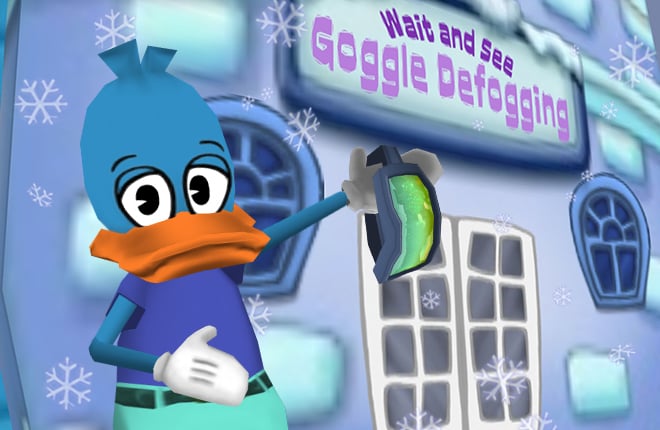 The Toon Council has made great advances on projects to redraw Toontown one piece at a time, like their fancy new map in the Shticker Book. When I was walking into my shop the other day, though, I took a look at the sign and thought that my spotless goggles must have had a smudge! Upon closer inspection, however, it wasn't my goggles at all… It was the sign itself looking blurry! I put on my detective goggles to take a closer look into the situation.
My investigation took me far and wide, page up and page down, arrow left and arrow right, but I couldn't find out what had made these signs so blurry. Suddenly, I had an idea… I pressed "Tab" a few times to make sure I was getting a good angle, and it turned out to be the fault of the camera that was spinning around me the whole time!
The lens of the camera has been all fogged up for years! Of course, a goggle defogging expert like myself is perfectly prepared to handle high-priority issues like this. I pulled out my No-Fog Horn (Not yet Gag Shop approved, of course!) and made that lens look as shiny as a Shining Star Fish. No more are the days of blurry signs -- in fact, every word in Toontown now appears in high-definition!
Additionally, you'll notice that signs no longer flicker in Toon Buildings, and there's no more of those pesky jagged line glitches throughout Toontown.
With each step like this we're getting closer to giving Toontown a fresh coat of paint, and I know that the Toon Council won't stop here. Check out the notes below to see what else is new in Toontown!
December 12, 2019 [ttr-live-v2.6.7]
General
• Upgraded Toontown's engine to Panda3D 1.10.4.1 -- featuring the latest bug fixes and performance improvements.
• Mac players will no longer crash when a Bluetooth device is disconnected.
• Adjusted music throughout Toontown to loop seamlessly based on community feedback.
• Fixed several district resets.

Make-a-Toon
• Fixed several bugs with the Type-a-Name menu.
• Based on community feedback, Type-a-Name will now provide more detailed reasoning for names that are automatically rejected.

Toons
• Changed the appearance of Professor Ivy to match her appearance on the Toontown Blog.

Visuals
• Nearly all fonts have been upgraded to use a higher quality format -- they'll look sharper than ever on signs, loading screens, chat bubbles, nametags, and more!
• For Content Pack creators: You can now replace in-game fonts by replacing the files in "phase_3/fonts"!
• Fixed cases of flickering (z-fighting) on Toon Building interior signs.
• Fixed anti-aliasing causing major graphical issues on certain graphics cards.

Gardening
• Reduced the wait time between gardening pop-ups.
• Added a special digging animation to flowers, trees, and statues.

Battles
• Drop S.O.S. Cards used by Toons without the Drop Track will no longer miss against Level 11+ Cogs.
• Fixed an issue that made Drop S.O.S. Cards miss Level 11+ Cogs if used with another Drop Gag.
• Addressed an issue in which Cogs would wake up early if a Lure S.O.S. Card was used by a Toon without the Lure Track.
• Fixed Head Hunter dialogue so they no longer say two sentences in one go. Leave that to the Two-Faces!

---
Comments
Sorry! Comments are closed.
---
---
---
---
---
---
---
---
---
---
---
---
---
---
---
---
---
---
---
---
---
---
---
---
---
---
---
---
---
---
---
---
---
---
---
---
---
---
---
---
---
---
---
---
---
---
---
---
---
---
---
---
---
---
---
---
---
---
---
Back To Top