More News
We need YOUR Talent to help Toontown!
Posted by The Toontown Team on December 3, 2019 at 3:00 PM
Toontown's community is thriving like never before. We at the Toontown Team have always been committed to creating the most Toontastic experience possible -- but we can't do it alone! To achieve our Toontanic-sized goals, we've added new positions and updated existing applications on our website for all to see.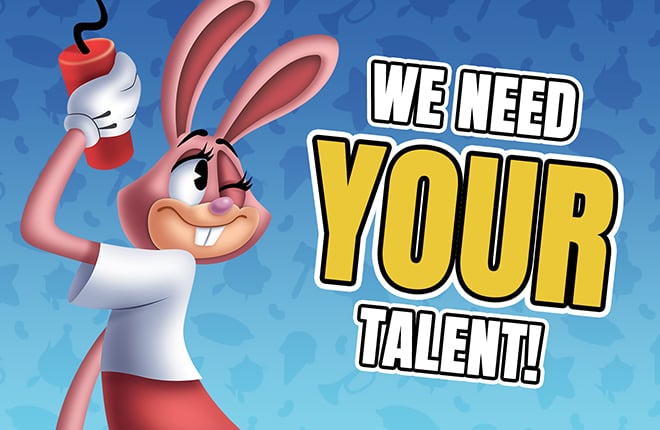 With the Toontown Team's size nearing 80 people, we've got multiple departments to stay organized. Don't worry about the size though -- we're all welcoming to newcomers! The team is comprised of many departments: Art, Audio, Moderation, Support, Programming, and Public Relations. Here's a tidbit about each department and their roles in Toontown:
---
Art
The work of the Art Department is easily the most obvious. After all, this is Toontown! Artists are responsible for posters, ads, in-game visuals, and a whole lot more. Our Brand Artists recently released a Backstage Toontown post all about Brand Art and what the creative process is like for them. However, we would really love to bring on more 3D Artists to help create props and environments for in-game content. We're also in need of more Concept Artists -- folks who create the initial sketches and designs for in-game art. If you've got the talent and experience, we need YOU to help create the next level of Toontown content!
Audio
The work of the Audio Department is arguably one of the most overlooked parts of any video game, but that just means the Composers and Sound Designers know what they're doing. After all, the best soundtrack complements gameplay hand-in-hand, enhancing the experience in a very subtle way. Nothing like the perfect anthem to get you in the mood for a Cog Battle, right? We're always on the hunt for creative minds to help compose music for Toontown's future content.
Moderation and Support
The Moderation and Support Departments are particularly helpful in our goal to create a positive and fun environment for all Toons. Our Support Staff handle a wide variety of situations over email. Email issues? Login troubles? Ask a Support Toon and they will assist! Moderation Staff help fight back troublemakers in Toontown. These positions require a working knowledge of our Terms of Service and the ability to handle tough cases -- stuff far more serious than the case of the missing F. Their jobs may be time-consuming -- but without Moderation and Support, Toontown would be a heap of disorganized mumbo-jumbo. The best part about the Moderation and Support Departments is that we're always willing to teach if you want to learn. If you're interested, send in an application! Unlike most departments, the Moderation Department has an age restriction of 16 years of age or older.
Programming
Those in the Programming Department know a mysterious language that helps them work on Toontown and its website. They call this language...Python. Python has served Toontown well for the past two decades and it's showing no signs of stopping. In other words, we need Game Developers who can work in Python! They're essential for adding more all-new content into the game -- which is exactly what we're working on. We're also looking for Web Developers -- especially those familiar with Java and modern web standards. It's no secret that Toon HQ on the website has been missing for years, and having more dedicated Web Developers can make it a reality. Regardless of your history in game development, if you've got a history of programming talent we'd love to have you on board.
Public Relations
The Public Relations Department is the most front-facing role on the team. PR members talk directly with the community via popular social media outlets and even Toontown fan-sites. We've recently created a new Social Media Specialist position that requires knowledge in Marketing Strategies and Analytics. If you've got a knack for being 'Toony', you may enjoy being a Creative Writer for the Toontown Blog and social media posts! Maybe your strength lies in creating Toontown images in Photoshop. If so, you'd be a good fit for the Graphic Designer role. We've also got the Video Editor role if you're one of the many video creators in the community -- every trailer makes a big difference! The Public Relations Department is rapidly growing -- and we need YOU to help it succeed!
---
Do any of these roles sound like you? Well, why wait!? As long as you're 13 years of age or older -- or 16 years of age or older for Moderation -- go ahead and click on the 'Join the Team' button below to get started. We're so excited to hear from you!
---
Comments
Sorry! Comments are closed.
---
---
---
---
---
---
---
---
---
---
---
---
---
---
---
---
---
---
---
Back To Top