More News
Sellbot Field Offices | Backstage Toontown
Posted by The Toontown Team on August 19, 2019 at 2:00 PM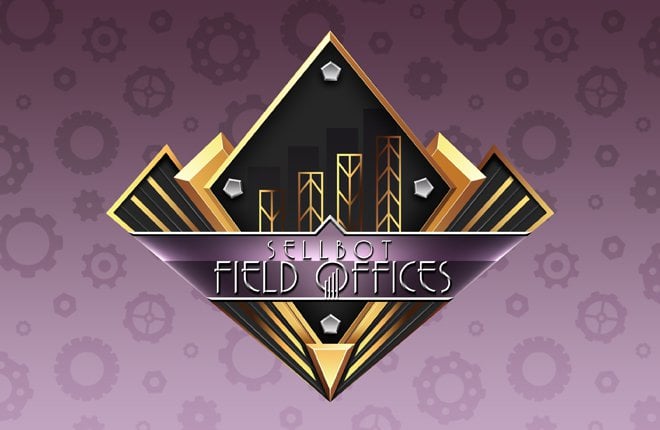 ToonFest may have only ended a little less than a month ago -- but we're not done talking about Sellbot Field Offices just yet! On the Main Event panel, we went in-depth about what we want the brand new endgame content for Toontown to be, and what we want YOUR feedback on.
Going forward, we plan to place a major focus on more Backstage Toontown content, starting with the development of Sellbot Field Offices. Being more transparent with Toontown's players is very important, and we want YOU to be a part of the development process. During the Q&A panel at ToonFest, we answered countless questions about the development of Field Offices and Toontown itself -- but there's way more to talk about than we could have fit into two whole panels. Because of that, this week will be filled with Backstage Toontown content related to Sellbot Field Offices!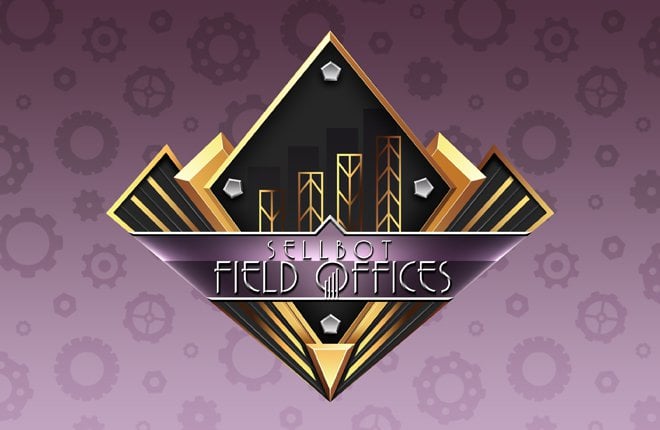 The Toontown Blog is dedicating this week to Sellbot Field Offices. To keep things simple, the posts will be released on Monday, Wednesday, and Friday. To start off, we'll be going over everything you may have missed from the convention!
To preface this post, everything written here is subject to change. We're conducting loads of internal playtests -- not to mention listening to the community's feedback! Don't be surprised if a feature outlined here is majorly reworked or outright scrapped when Sellbot Field Offices hit the streets. Above all, our goal is to deliver on the most fun and challenging experience possible!
To start our series of Backstage Toontown posts, we'll be giving a quick rundown on the overall mechanics of Sellbot Field Offices. As we release more posts, we'll go more in-depth with the individual pieces.
What are Sellbot Field Offices?
These highly anticipated 'boss buildings' bring a new difficulty level to Toontown. They're more than just any standard Cog Building -- they bring the luxuries of a Cog HQ into the field. That means that entering a Field Office is much like entering a Cog HQ -- you're on their turf. Sellbot Field Offices enter Toontown by taking over a Toon HQ, the safe zone of a dangerous street.

Sellbot Field Offices are unique in that they aren't defeated after just one run. Every run takes Toons through a Field Office Annex, a single wing of the entire building. Each Annex acts as a health point for the entire Field Office. To take it down, multiple groups of Toons will need to take down every Annex!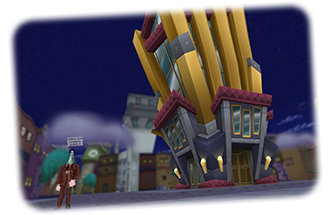 In each Sellbot Field Office Annex, there are two mini-games which need to be completed to continue. These are the Cold Caller Ice Game and the Mover & Shaker Maze Game. In the Mover & Shaker Maze Game, your goal is to defeat the boss Cogs with water balloons while collecting as many jokes from the smaller Cogs as you can. Toons who played Toontown Online during the later years may remember the Mover & Shaker Maze Game -- but this time around it comes at a much higher difficulty. Unlike the original monstrosity, the modern Mover & Shaker maze game can get quite frantic!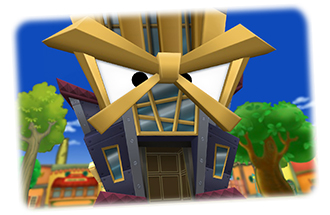 The Cold Caller Ice Game is an entirely new mini-game developed by the Toontown Rewritten Team. For the sake of keeping this Backstage post from growing any more, we've decided to split info about the Ice Game off into a separate post -- so check back soon to get the full scoop on that! The Ice Game is something we're really proud of and can't wait to show you.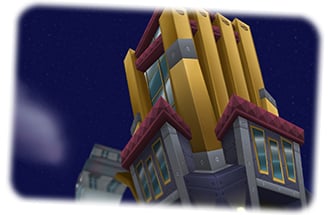 As briefly mentioned at last year's ToonFest, there's also a brand-new Boss Cog at the top of every Field Office Annex. The boss will re-define the rules of a Cog battle and challenge even the oldest of Toontown veterans -- but it's not ready to show off quite yet. In a future Field Office development update, we'll have more details to share.
As stated before, completing all of that only defeats a single Field Office Annex. That means that a Field Office needs multiple groups to battle it before it can be conquered! This requires massive teamwork, all in the spirit of Toontown. This also means that Field Offices will generally stay around for a while before they're defeated.
---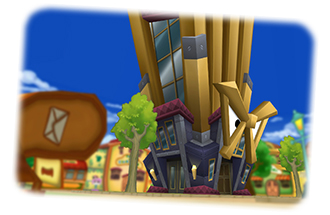 Let's reel ourselves back in, that's a lot of information to process! However, there's so much more to Sellbot Field Offices that we'll be discussing in Backstage posts coming soon. Above all, we want to hear YOUR feedback on what we're doing with Sellbot Field Offices. The best way to deliver that feedback is to send an email to [email protected] -- they'll get your feedback along to the developers as fast as possible! While we can't respond to every single piece of feedback, we do read all of them. With your help, Sellbot Field Offices will be the best update we've ever created!

As briefly discussed at ToonFest at ReplayFX 2019, we plan to expand Toontown Backstage into livestreams on our YouTube and Twitch channels. We've also got plans to post work in progress Field Office news on our other social media pages in the coming months -- so be sure to check that out as well!
We hope you're just as excited as we are about Sellbot Field Offices and Backstage Toontown, and we can't wait to share even more information with you. Expect another two Backstage Toontown Blog Posts very soon detailing the rest of Sellbot Field Offices in-depth -- just keep your eyes peeled on the Toontown Blog and follow us on Social Media so you don't miss it!
---
Comments
Sorry! Comments are closed.
---
---
---
---
---
---
---
---
---
---
---
---
---
---
---
---
---
---
---
---
---
---
---
---
---
---
---
---
---
---
---
---
---
---
---
---
---
---
---
---
---
---
---
---
---
---
---
---
---
---
---
---
---
---
---
---
---
---
---
Back To Top