More News
That's a Wrap! | ToonFest 2019
Posted by The Toontown Team on August 10, 2019 at 2:00 PM
Just like that, ToonFest is over! The four days of laughs, giggles, and goofs is over in a flash. From Schell Games' Jesse Schell and Shawn Patton, to Field Office updates, to the Annual Pie Toss, and even the Jammed-Up Trolley Toaster, we sure had some fun. If you weren't able to join us in person, we hope you had fun following along from home!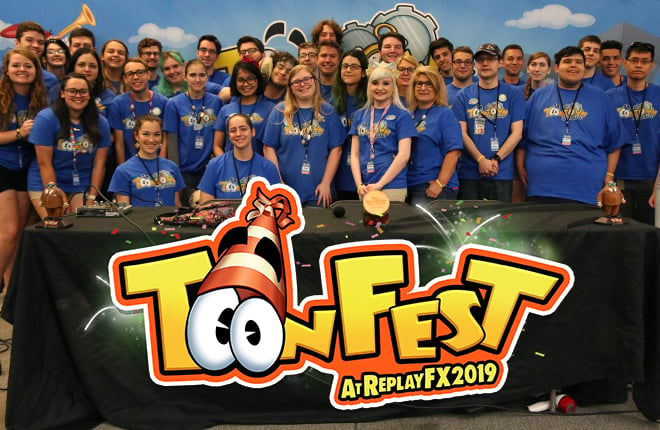 We're sad to see an amazing week come to a close, but we thought we could reminisce one last time. So here's ToonFest 2019: A Summary!
---
Thursday - August 1st
Kicking it all off on Thursday, we premiered our new activity - Backstage workshops! The idea of these workshops was to show you how to take an item from the start of the development process right through until the end. With the help of attendees, the Jammed-Up Trolley Toaster was born. Keep your eyes peeled on the blog for more information about this brand new furniture item coming to Toontown in the near future.
Our first of the workshops, 'The First Sketch', had participants working with concept artists to make a new item for the game. 'Talk Like a Toon' put players in the shoes of a Toon (or a Cog) and showed them how to talk the Toony language! Lastly, 'Modelling Mania' showcased to onlookers how 2D images pop into the 3D world!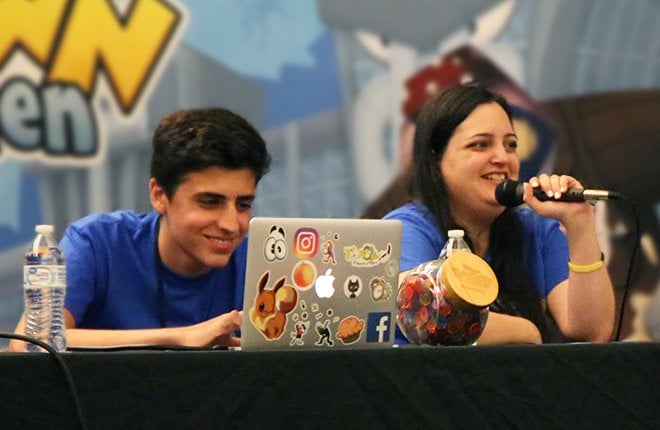 Of course, we can't forget those two Celebritoons: Jesse Schell and Shawn Patton! These two former Toontown Developers held the stage and answered questions. We were super ecstatic they could make it again this year and we hope that you got a kick out of meeting the minds behind the original Toontown Online!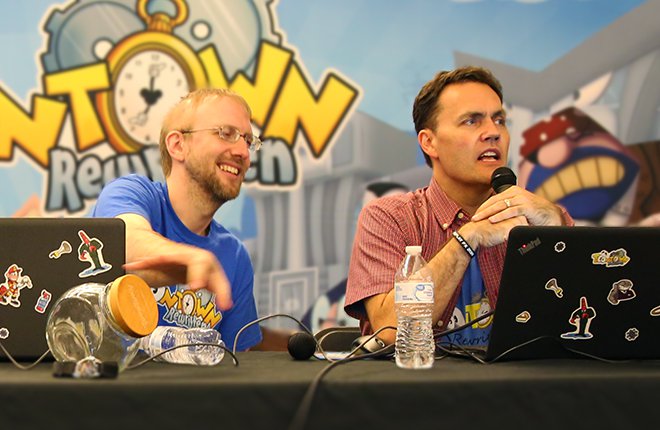 ---
Friday - August 2nd
On Friday, we continued with more Backstage workshops. We learned how to protect the family-friendly environment of Toontown with the Moderation department. The Texture Artists taught us how to paint a new prop for the game and to top it all off, our Programming and Quality Assurance teams talked about keeping Toontown in tip-top shape!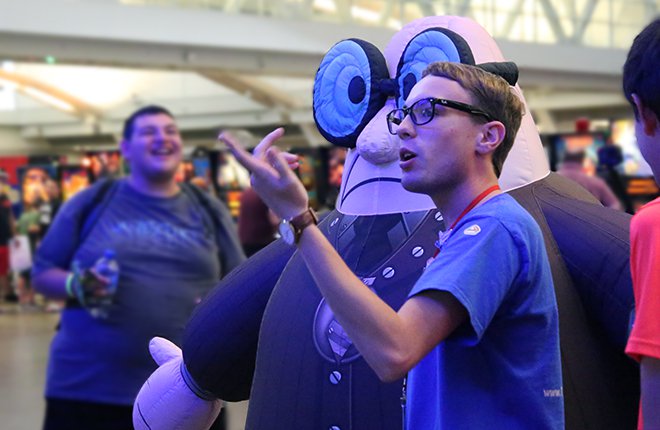 Besides the workshops, there was the Main Event - a panel in which members of the Toontown Rewritten team showcase what they've been working on over the past year. If you didn't attend, don't sweat it! Here's a brief summary for you:
We reflected on the four ToonFest conventions throughout the years and unveiled the brand new Toontown poster!
The Field Office Ice Game finally hit the stage! There will be more details on this icy attraction in a future blog post.
The Cog Remote Control was introduced along with other Field Office rewards!
In order to connect with the community more, we announced our plan to livestream backstage development projects!
Lastly, we took a look inside Operation: Crash Cashbot Headquarters, Including how things underwent the development process.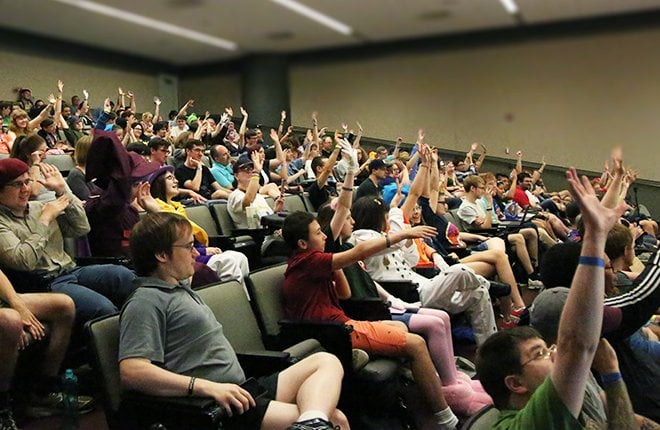 If the summary isn't enough for you though, you can watch the entire panel here!

---
Saturday - August 3rd
Saturday was pretty action-packed too! Today's Backstage workshops included 'Animating an Object' in which animators showcased how they get 3D models to wiggle and wobble, 'Creating Cartoons' where our artists gave an in-depth look on their Toon-making process, and 'Tales of Mail' in which Toontown Support revealed the process of sorting through and answering the community's questions and concerns.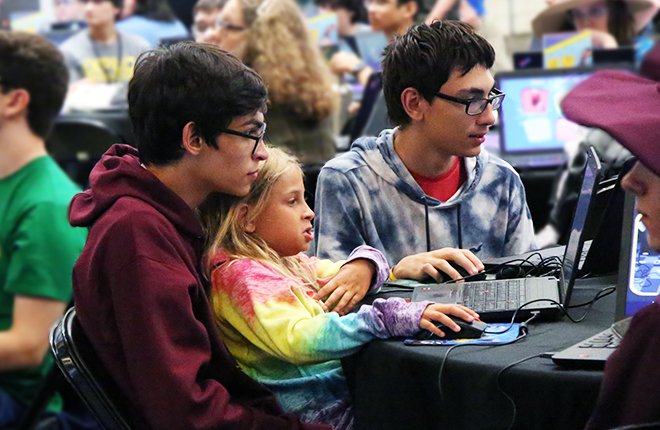 Let's not also forget the Q&A Panel. Players had the opportunity to ask members of the Toontown Rewritten team their burning questions. From what would we do with unlimited resources to whatever happened to the HD Music Project (it's still in the works!), we heard it all! We loved answering your questions and thank everyone for participating, even those who stayed at home. If you missed the Q&A panel, you can rewatch it here.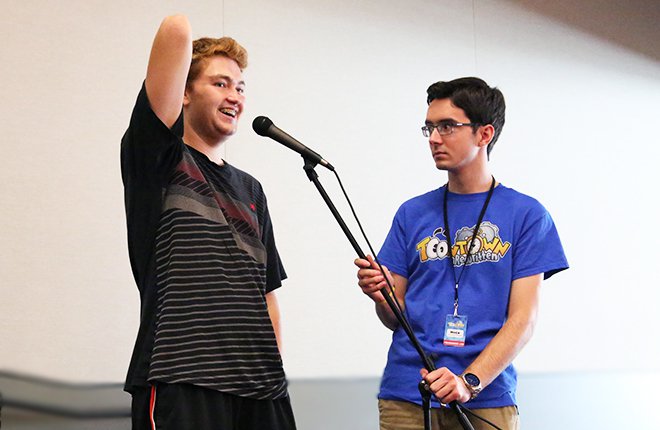 ToonFest at ReplayFX 2019 also saw our first annual TOONYs Awards Show! This was a time to gather and celebrate what makes really makes Toontown so special... YOU! We saw everything from artwork, to videos, to comics, and not to mention our annual Toontown Costume Contest. Lots of fun was had celebrating the community and although we couldn't give everyone an award, we absolutely loved each and every submission. The Toontown community truly shined during the event and that was all thanks to you!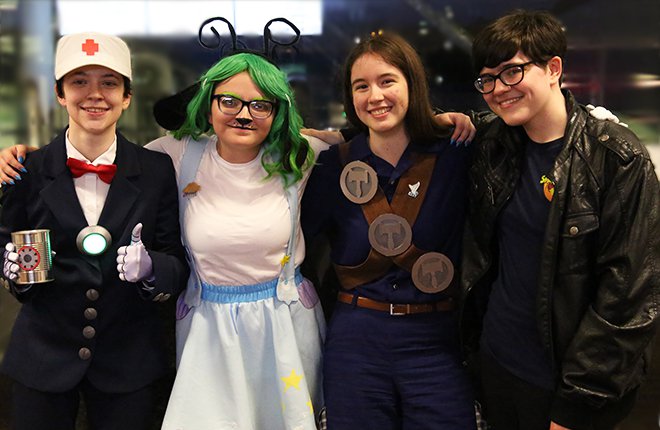 ---
Sunday - August 4th
Sunday brought us to the final day of ToonFest. With that came our Annual Pie Toss, of course! The pies were most certainly flying... in all directions mind you. We couldn't end the day cleaning up whipped cream off of the floor, though. With the little time we had left, we talked to Toontown's Video Editors about exactly what it takes to make a Toontown video. Finally, members from the Public Relations department worked with attendees to mock-up a sensational silly story that was sure to make even the most tired of Toons laugh!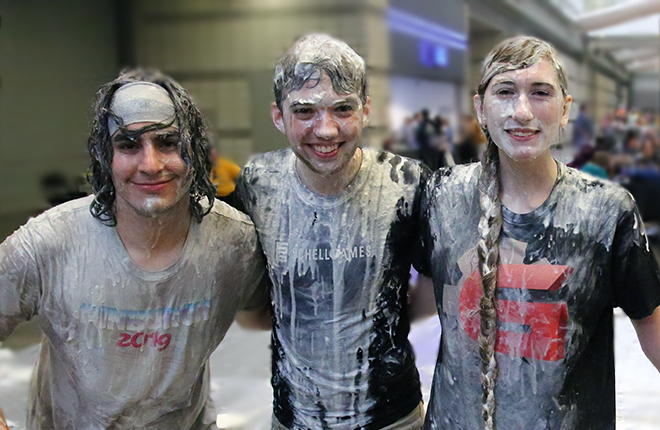 Our work is never truly done though. That's why our final workshop had us asking for new faces to come and help make Toontown an even sillier world. If you're passionate about Toontown and looking for something to do, we'd love to hear from you. Head on over to here to see our available positions and submit an application!
---
With that, ToonFest at ReplayFX 2019 is officially a wrap! Don't forget to redeem the code "replayfx2019" in your Shticker Book before August 11th to unlock two brand-new items for your Toon.
The countdown for next year's ToonFest has already begun... and who knows what may be in store? From all of us here on the Toontown Rewritten Team, we'd like to say one big 'Thank You!'. It's been a pleasure spending the past week with you all and we can't wait to see everyone next year.
---
Comments
Sorry! Comments are closed.
---
---
---
---
---
---
---
---
---
---
---
---
---
---
---
Back To Top