More News
Fire up the Fourth of July Fireworks!
Posted by S'more on July 4, 2018 at 2:00 PM
CRASH, BANG, WALLOP! Aw man, not another busted tire! I was on the final straight of my third and final lap at Goofy Speedway when all of a sudden, out of nowhere, a firework whistled past me - faster than a Doodle racing towards a jellybean!
Gadzooks, that must mean it's the Fourth of July!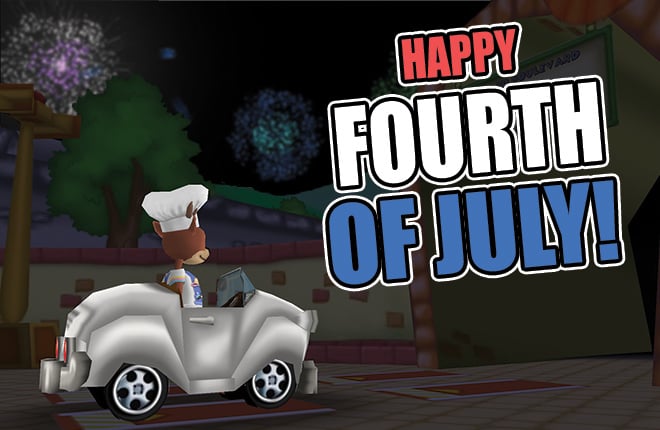 Sir Max is on vacation to see the "world's biggest firework," which is actually just a rocket launch in the city of Houstoon. Someone needed to fire up the Fourth of July blog post in his absence, and the Toon Troopers assumed that I must know plenty about fire due to my name. Typical.
Oh well, I don't mind! This has got to be one of my favorite holidays of the year. Why, you may ask? Because it's one of the few times of the year outside of the Anvil Dropping Ceremony that we can celebrate with a BANG! And when I say bang, I don't mean the sound of a cannon, I mean the sound of Fireworks! WHEEEEEW! POP! FUZZZZ! Don't you just love it? I sure do.
From now until July 6th at 11:59 PM Toontown Time (PST) you can look high into the sky and watch as fireworks soar across the sky in Toontown.
If you wouldn't mind excusing me, I have to get back to planning ToonFest. Us Toon Troopers are still hard at work, because we have a lot to prepare and to show you. In the meantime, I hope you all have a wonderful Independence day filled with laughter, gags and all things silly!
---
Comments
Sorry! Comments are closed.
---
---
---
---
---
---
---
---
---
---
---
---
---
---
---
---
---
---
---
---
---
---
---
---
Back To Top