More News
No Business Like Show Business
Posted by Mr. Hollywood on June 8, 2018 at 4:30 PM
The name's Mr. Hollywood to you, Toons. Thanks to all of your recent Razzle Dazzle and silly "Birthday celebration," you appear to have missed all of the marketing for my big premiere. It's a detective noir film, and I suppose you could say, I'm the boss. The pieces of the puzzle are finally falling into place, and I won't let anyone meddle with my plans. Lights, camera, Mega-Invasion.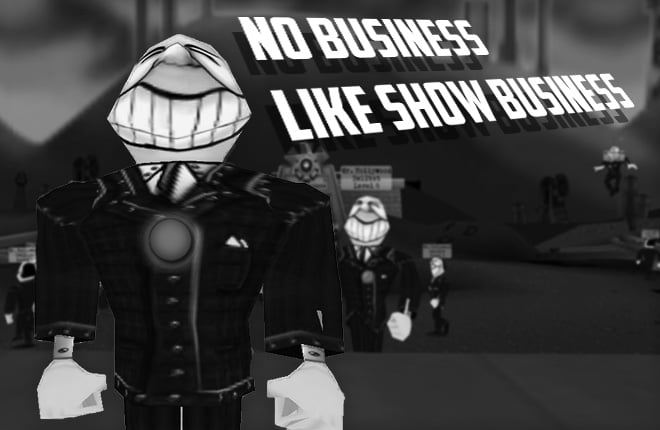 It's tough being the star of an invasion -- there's really no business quite like it! I wonder if I'll even draw the attention of some executives over at Cog Nation? In order to do that, I'd need to put on quite the show...
You cannot begin to quantify the amount of red tape I have gone through to have this operation authorized. I get the impression that you Toons, along with this "Private Investigator" of yours, will attempt to sabotage and thwart my time in the spotlight. I warn you in advance that if you do anything of the sort, words will be had with the Legal Eagles. I assure you that no one plays me for a sucker and gets away with it.
With that out of the way, I guess it's time that my goons and I start our takeover. Just in time for my big debut! There are to be absolutely no more shenanigans from you, Toons, else I will 'cut you from the credits.'
Let's start rolling.
---
Comments
Sorry! Comments are closed.
---
---
---
---
---
---
---
---
---
---
---
---
---
---
---
---
---
---
---
---
---
---
---
---
---
---
---
---
---
---
---
---
---
---
---
---
---
---
---
---
---
---
---
---
---
---
---
---
---
---
---
Back To Top