More News
Daily Alpha Giveaway: Eddit, or Reddit?
Posted by Sir Max on December 12, 2013 at 2:00 PM
Ooooh, boy! These giveaways sure are getting pretty tiring. You know what they say, though: Another day, another jellybean! Or in this case, another contest.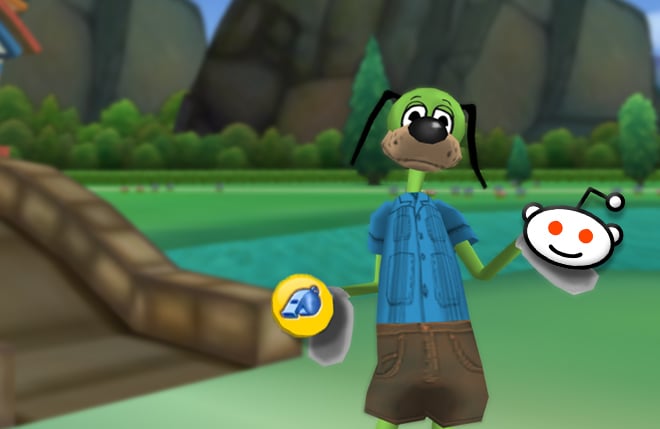 Today we're taking a break from Toontown fansites and be-bopping on over to a couple of third party websites with Toontown categories. To be specific, we're going to
Tumblr
(Toonblr) and
Reddit
(Toon'ddit? I dunno, we don't really have a cool name for it. We're just going to call it /r/Toontown.)
Both Myself and one of our texture designers, Roxy's Joyful Uber, are hosting the contests today on behalf of Toonblr and /r/Toontown. To make up the difference we are giving 5 keys to each site, even though reddit
clearly
deserves more than you Toonblr folk. (I'm hosting the reddit contest, by the way.)
For both of our contests today, we're going to be asking all of our graphic artists in the community to come up with some cool designs. On Toonblr, Roxy has set up five different categories that you can enter. Her and Joshsora will be picking out their favorite for each category. NOTE: These aren't going to be used in game, it's just for fun to check out the awesome art you guys can do. You can
enter the Toonblr contest
by clicking the blue words that say "enter the Toonblr contest".
For those of us that are a little less artistic, you can come on over to /r/Toontown and join me in the "Design-a-Snoo" contest. Snoo is that little white alien that reddit uses for their logo. The moderator of /r/Toontown agreed to letting us come there and submit a few for him to use. You can learn more about that contest
right over here
.
Speaking of third party websites, our feedback question is pretty similar today: "What kind of tools can Toontown Rewritten release to help other websites? (Examples: Toon stats, Top Toons display, Invasion tracker API, etc.)"
This question may not apply to those of you who don't use fansites, so feel free to type "I'm not sure." if you aren't sure. Enough about these other sites, though. To the winners!
Daily Alpha Giveaway Winners:
The people listed below were randomly selected from the entries to win. Head on over
here
to enter for tomorrow's giveaway!
Today's Question:
"Of all of the suggested features you have seen, which one do you want the most?"
1. Wacky Crinklesplat
I would want a few more restrictions for what low toons can do. For example, I don't think that they should be able to do the Front Three or VP.
2. Hque
I want all, because all I want a good game!
3. Carrot Bunny
I would like to see new gags. I love the old gags too but it would be nice to switch it up and see new cool gags, because sometimes the old ones just get boring.
4. Pie R. Squared
New species sounds like a good idea.
5. Aunt Z.Z. CheezyKnees
I think it would be really cool to add more species of animals to choose from.
6. King Paddleboing
I think there should be minigame voting in the trolley. When you get to the Trolley you get to vote on what minigame you want to play, but you are not allowed to play the same minigame as last time.
7. Little Pearl Sparklepop
I'm not too fussy, I think they are all good suggestions!
8. Chuy
I really like the idea that someone put to ride a bike which makes completing those pesky end-of-road tasks a bit more doable :)
9. Catman
Of all the suggested features, I want golf the most. Golf and racing. Those two were my favorite in Toontown, and they will be my favorite again.
I'm with you, Catman. Both of those are actually already in Toontown Rewritten!
10. King Fluffy Bananaboom
The suggested feature I want the most is to have all 7 gag tracks.
TTRForums Backstory Contest:
You guys submitted some really awesome stories, and the TTRForums staff is having some trouble going over them all! They're going to take a bit of extra time and announce their winners tomorrow.
---
Comments
Sorry! Comments are closed.
---
---
---
---
---
---
---
---
---
---
---
---
---
---
---
---
---
---
---
---
---
---
---
---
---
---
---
---
---
Back To Top