More News
To Our Valued Customers
Posted by The Cogs on April 1, 2018 at 1:30 PM
To our valued customers, "The Toons":
After spending the day trying to subtly inform you of the incoming market crash, it has become evident that you will not heed our warning. Our most specially trained undercover Flunkies infiltrated your social media platforms under the guise of Toon HQ, and you would not even listen to them. It's come to the point where we must tell you plainly: All Silly Particle collection must cease immediately.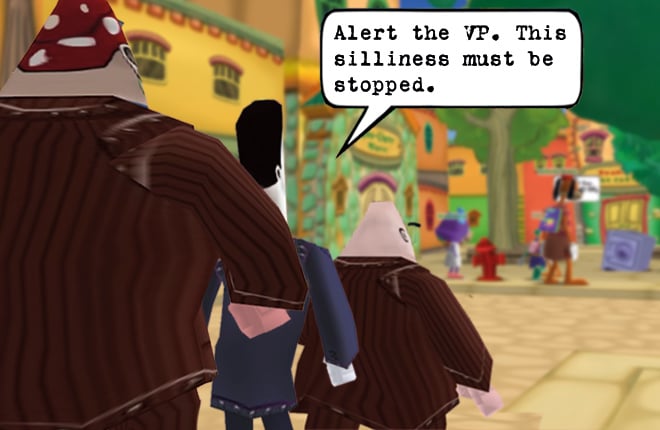 We've had much success with our rapid corporate expansion program throughout the past several years, however as you can see in the memo sent to all Cog associates, there's a sharp drop-off in our success rates due to our incumbent competitors' aggressive research and development strategies. That would be you, Toons.

Silly Particles are a dangerous element that threaten the well-being of Toontown. If collection is not stopped, Toontown's silliness will grow to an unstable degree that threatens the town's valuable businesses.
Due to the malicious April Toons Week mischief that started today, the Silly Particles have already expanded so that 50 can be carried at a time, and even worse, their value is worth double to the rogue scientist known as "Doctor Surlee." This advancement cannot be allowed to fester.
The Chairman has ordered that all April Toons Week activities must come to a halt and will NOT continue this year. Without this hindrance in the way, you are welcome to turn yourself into a valuable member of society by contacting our Office of Employment at Cogs, Inc.


We "appreciate" your business.
The Cogs
April 1, 2018 [ttr-live-v2.1.6]
ToonTasks
• Increased difficulty of Lil Oldman's ToonTasks at the community's request.

Battle
• Added feature to increase Lure gag accuracy by 30% when "glue" is said in battle.

Playgrounds
• The Toon HQ in Toontown Central has added a periscope to keep an eye out for incoming invasions.
• Added more clouds to the cloud on the map.

ToonTasks
• Decreased difficulty of Lil Oldman's ToonTasks at the community's request.

Events
• Fixed a district reset relating to an upcoming phase of the Silly Particle event.
• Adjusted Silly Particle spawn rates for better balancing.
• Fixed a bug causing the max Silly Particles message to appear for all Toons within an area.
• April Toons Week has begun! Get ready for a week full of silliness beyond limits. Watch out for wacky side effects like lowered gravity and other surprises!
• Silly Particles are getting sillier! Toons can now carry up to 50, and thanks to the silliness, Doctor Surlee can split a particle into two to make it worth double towards his goal.

---
Comments
Sorry! Comments are closed.
---
---
---
---
---
---
---
---
---
---
---
---
---
---
---
---
---
---
---
---
---
---
---
---
---
---
---
---
---
---
---
---
---
---
---
---
---
---
---
---
---
---
---
---
---
---
---
---
---
---
---
---
---
---
---
---
---
---
---
---
---
---
---
---
---
---
---
---
---
---
---
---
---
---
---
---
---
---
---
---
---
---
---
---
---
---
---
---
---
---
---
---
---
---
---
---
---
---
---
---
---
---
---
---
---
---
---
---
---
---
---
---
---
---
---
---
---
---
---
---
---
---
---
---
---
---
---
---
---
---
---
---
---
---
---
---
---
---
---
---
---
---
---
---
---
---
---
---
---
---
---
---
---
---
---
---
---
---
---
---
---
---
---
---
---
---
---
---
---
---
---
---
---
---
---
---
---
Back To Top