More News
It's Good to be Green
Posted by Sir Max on March 17, 2017 at 10:00 AM
Top o' the mornin' to ya! Ah, what a day to be green.
St. Patrick's Day
is by far one of my favorite holidays of the year -- it's the day I get to set my all-time pinching record! To avoid the pinch, I've got a secret that'll get you some green in a cinch.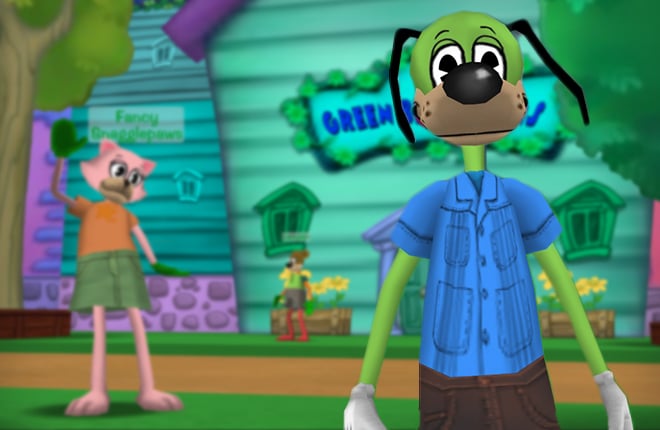 Call it the luck of the Irish, but I've never forgotten to be green on St. Patrick's Day. It's something that I most certainly take pride in! For those of you who don't have quite so much luck, I've got a solution for you.
Now, now -- don't get hasty! I'm not talking about turning your Laff Meter green, because that's no fun for anyone. Here's the deal: My pal
Eugene from Green Bean Jeans
in Daisy Gardens is a genuine
leprechaun
. I mean, I've never seen him with a pot of gold or anything, but I
think
it's a requirement for Irish Toons to be leprechauns.
Here's the point: Eugene knows that
"It's easy to be green"
, and he'd be glad to help you out! Stop by his shop and tell him the secret phrase for a snazzy pair of
Green Gloves
. Don't worry, the dye won't last forever.
You better get a move on, because I need to pinch 158 more Toons before I break my record. Oof, I shouldn't have made this blog post until afterwards. Anyway, Happy St. Patrick's Day!
---
Comments
Sorry! Comments are closed.
---
---
---
---
---
---
---
---
---
---
---
---
---
---
---
---
---
---
---
---
---
---
---
---
---
---
---
---
---
---
---
---
---
---
---
---
---
---
---
---
---
---
---
---
---
---
---
---
---
---
---
---
---
---
---
Back To Top