More News
Enter the New Year's Top Toons Marathon
Posted by Sir Max on December 31, 2016 at 12:00 PM
Five... Four... Three... Two.. One...
HAPPY NEW YEAR!
-- Don't worry, you didn't look at your watch wrong. I'm just practicing! After all, this isn't just any New Year's Eve party.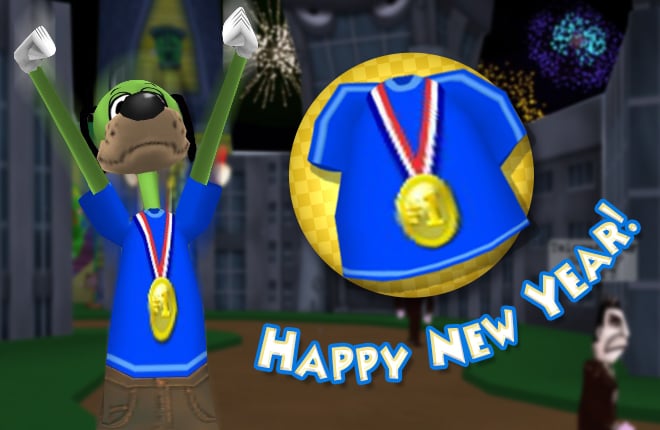 We're celebrating with
Fireworks
and our annual
New Year's Top Toons Marathon
, which is a great time to grab some friends and kick off the new year right!
This time around,
we've changed the contest
to make it even more fair and get more Toons involved. Good thing, too, because I was just about to storm Toon HQ and demand a reason on why I haven't won yet. Read the new rules thoroughly!
The New Year's Top Toons Marathon will begin at 12:00 AM Toontown Time (PST) on January 1st. That's tonight!
Every hour for 24 Hours, four Top Toons will be chosen for the most Cogs defeated and the most Cog Building floors recovered. In the case of ties, more Toons will be chosen for that hour.
Toons can only win once, in one category and one hour. If you win more than once, Toon HQ will count only your highest amount.
Winners will receive an exclusive gold medal shirt as soon as the winners are posted, given out only to the Top Toons every year!
The Top Toons of 2017 will be announced here on the blog once Toon HQ is certain every last laugh, giggle, and chuckle has been accounted for. Keep your eyes peeled over the next few days in eager anticipation of that!
Enjoy your New Year, Toontown. Us Toon Troopers have been working harder than you know, which means this year could end up being the best yet with the help of YOU. This will be the year of the TOON!
---
Comments
Sorry! Comments are closed.
---
---
---
---
---
---
---
---
---
---
---
---
---
---
---
---
---
---
---
---
---
---
---
---
---
---
---
---
---
---
---
---
---
---
---
---
---
---
---
---
---
---
---
---
---
---
---
---
---
---
---
---
---
---
---
---
---
---
---
---
---
---
---
---
---
---
---
---
---
---
---
---
---
---
---
---
---
---
---
---
---
---
---
---
Back To Top