More News
Become a Top Toon this New Year!
Posted by Sir Max on January 1, 2016 at 12:00 AM
The clock has just struck midnight, the ball has dropped, fireworks have started, and confetti is clogging every hole on my face. You know what that means:
HAPPY NEW YEAR!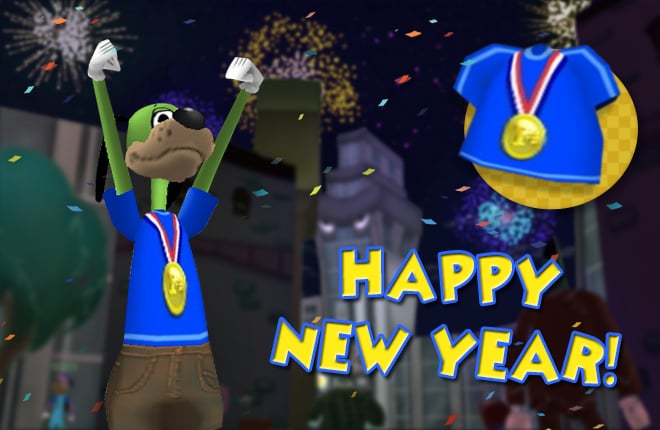 Before you go off listing your New Years resolutions, I've got a suggestion for you: To become a Top Toon in the Toon HQ's annual
New Years Top Toons Marathon!
Here's how it works:
Starting right NOW at midnight Toontown Time, we'll be keeping track of the Toons who defeat the
most Cogs
and
most Cog Building floors
every 24 hours. The top ten of each category will receive the largely coveted gold medal shirt, along with getting their name mentioned right here on the blog.
If Cog fighting isn't your strong suit,
(In which case I largely recommend that you find a new hobby)
then you can still start the New Year with a BANG through our hourly fireworks show, which will last all day today.
In retrospect, maybe you shouldn't make being a Top Toon your New Years resolution. Who needs a crummy gold metal shirt, anyway? Certainly not me. I mean I totally don't want to get rid of the competition so I can claim it for my own.
Here's to a grand New Year, Toontown!
---
Comments
Sorry! Comments are closed.
---
---
---
---
---
---
---
---
---
---
---
---
---
---
---
---
---
---
---
---
---
---
---
---
---
---
---
---
---
---
---
---
---
---
---
---
---
---
---
---
---
---
---
---
---
---
---
---
---
---
---
---
---
---
---
---
---
---
---
---
---
---
---
---
---
---
---
---
---
---
---
---
---
---
---
---
---
---
---
---
---
---
---
---
---
---
---
---
---
---
---
---
---
---
---
---
---
---
---
---
---
---
---
---
---
---
---
---
---
---
---
---
---
---
---
---
---
---
---
---
---
---
---
---
---
---
---
---
---
---
---
---
---
---
---
---
---
---
---
---
---
---
---
---
---
---
---
---
---
---
---
---
---
---
---
---
---
---
---
---
---
---
---
---
---
---
---
---
---
---
---
---
---
---
---
Back To Top