More News
Daily Beta Giveaway: Sellbot Saturday
Posted by Sir Max on May 24, 2014 at 1:19 PM
Here it is, toons. The final day! You know, technically, yesterday was supposed to be the final day. We didn't even tell you. Surprise! The Council decided that with the discovering of Sellbot HQ, though, that it was time to let an extra 20 toons into Toontown. Now, they
might
still be unaware of the 100 other toons that I've let in this week.
Hey, what they don't know won't hurt them. Unless they don't know about a bomb. That would definitely hurt them.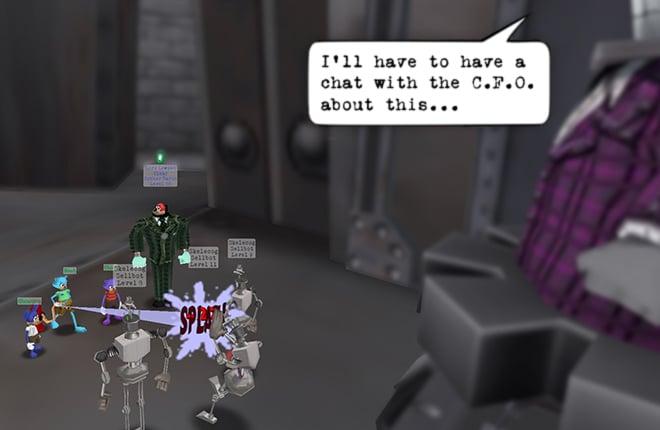 The Toon Resistance has certainly been pleased with the new Tester Toons, however. Lord Lowden Clear has been making big plans, and they just went into action. Just about an hour ago, Lowden (with the help of one of the top Resistance Rangers, Mata Hairy) gathered a bunch of toons to head into Sellbot Towers and take it down. They've been stockpiling Toon-Ups and Gag Barrels, which allowed
Showtime
,
Chaos
,
Bawb
,
Super Wackyflapper
,
Ludus Iterum
, and
Sparx
to become the first toons to defeat the Sellbot V.P.! (With the help of Lowden and Mata, of course. Us Toons aren't quite tough enough to do it on our own yet.)
Though, the V.P. went sprawling off the silo so fast that he crashed the entire district when hitting the ground! Luckily, we've made sure that the ground can support the tremors in the future. The Sellbot V.P. keeps coming back, and he's getting even stronger. To take him down, Lord Lowden Clear and other Toon Resistance members will be running around Toontown
all weekend
to gather groups to take down the V.P. once and for all! Keep an eye out for them -- we'll make sure to give everyone a whisper when signups are open for the next battle.
The newer toons are going to need some help too, however. We can't all camp out in Sellbot HQ! Their laff isn't quite big enough to get in. If you're running low on tasks, we recommend picking up some "Help a New Toon" tasks so that they'll get a chance to Storm Sellbot HQ before Lowden and the other Resistance Members leave. I'm running a bit low on Cog Disguise parts as well, so feel free to help a New Sir Max out, too. I promise that it
probably
isn't a con scheme this time!
However, without further ado, it's time to announce the
Final 20 Beta Testers
! For this week, at least. The Key ToonTasks are all wiped out, though Toon HQ is getting started on writing some new ones to pass out. Don't be discouraged if you don't win, though, as there are going to be plenty of more contests in the near future. Even sooner than you expect, actually... Unless you expect
THAT
soon, though, in which it would be further. You know what, nevermind. Have some winners!
May 24, 2014 [ttr-beta-v1.1.3]
Maintenance:
• Custom "Phase Files" can now be loaded from the resources folder

Bugfixes:
• Fix a crash at the end of the V.P. battle

Tweaks:
• Improve dialogue for a handful of ToonTasks in Toontown Central

Daily Beta Giveaway Winners:
The people listed below were
randomly selected
from the entries to win. The feedback question isn't judged for picking winners -- We just want to know how you feel about Toontown Rewritten! The winners are picked by randomness, not the quality of the answers.
The Final Question:
"What do you think of all of the ways Toontown Rewritten has been passing out Beta Keys? What can we do to make it more fair, and even more so, more fun?"
1. Deputy Bonkers Twiddlegadget
I think that you should do a contest explaining what your favorite thing implemented in TTR. I think TTR is pretty fair, but you should do double the keys [so if your gonna do a contest consisting of giving away 10 keys, it would be 20 keys] and to make it more fun, the people that submitted and lost, should still get something, like a signed letter from the developers!
2. Teeny Sparkletoes
I think you have been passing out the beta keys nice and slooooooow. At 20 a day people will be lining up for years to get in! ;-) Keeping up the excitement! I think you need to invent a time machine so Toontown is ready and we all can plaaaaaaaay! Thanks for taking the time to get Toontown ready for us!
3. Awesome-o-Cog Bot
I think you guys shouldn't give a person who won another beta key. Thanks for doing this guys, even if I don't win. (Which I wont) But you guys rock for doing this and your making people so happy. :)
4. Prof. Peanut
I think the way you have distributed beta keys has been really fair. I think to improve you could have more tasks for the community to complete in order to get beta keys!
5. Jake the Snake
I think it should be a competition, for maybe like best art, or best etc. It gives artist and much more people a opportunity to show their skills.
6. Bonzo
I think its been a good way to get some honest feedback, however its something everyone wants to help with so its going to be very lucky people who get the beta keys.

There is not easy way to pick people, its always going to be fair if there random.

More fun? I love the idea that if you entered everyday you have a better chance!
7. Super Curly Twinklejinks
I think that there should be a giveaway to all of the toons that participated in all the days of giveaways. In other worlds, if someone answers all the questions that were asked, they should receive a key just for being consistent.
8. AngiShy
I think there should be more keys... this way it is very disappointing for many people too... And maybe to make it more fun, it might be good to make some other contests, too.. like..drawing something from TT or answering some harder questions that need to be correct.
9. Dabadani
I feel that you have been handing them out fine, no changes should be made.
10. Mister Neonp
Toontown rewritten has been very generous but also cognitive to be giving out beta keys. The generosity is from allowing more and more toons to be selected, while they are cognitive by allowing these selected toons to experience and pick out all the bugs to make the game less problematic and more fun for the future generation. I think giving out just 50 keys per day would've been better and more effective, though even just adding 10 more to make it 30 per day would've been all the more better.
Overall Beta Giveaway Winners:
Throughout the week, every day we have asked a feedback question and allowed people to enter into the contest. This last drawing affects the entire count, rather than just from the past 24 hours. That means if you entered more than once, you had even better chances. Thanks for entering, everyone, and don't be discouraged if you don't win. Everyone will get to play eventually, we just have to be patient!
1. Pokesie
2. Mr. Puppy Lover
3. Leeroy Jenkins
4. Jellyroll Jabberface
5. Weird Fireball
6. Miss May I
7. Master Z.Z. Bananahopper
8. Opal
9. Confusing Mozzarella
10. Trevor Cottongim
---
Comments
Sorry! Comments are closed.
---
---
---
---
---
---
---
---
---
---
---
---
---
---
---
---
---
---
---
---
---
---
---
---
---
---
---
---
---
---
---
---
---
---
---
---
---
---
---
---
---
---
---
---
---
---
---
---
---
---
---
---
---
---
---
---
---
---
---
---
---
---
---
---
---
---
---
---
---
---
---
---
---
---
---
---
---
---
---
---
---
---
---
---
---
---
---
---
---
---
---
---
---
Back To Top