More News
Pirates of the Jellybe-an
Posted by Sir Max on May 31, 2014 at 2:00 PM
Come one, come all! I'm back again, and you know what that means: it's time to hop aboard the idea train! And by train, I mean boat. And by boat, I mean houseboat. Although, now probably isn't the best time to board it. Because it sunk.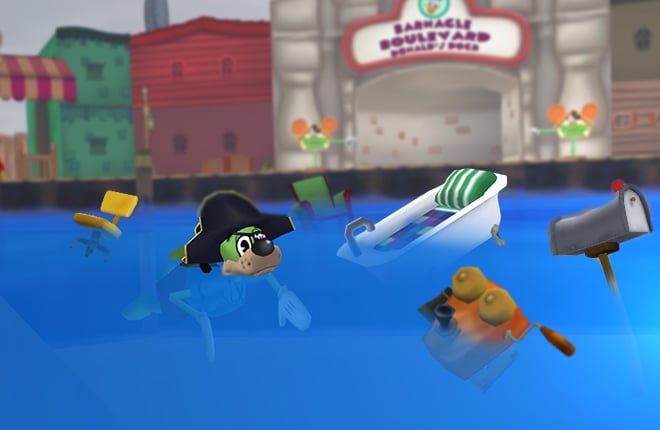 I'm telling you, this was my best idea of the decade. Clarabelle has been gathering up her stock once again, (She fell behind from all of the new toons, you see.) and has been looking for ideas for things to put in her Cattlelog. Of course, I had the perfect one from my list of Sir Max's Good Ideas: A Houseboat. It's like a boat, but in house form! Really, you just can't go wrong.
The problem is that upon putting my estate into the water, it started sinking. So, apparently you can go wrong. Turns out that those couches were stuffed with memory foam -- causing a leak big enough to bring down an entire district! Bah, my ideas go unappreciated around here. Who doesn't make sure their furniture is waterproof?
Say, did you know that Toontown's anniversary is coming up soon? I hear it's on
June 2nd
, and the Toon Council has some pretty big things in store whether you are a Tester Toon or not! Make sure you are here at update time, because you really don't want to miss it. I think. That's just what the Council told me -- if it's really disappointing, aim your pitchforks at them.
May 31, 2014 [ttr-beta-v1.1.8]
Maintenance:
• Patch up an issue relating to furniture which caused a severe memory leak, leading to server lag

Bugfixes:
• Low-tier NPCs (Field Offices) are no longer taken to the VP's cage
• Fix collisions on the VP's cage when trying to reach pies
• Mac OSX Bugfixes:


• You can now properly turn music and sound effects off
• Graphics now look how they should on NVIDIA Graphics Cards
• Various performance and resource optimizations




Features:
• Toon HQ has released 11 110 more beta key ToonTasks! They are available at any Playground past Daisy Gardens.
• The chances of getting a Beta Key ToonTask have been doubled.
• Pajama Place is now open for tasking!

Oooooh! Wait! There is a side note here... To prepare for the Anniversary, the Toon Council is giving Toon HQ permission to send out
11 more Key Tasks
!
Hang on, 11? That can't be right. No, hang on. I see what happened. They left a zero off. Let me just grab a pen here, write it back in
andddd...
There we go! Fixed. There are actually
110 more key tasks
available with
double the chances
of finding one! See, I don't know what the Council would do without me. To think that they almost gave out only
eleven
keys.
---
Comments
Sorry! Comments are closed.
---
---
---
---
---
---
---
---
---
---
---
---
---
---
---
---
---
---
---
---
---
---
---
---
---
---
---
---
---
---
---
---
---
---
---
---
---
---
---
---
---
---
---
---
---
---
---
---
---
---
---
---
---
---
---
---
---
---
---
---
---
Back To Top