More News
A Cashbot Catastrophe
Posted by Lord Lowden Clear on June 5, 2014 at 2:00 PM
Toons, grab your pies! Pies, grab your filling! We're in an immediate need of all the toons we can get, along with their cream pie counterparts.
Don't you understand?
A Cashbot HQ has been discovered!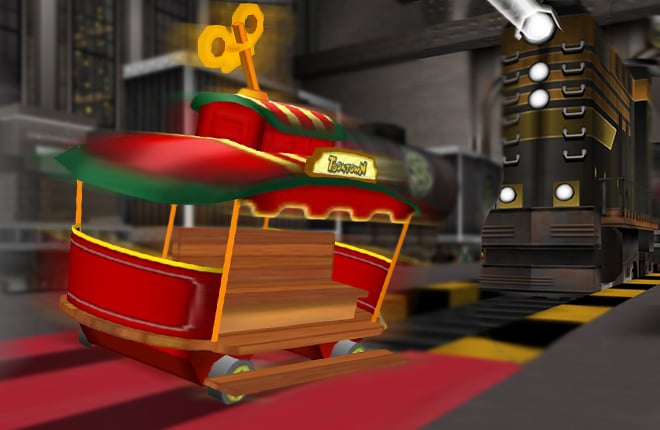 You know, discovered isn't really the correct word for it. It's more like infiltrated. Or rather, infiltrating. Being infiltrated? Look, the point is:
We need your help.
Doctor Surlee tipped us off on some Cashbot activity being detected near Donald's Dreamland. Whispering Willow, one of our Resistance Rangers in the area, managed to pick up a memo on the side of the street signed from none other than the C.F.O.
The memo appeared to have traveled by Train - which only meant one thing: We needed a good trolley run. Following the memo back to its source, we discovered hidden rails going off the map that led straight into the rumored Cashbot HQ. This HQ isn't nearly as laid back as the Sellbots, though. The Cogs are greedy robots, and they have their money protected well. Their robotic "Goons" began pouring out on us as we raced away in our Trolley. We jumped from head to head, making our way to the exit while deactivating the goons on the way, but they just keep coming!
Forget about Storming the Sellbots, toons. It's time to take on a much bigger threat. We need to crush these Cashbots before it's too late! Myself and the other Rangers will be there to help out, although those who need more training should stay back and assist our new toons of Toontown Central with their progress. We're going to need all the help we can get! Until next time, my fellow toons, keep them bustling -- with laughter!
Lord Lowden Clear
Leader of the Toon Resistance
June 5, 2014 [ttr-beta-v1.2.0]
Maintenance
• Add more words to the Whitelist relating to Semi-Open Beta
•

Bugfixes:
• Other player's whispers are no longer logged. No more spying!
• Fix an issue where occasionally a whisper would appear to send to the wrong person ("AnotherToon is sleeping")

Features:
• The Toon Resistance, with the help of Doctor Surlee and Whispering Willow, have discovered Cashbot HQ!
• Toons can now complete ToonTasks through Cashbot HQ
• The C.F.O. can now be battled in the Cashbot vault

Website:
• Add a better layout for PlayTime and PlayLine pages
• Fixed an occasional bug with the PlayLine where it would put you back at 30 minutes after hitting 0
• Add more sanity checks and improvements to prevent spots in line being reset on unstable connections
• Numerous bugfixes and improvements to the PlayLine to hopefully ensure stability for those having problems.


Once the problems are confirmed to have stabilized, we'll be able to open up more slots for people to get in and speed up the wait time. PlayLine and PlayTime are still very experimental, so thanks for sticking with us as we improve them!



---
Comments
Sorry! Comments are closed.
---
---
---
---
---
---
---
---
---
---
---
---
---
---
---
---
---
---
---
---
---
---
---
---
---
---
---
---
---
---
---
---
---
---
---
---
---
---
---
---
---
---
---
---
---
---
---
---
---
---
---
---
---
---
---
---
---
---
---
---
---
---
Back To Top