More News
Spooky Season is Descending Upon Toontown
Posted by Jack O'Kazam on October 24, 2023 at 2:00 PM
'What is that ghostly chill in the air?' I hear you asking,
This eerie atmosphere in which you are basking,
Is a magical phenomenon brought to you by:
Toontown's humble wizard, Jack O'Kazam, it is I.
The time for creeps and haunts is at large,
So, over Toontown, I will be sure to take charge,
To make this spooky season the greatest of all!
Come forth, my Toons: tall, short, big and small!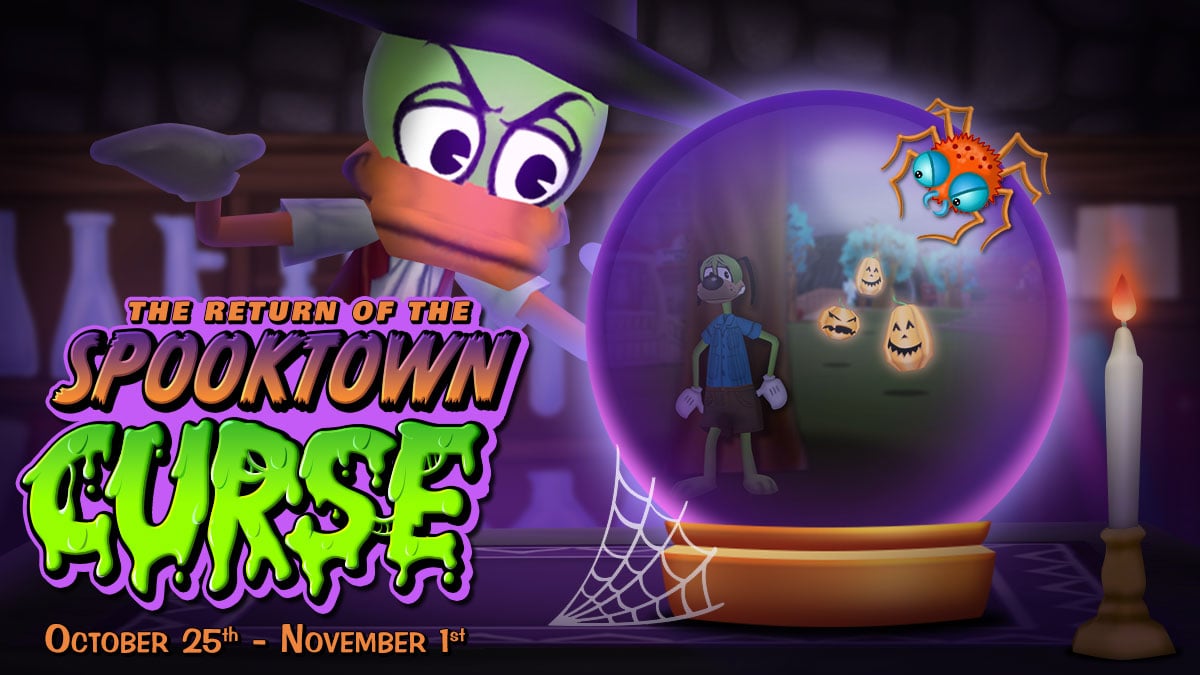 I unearthed my magic cauldron and my trusty grimoires,
Now Toontown Central is filled with bags of sweet candy bars.
You can collect them all and solve my riddles too,
And be able to join my spooktacular Pumpkin Head crew!
The Spooktown Curse is not the only thing gracing this town,
For the Cattlelog, the infamous Spooky Purple is bound,
Along with a fur-raising, vividly Spooky Green as well!
It'll certainly look chilling when you conjure up a spell.
I spy vampires in the depths of my wondrous crystal ball,
It seems those pesky Bloodsuckers are back for a brawl,
For three days they will be sinking their teeth into our streets,
It seems like they are here for tricks, and definitely not treats.
You have all heard of my good friend Booregard, I'm sure,
They are ready to bring Toontown Black Cats galore,
For all you cats who want an unlucky coat of black,
Visit good ol' Baron von Booregard who can do just that!
---
'Trick-or-Treat Week' will begin on the 25th of October! You will be able to visit Jack O'Kazam in the Toontown Central Playground to pick up a ToonTask that'll reward you with the Pumpkin Head Curse!
Spooky Purple will be returning to Clarabelle's Cattlelog on the 25th, along with a brand-new Toon color: Spooky Green!
The Bloodsucker Mega-Invasion will take place from the 25th to the 27th of October.
Existing cats will be able to become Black Cats from the 29th to the 31st of October. This can be done by visiting Baron von Booregard in the Toontown Central Playground, who will assign Toons a ToonTask to complete to become a Black Cat, temporarily or permanently. The choice is yours.
---
Comments
Sorry! Comments are closed.
---
---
---
---
---
---
---
---
---
---
---
---
---
---
---
---
---
---
---
---
---
---
---
---
---
---
---
---
Back To Top