More News
ToonFest: "Behind the Tooniverse" Panel Details
Posted by The Toontown Team on May 12, 2023 at 12:30 PM
With less than a month until ToonFest: Birthday Bash, the excitement is rising faster than the Silly Meter. We're thrilled to share that we've assembled the largest reunion of the original Toontown Online developers EVER for a special virtual panel called Behind the Tooniverse: 20 Years of Toontown!
Without further ado, let's see who's joining: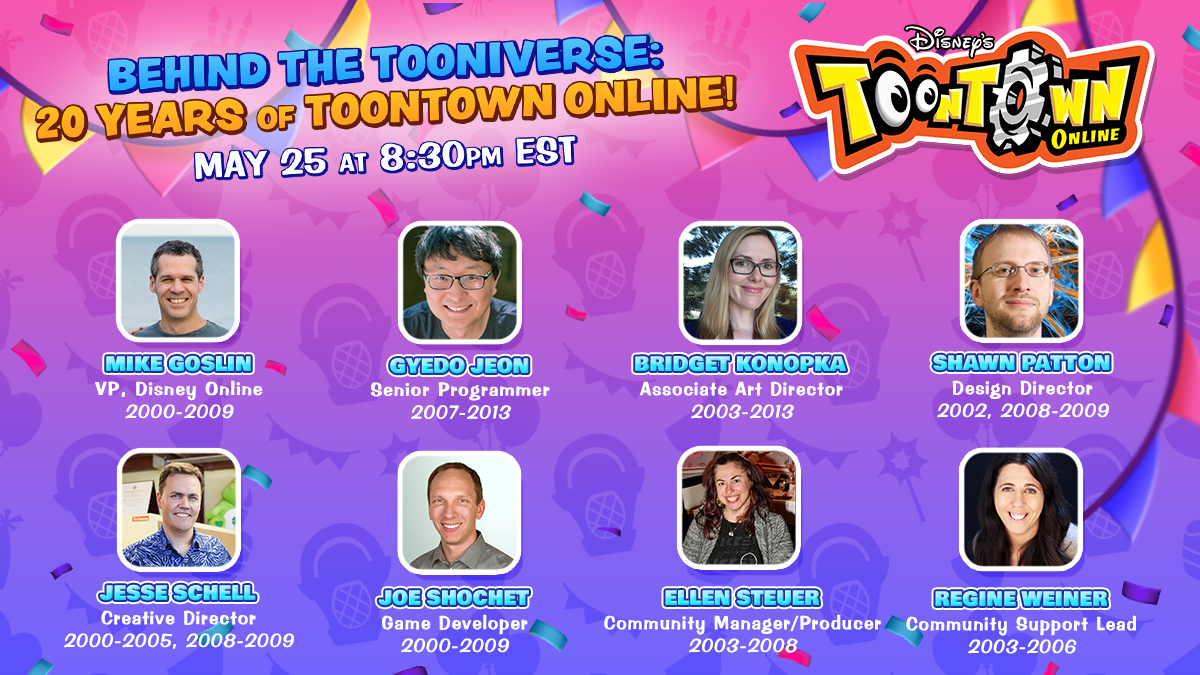 This retrospective panel features a special presentation about the origins of Toontown by former Imagineer and CEO of Schell Games, Jesse Schell, plus an in-depth conversation featuring the game industry veterans who built Disney's award-winning MMO!

Using the magic of the world wacky web, they'll TOON in via video call on-stage with a moderator from the Toontown Rewritten Team to chat about the past, present, and future of Toontown.
"Behind the Tooniverse: 20 Years of Toontown!" is happening at 8:30 PM EST on Thursday, May 25. We are expecting a full house due to a smaller panel room at MomoCon, so you may want to arrive early! We will have additional seating available at the Toontown Booth in the Gaming Hall, and it will also be livestreamed online for the whole Tooniverse to see!

But wait, that's not all! Although these fine folks weren't able to attend ToonFest in person this year, they are still joining in the fun beyond this panel! We're ecstatic that some of these Toontastic developers will be joining The TOONY Awards as judges:
Bridget Konopka, the Associate Art Director responsible for creating most of the game's clothing and accessories, will be judging the Accessory Design category!


Shawn Patton, the Design Director of Toon Parties, will be in charge of judging Cake Decorating!


Jesse Schell, the Creative Director who wrote many of the iconic jokes in the game, will be judging your limericks!


Ellen Steuer, the Community Manager who judged Toontown Online's contests and hosted the original ToonFest, will be judging your Videos!
We are BEYOND excited to give the Toontown community this once-in-a-lifetime opportunity to show their amazing creations to people who started it all by inspiring us with their own amazing creative talent. Even if you aren't competing to win, we highly encourage you to enter The TOONY Awards for the fun of showcasing your creative spirit!
Submit Q&A Questions Online!
If you have burning questions about Toontown that you'd like to ask our guests, send them to us on Discord or via email to support@toontownrewritten.com! We won't be able to ask every question due to the limited timeframe of the panel, but we'll pick out some of the most interesting and popular ones to ask live on stage!
REMEMBER: Discord is a social media platform not operated by the Toontown Rewritten team, and requires you to be at least 13 years of age to sign up. Ask a parent's permission before joining! You can also use our email to send questions without signing up for Discord.
Discord disclaimer
Discord's Terms of Service require you to be at least 13 years of age and the minimum age of digital consent in your country to use their platform. Toontown Rewritten is solely responsible for its own Discord server and not for Discord as a platform. Further, Toontown Rewritten has no control over what content is posted or shared outside of its server.
Toontown Rewritten's Terms of Service currently do not allow for you to disclose your Discord handle in-game as it is considered to be personally identifiable information. Note that disclosing such information would violate the Terms of Service and may result in action being taken against your account(s).
---
Comments
Sorry! Comments are closed.
---
Back To Top