More News
Passing Down the Black Cat In-Cat-Tation
Posted by Flippy on October 28, 2022 at 2:00 PM
Howdy, howdy, Toons! I hope you're all having a safe time out there, now that the Bloodsucker Mega-Invasion is over. It's been a dark and cloudy couple of days -- isn't it just amazing how the skies get dark at the exact same time every year? Sir Max and Jack claim it's due to some "Spooktown Curse." Though, I'm pretty sure it's because all those Bloodsuckers that come out are Liquidating everything, myself. Anywho, speaking of Halloween, I have some important information to share with you about the future of Black Cats in Toontown!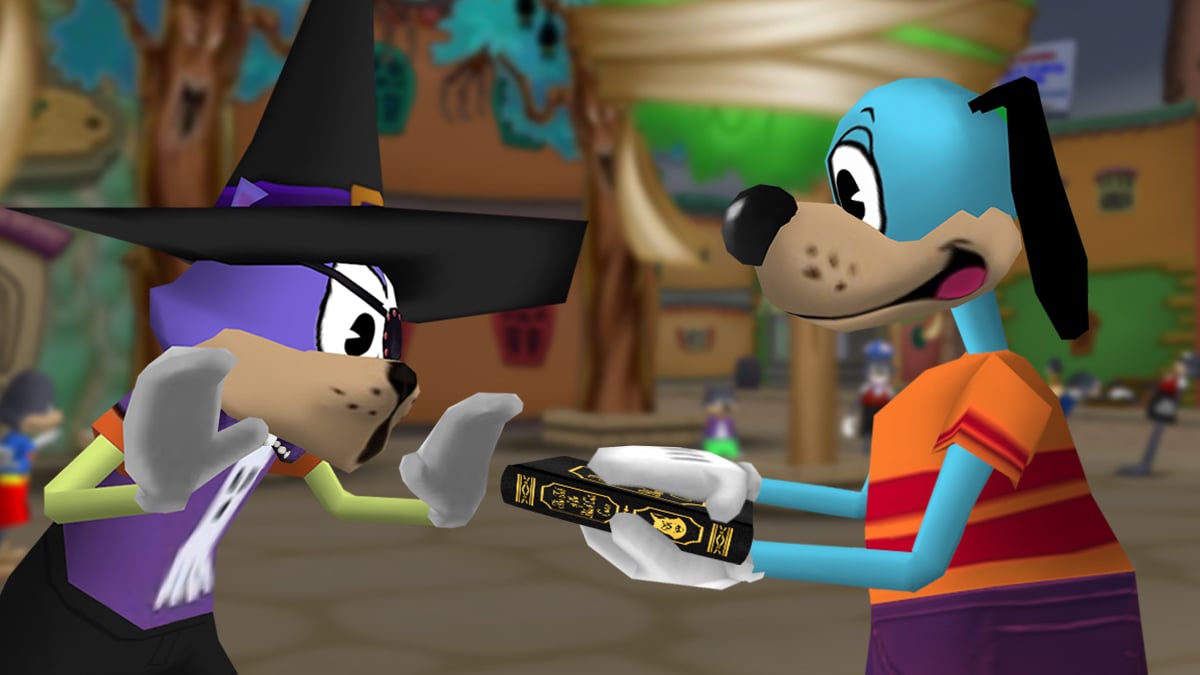 Today, I have none other than Baron von Booregard with me as I make this most spooktacular announcement! I, Flippy Doggenbottom, am passing down my power as bestower of the Black Cats and utterer of the Midnight Incantation (the Midnight In-CAT-Tation, if you will). As I hand off this dark tome, Booregard shall now possess the magic to turn cats black! From TOMORROW until November 1st, come on down to Toontown Central to receive a ToonTask from them! Of course, I still have the magic all memorized. If you're brand-new, you can still come see me on Tutorial Terrace to turn into a Black Cat! Just make sure you remember to say the code word in SpeedChat -- Toontastic!
For those of you existing Cats who wish to become Black Cats, Booregard will give you a hand if you complete their task! The magic tome can grant you either temporary or permanent color, depending on your preference. The temporary effect only lasts until November 1st, so choose wisely!
For all of you non-cat Toons out there, we've still got you covered. In an effort to help reduce the drain that was caused by the Bloodsucker Mega-Invasion, Lord Lowden Clear sent the Toon Resistance deep into Lawbot HQ to steal the Chief Justice's Cog Summons! For completing Booregard's new task, you will also receive one of these handy-dandy Bloodsucker Cog Summons! Under normal circumstances, you'd have to already have your Lawbot Disguise to obtain these papers. If you aren't quite there yet, this ToonTask is for you! And for all you seasoned Toons out there, be careful -- if you already have a Bloodsucker Cog Summons, you won't be able to get another!
That's all for today, Toons! Once again, these changes will be active tomorrow! Booregard still needs a little time to prepare. Until next time, I hope you all have an absolutely spine-chilling, highly thrilling, and fear-instilling Halloween!
October 28, 2022 [ttr-live-v3.6.1]
The Spooktown Curse
• The Midnight In-Cat-Tation has been passed down to Baron von Booregard!
• From October 29th 'til November 1, Baron von Booregard will appear in Toontown Central with an all-new ToonTask.
• If you're a cat Toon, this ToonTask will reward you with the Black Cats' curse -- with your choice of temporary or permanent affliction. Owooo!
• Whether you're a cat Toon or not, this ToonTask will also reward you with a Bloodsucker Cog Summons. Spooky!
• Note that brand-new cat Toons still have the option to say the secret phrase in the Toontorial.

Social
• Check out the Friends List -- a tab has been added to see a list of all nearby Toons!

Bugs 'n Blunders
• Fixed a client crash in the Resistance Hideout related to the Slip n' Slide.
• Patched up a client crash from some Toons not being cleaned up properly.
• Addressed a client crash when teleporting to an Estate party under certain conditions.

---
Comments
Sorry! Comments are closed.
---
---
---
---
---
---
---
---
---
---
---
---
---
---
---
---
Back To Top