More News
Celebrating the Cartoonival Grand Finale!
Posted by Flippy on October 14, 2022 at 2:00 PM
Happy Cartoonival, Toontown! It's the wackiest, zaniest, silliest time of year, and I'm absolutely delighted to see that the celebration has been nothing short of Toontastic! The Cartoonival has always been a grand ol' time, and this year is no exception -- there's jokes, pranks, gags, tokens, and prizes galore! The party never stops on these party grounds, especially when it's the last week of the Cartoonival!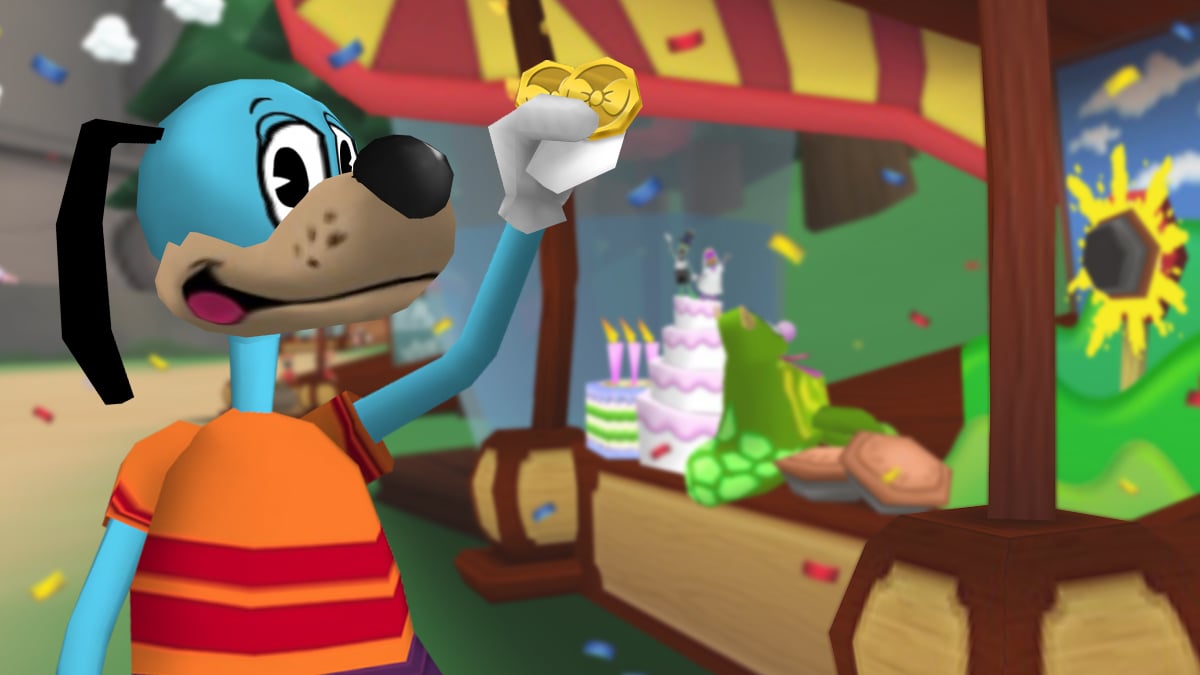 Of course, I had to bring Fluffy with me to Cartoonival again. He loves this holiday! Although he usually spends most of his time firing out of cannons or scarfing down as many pies he can get his hands -- er, paws -- on, this time around he's taken a liking to the Duck Tank. I'm not quite sure how he manages to throw pies at the target… Maybe he picked up some pie-tossing skills from yours truly? Nonetheless, I do know that whenever Fluffy's around, Cleff's almost guaranteed to get the soaking of a lifetime!

While I've been catching up on the festivities, my good pal Riggy Marole let me know that for the rest of the Cartoonival, all Toons will receive double tokens. Why, I don't think I have enough room in my pockets to even hold all of these extra tokens! (Remind me to stock up on some more Cream Pies!) Even better than double tokens —
BOOM!
Goodness, right on cue! Until the Cartoonival ends on October 20th at 11:59 PM Toontown Time (PT), we'll be lighting up the sky with some spectacularly colorful fireworks every three hours. After all, what better way to close out the festivities than with some fireworks?
With that, I'm going to return to the party myself. I can't leave Fluffy unattended for too long, or else he might eat up all of the Wedding Cakes again…
Have a Toontastically Grand Finale of Cartoonival, Toontown!
---
Comments
Sorry! Comments are closed.
---
---
---
---
---
---
---
---
---
---
---
---
---
---
---
Back To Top