More News
Have a BLAST at This Year's Cartoonival!
Posted by Riggy Marole on September 19, 2022 at 12:00 PM
Holy SHMOKES!!! It's dat time of year again, isn't it? Sneakin' up on me, good ol' Riggy Marole, eh? What, with all this talkin' about dose Field Offices here, and somethin' about a secret hideout dere... I almost lost track of the most important event in all of Toontown! Mark it down on your calendars, folks. The day before tomorrow -- and I do mean TODAY -- the Cartoonival's back in town! I can't believe I almost missed it... Unlike a certain other wacky rabbit out there, I'm NEVER late!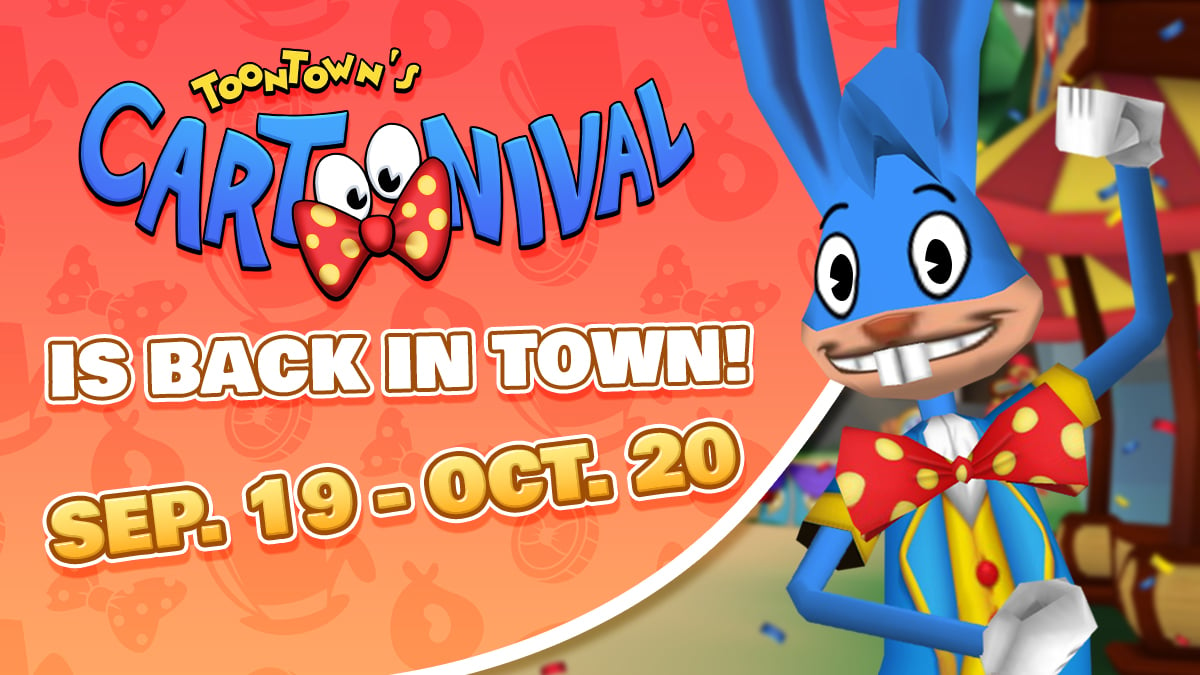 Man -- we've been doin' this Cartoonival thing for 8 whole years already?! Ah, I remember dem good ol' days when it was just Toon-est... Enough moping, though! Cause I gotta admit, some thanks are in order -- to all of YOU! Dat's right, I gots enough Jellybeans to run the Cartoonival 'til the end of time, but it's all you Toons out dere who give it da life and spark that I adore ever-so-much. Aw, shucks... I'm makin' myself tear up. I've been practicing that one in the mirror for weeks!
---
Meet Riggy Marole
Now, as much as you should definitely, totally, one-hundred percent-o know who I am, I suppose a little introductin' never hurt no one. Riggy Marole's the name, rigging the games is my game! What games, you ask? Why, the many, the ridiculous, the Toon-tacular games dat are all set up here at the Cartoonival Grounds! Come takes a walk with me, your faithful and most fabulous host-with-the-most of said Cartoonival, and lemme show ya what's what 'round dese parts!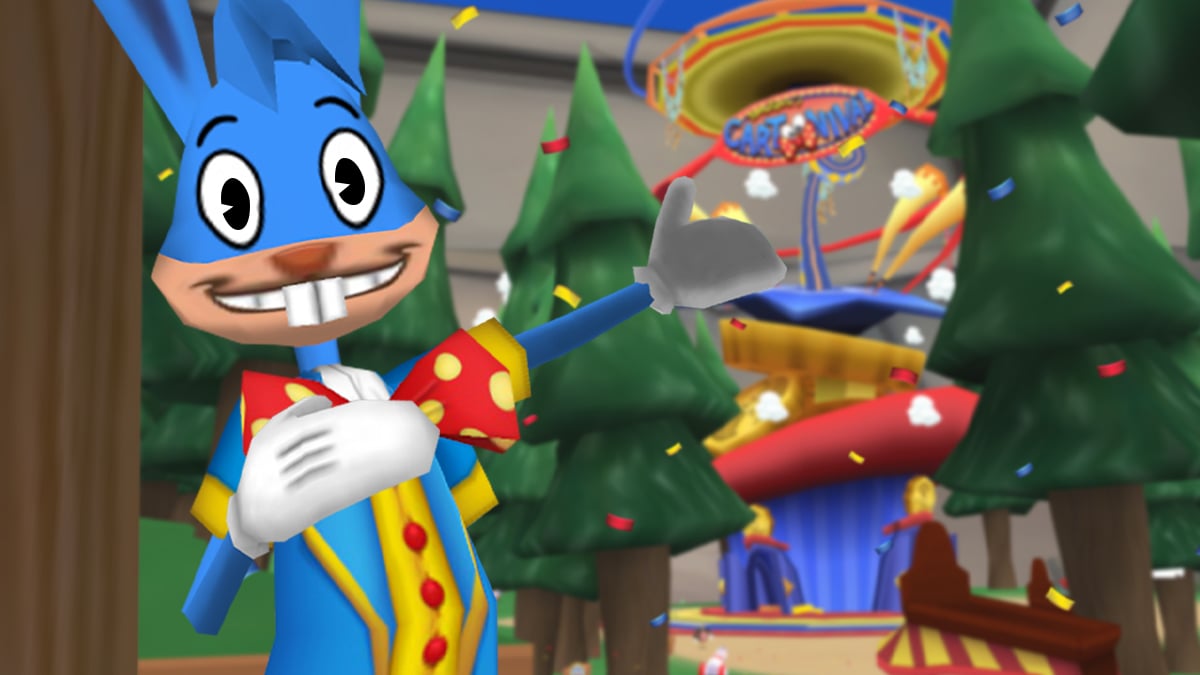 ---
"Gallons" of Games Galore!
Dere's no shortage of wackiness in these woods, let me tell ya! Wanna smack around some fake Cogs with real pies? Head on over to the Pie Purchases Stand and grab some for throwin'! Or, if you've got good aim (unlike myself): direct your attention to the Duck Tank! For someone with a penchant for Throw, Cleff sure does spend a lot of time inside dat there giant Seltzer Bottle. But wait, there's more! Cannons, trampolines, fishin' -- and so much else!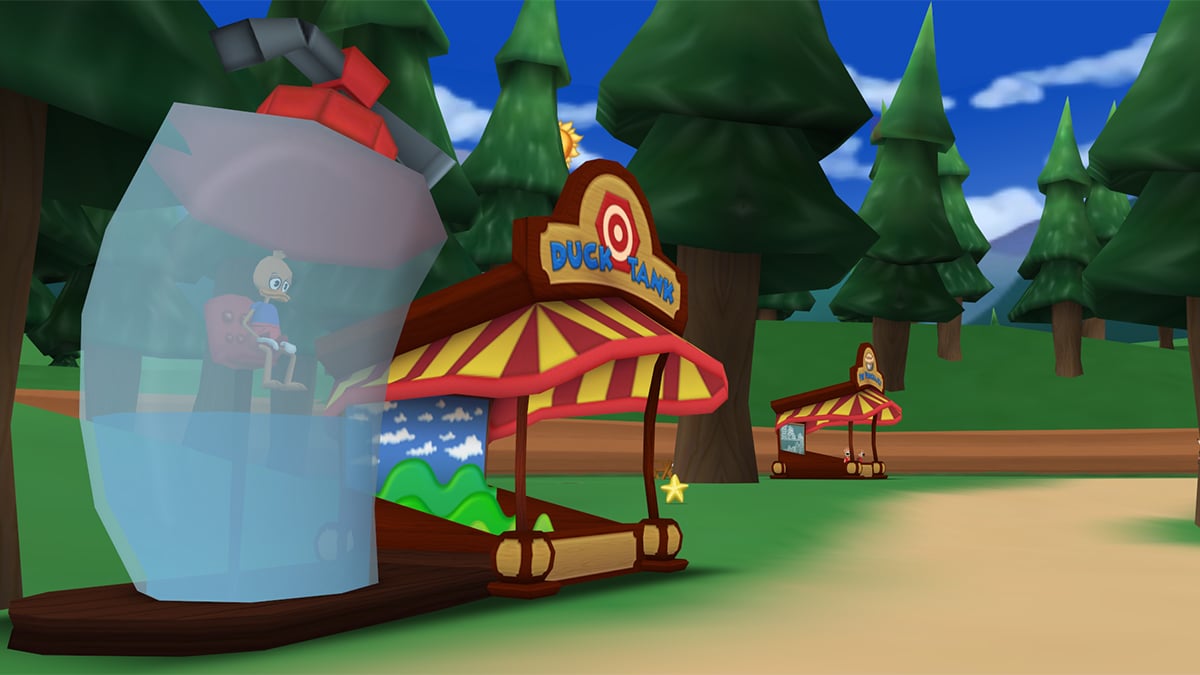 ---
Pick Out Phenomenal Prizes!
Step right up, one and all, to da massive tower in the center of it all! Ah, the Cartoonival Tower, my beloved and most prized possession -- ~Mwah!~ Speakin' of prizes, this is where you can get 'em! As fun as all the games are, we give you Cartoonival Tokens for playin' them, too! What a steal! Take some of 'em up to the Token Takers inside the tower, and they'll reward you handsomely with whatever of our exclusive prizes you desire! Almost as handsome as me, if I do say so myself!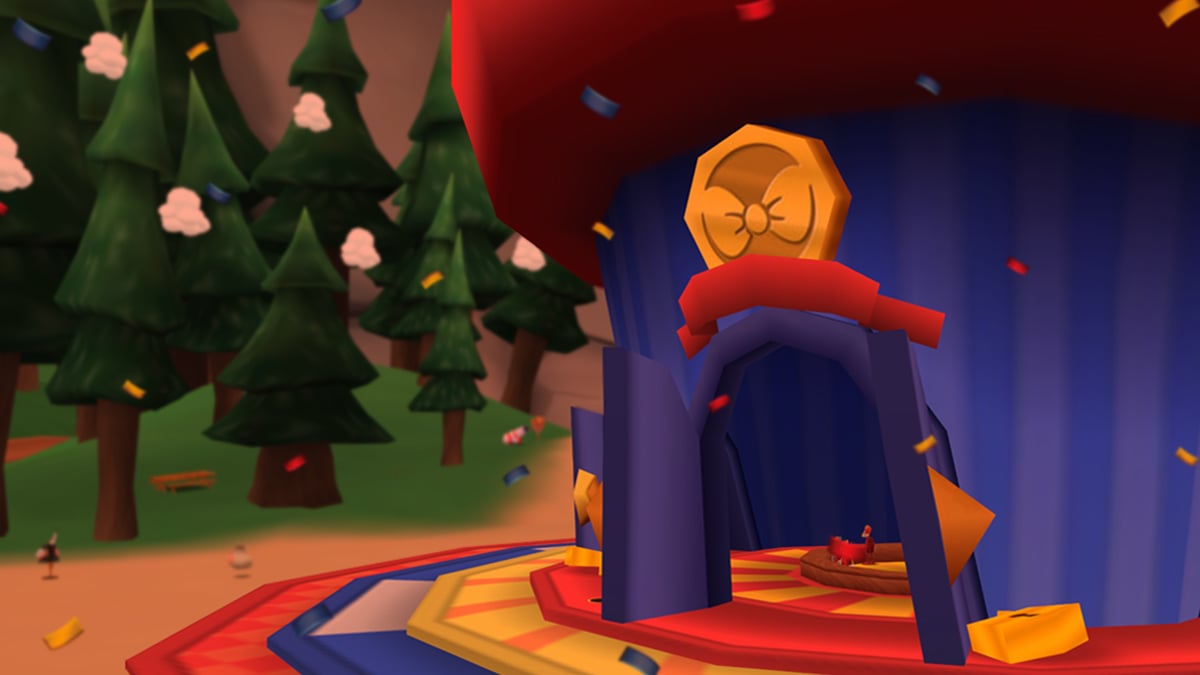 ---
Dere you go, folks! Dat's my spiel for today. So, what're you waitin' for?! Come on over to the Cartoonival Grounds -- they're just a portable hole away. And make sure you check out some of the events dat those so-called Toontown Partners are holding during the Cartoonival, too! Dere's sure to be more info to come as all the details get hammered out. As much as they're stealing MY spotlight, Toon Council told me to play nice -- seein' as they're officially sponsored n' all.
Hoo, I'm winded from all that monologuin'. Maybe I'll go takes a nap on top a' the tower. Ciao, Toontown! Hope to smell ya all down at the Cartoonival!
---
Cartoonival Wallpaper!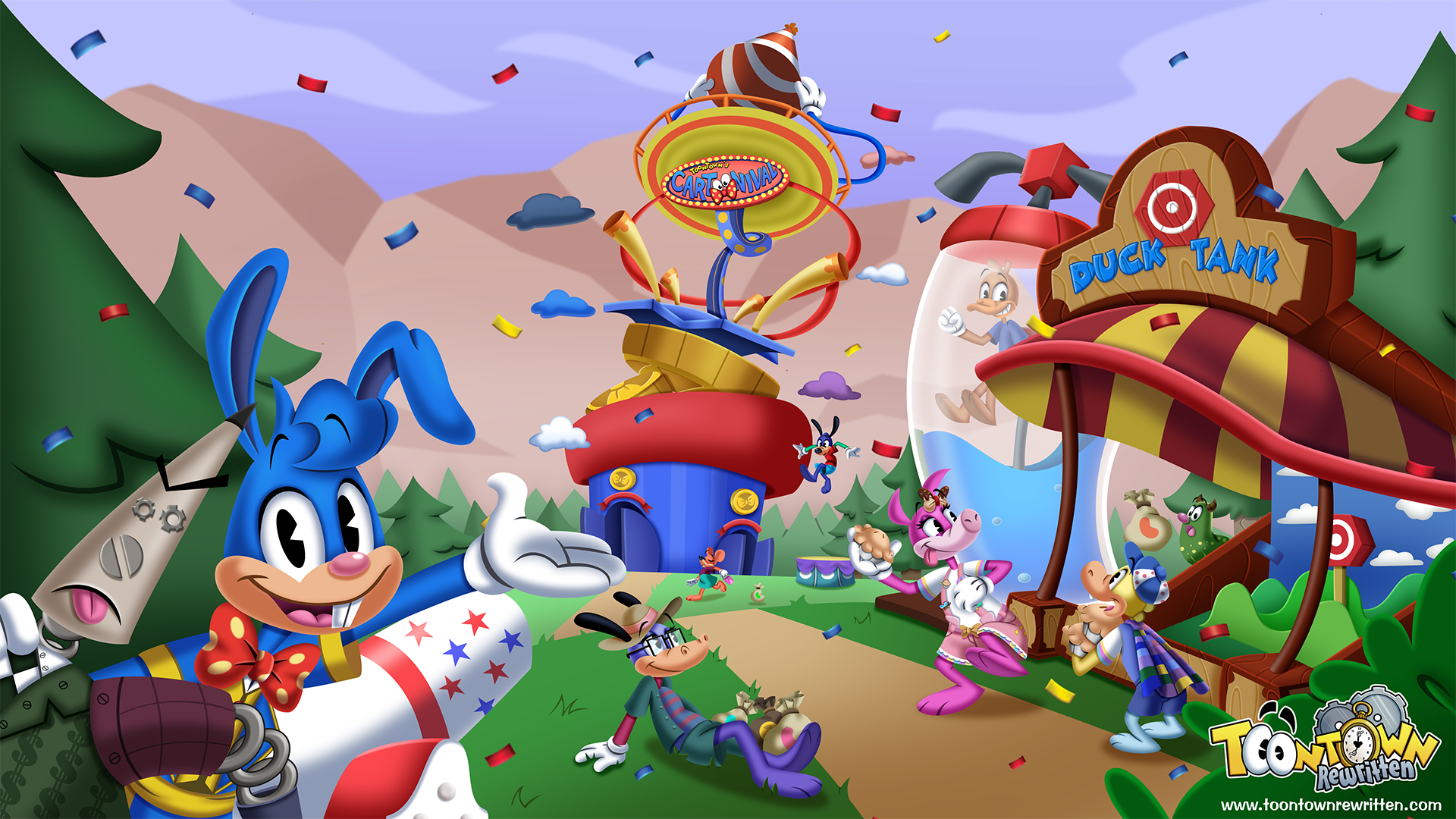 Pssst! P.S: Be sure dat you check out dis here nifty little wallpaper all patched together and drawn up by Clove! Ah, look at my handsome mug down in da corner. And right beside me -- dat's my old pal, Patches the Dummy Cog! Oh, the memories!~
Desktop Downloads
---
Modern Mobile Downloads
Dese are for those more recent smartphones, like the iPhone X or Samsung Galaxy S10.
---
Classic Mobile Downloads
Dese are for summa da older-style smartphones, like the iPhone SE or Samsung Galaxy S7.
---
Comments
Sorry! Comments are closed.
---
---
---
---
---
---
---
---
---
---
---
---
---
---
---
---
---
---
---
---
---
---
---
---
---
---
---
Back To Top