More News
Toon HQ to the Rescue
Posted by HQ Harry on December 6, 2021 at 7:00 PM
Phew! Ever since those Sellbot Field Offices landed, it's been a whirlwind for us HQ Officers. I've seen so many new Toons coming through Tutorial Terrace, as well as so many old faces coming back to help save my friends in Toon HQs across Toontown!
While you citizens of Toontown and the Toon Resistance help us fight back, we've got a little trick up our sleeve here at Toon HQ to aid in the battle against those terrible towers.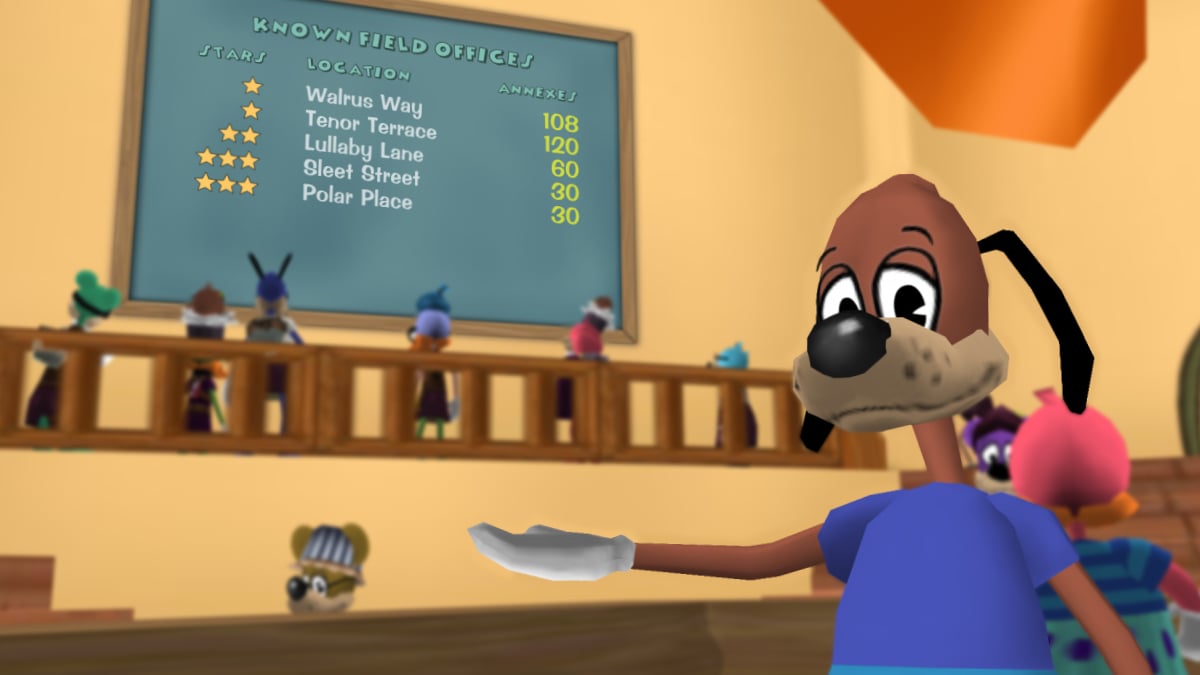 Starting today, HQ Officers in every Playground will be keeping one of our chalkboards up to date with all of the known Field Offices across Toontown! You can find it to the right of our Toon Platoon board. This chalkboard will tell you where to find Field Offices, how difficult they are, and the number of Annexes remaining inside.

Additionally, for any tech-savvy Toons out there, Toon HQ has built an API to help you build Field Office radars of your own! You can read the documentation for it over here. (If you don't know how to use an API, don't sweat it! Some of Toontown's Partners, such as ToonHQ.org, use them to build their services.)
As we get smarter about how to fight back against Field Offices, the Cogs are also changing up their business strategy! The Boilers have been watching our every move, and as a result you'll start finding Field Offices with higher Annex counts, more frequent takeovers after a previous Field Office is defeated, and less time spent with the elevator doors closed.
These Field Offices are tough, but they are no match for the teamwork that you Toons have displayed this past weekend. The Toon Resistance is still looking for more brave Toons to join their ranks, so be sure to pick up a ToonTask to join them once you've met the requirements!
Keep at it, Toontown. The Cogs are no match for us!
December 6, 2021 [ttr-live-v3.0.5]
Field Offices
• Toon HQs in every Playground and Street have set up a "Known Field Offices" chalkboard to the right of the Toon Platoon. With this, you can find the location, difficulty, and Annexes remaining of all active Field Offices.
• Tech-savvy Toons can create their own Field Office radar with Toon HQ's new API! Documentation is available here: https://github.com/ToontownRewritten/api-doc/blob/master/field-offices.md
• Fixed a bug that made the sky darker after exiting a Field Office.
• Fixed a crash related to the Field Office exterior.
• Toons now have 15 minutes (instead of 10 minutes) to complete the Field Office after the last Annex has been defeated.
• The spawn rate of Field Offices has been tweaked to spawn them more frequently after a previous Field Office is defeated, and with more balanced difficulty distribution.
• More groups can now enter Field Offices before the elevator doors close.
• The internal logic of Field Offices has been adjusted to make it less likely for buildings to spend a long time with the elevator doors closed before being defeated.

Sellbot Task Force
• Fixed ToonTask bug that asked Toons to defeat Vice President 50 times. If you've already taken this ToonTask, don't fret! You only need to defeat the Vice President 5 times.
• Fixed a bug where Toon Resistance Operators used placeholder text for some ToonTasks.

Miscellaneous
• If every Cog is defeated in the C.E.O.'s waiter round, you will now immediately begin the next round of the C.E.O. battle.
• Patched various District crashes to improve server stability.

---
Comments
Sorry! Comments are closed.
---
---
---
---
---
---
---
---
---
---
---
---
---
---
---
---
---
---
---
---
---
---
---
---
---
---
Back To Top